Urgent help for Bukit Lawang´s community-Covid-19
Bukit Lawang has become my beloved second home since many years.
As a family, business and community member , i  feel responsible to do something and created this fundraising campaign.
This campaign is  to help the community of Bukit Lawang to get through the  upcoming tough weeks with no income from tourism due to the Covid-19 virus outbreak.
We will use the
raised funds to deliver food parcels and other most needed items like medicine to local families in need. They are strongly affected by the current restrictions
and nobody knows how long this crisis will last and when  they can work again.
Bukit Lawang is a small beautiful tourist village in North Sumatra,Indonesia and famous for the sumatran orangutans. The village is located nearby the Gunung Leuser National Park, one of the last places on Earth where orangutans, rhinos, elephants and tigers and many many other animals can still live together free in the wild. The rainforest hosts the most biodiversity of flora and fauna in south east asia and is a protected area with great conservation potential for many endangered wildlife species.
Its such a unique and special place....everyone who has been there, knows this <3
Almost the entire local community relys on tourism and the guides are very passionate and enthusiastic  about their jobs to show visitors from all over the world the wonderfull jungle.
During the last years, we have also  build up a wonderful team of local guides working for our small family business Bukit Lawang-Jungle Trekking  (
https://www.bukitlawang-jungletrekking.com/
 ) and it breaks my heart to see them and their families suffering with the
corona outbreak and all the consequences
right now as they have lost their entire income. 
We have to get through this situation all together and i know that there are many amazing friends and followers out there as well as our former visitors with a warm heart who will help the lovely, friendly, very carying , welcoming, hardworking and super kindly indonesian locals <3
They have lost all their income and are struggeling a lot with this economic shutdown. We want to make sure that the families and kids will get at least enough of the basics to survive. 
OUR AIM IS TO GIVE FOOD AND HOPE!


We are not only asking for money donations but also for acts of humanity.
And this is how you can help:
The food parcels per family we would like to give out will consist of the following items:
10 kg rice
36 eggs
2 liter cooking oil
10 packages of noodles
1 kg salt
1 kg sugar
1 liter sweet soy ketchup
1/2 kg coffee
1 box black tea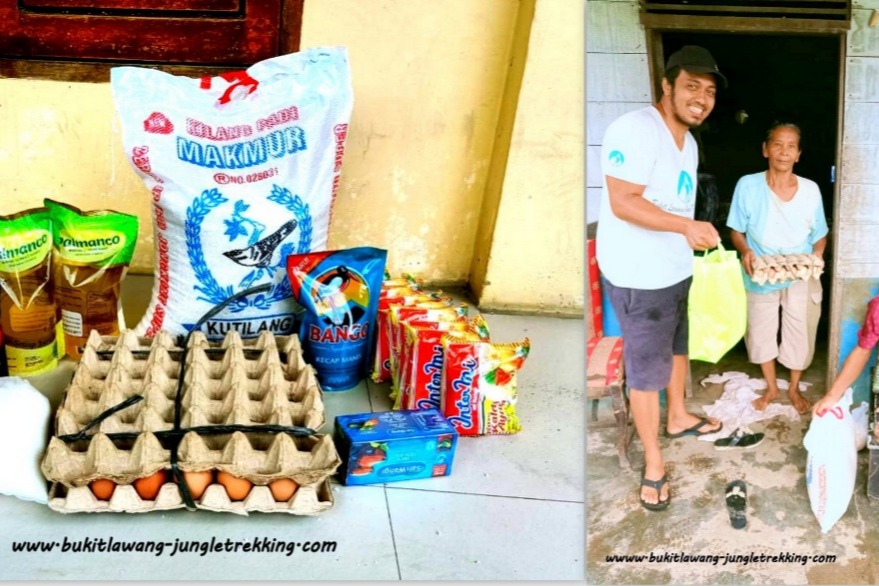 The price for this parcel will be around 15€.
As you can see, even with small givings, the impact for one family is great!
Thank you so much in advance to each person taking your time , reading this campaign and considering to donate what you can give!
It will also be a huge help if you share this campaign on your social media channels to spread our message widely and raise awareness.
THANK YOU VERY MUCH - TERIMA KASIH BANYAK!
Warmest regards and Stay healthy and safe,
Janine / Owner Bukit Lawang-Jungle Trekking