The COVID-19 outbreak has not been and was never going to be the great equalizer. Although we have all felt its impacts one way or another, it has exposed global inequities and highlighted the ways our systems fail marginalized and oppressed communities around the world.In solidarity with Operation Groundswell's international network of grassroots partners who have been disproportionately and severely impacted, OG has temporarily converted its Community Contribution program to the Groundswell Relief Fund to support our partners' emergency COVID-19 relief efforts.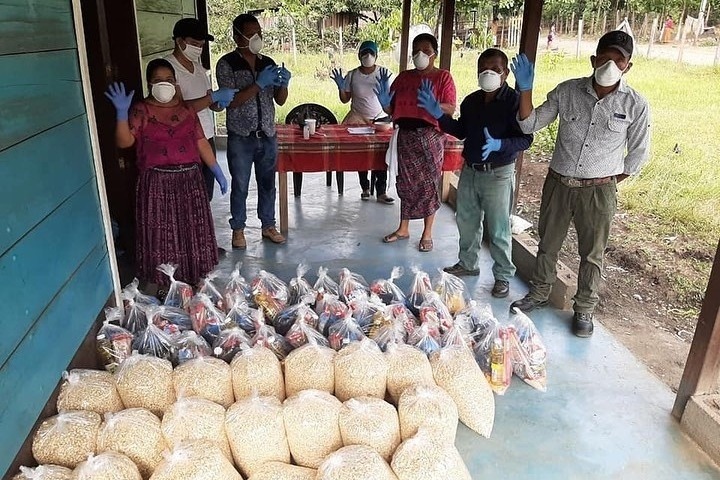 Where Will the Money Go, and Where has it Already Gone?
All funds will be channeled directly to our in-country partners in the form of micro grants of between $250-$1250 USD. Funds will be used to prepare and plant community gardens, support preventative health education, purchase personal protection equipment (PPE), and provide emergency food relief along with potable water. Here are a few of the partners that are already receiving support from the Groundswell Relief Fund:
El Estor
$1400 CAD went to a group of land and human rights defenders in eastern Guatemala who are using it provide community health workshops along with food aid for 70 families in La Union. 
Pacux
$1400 CAD went to the refugee community of Pacux which used it to provide rice, beans, corn and other basic food stuffs to over 250 local folks living on the margins near Rabinal.
CECEP
$1100 CAD went to the Maya Pokomchí Community Education Centre which is distributing basic food stuffs to 75 families in the area of San Cristobal Verapaz.
FBU
$1400 CAD went towards the construction of small nursery and support for a community market along with training in organic food production for 15 families and the development of vegetable gardens to promote food sustainability in Pacalqui.
Yabal
$1000 USD went towards the development of family farms in the weaving communities of Pacuitama and Chuicutama. Combined with emergency food relief and the sale of textiles, Yabal is promoting food security and sustainable livelihoods. 
What is the Groundswell Relief Fund?
OG's
Community Contributions
  have always provided a platform for our local partners (organizations and communities) to initiate small and medium scale projects that are intended to meet a certain need or solve a specific problem. Through solidarity and collaboration, OG uses Community Contributions to empower local communities to realize the change they want to see while inspiring visiting participants to begin making positive change themselves.
Thanks to an unjust and unequal global order, many of OG's in-country partners and their communities in the global south are being disproportionately impacted not only by the virus but by the devastating social and economic crisis being created in its wake. That's why the decision was made to retool OG's Community Contribution program to support COVID-19 relief or recovery projects and initiatives. So, from June 1-September 31, 2020, we want to make as BIG a contribution as we can to our partners that a) have lost work and income due to the suspension of programs, b) are actively involved in local relief efforts, and/or c) are working hard to avoid the cancellation of projects, layoffs, or shutdowns.
We know that not everyone has the capacity to give right now and that COVID-19 has only made it more difficult, but If each of us contributes a grain of sand, together, we can create a groundswell of support for our partners around the world.
For those also interested supporting a specific OG partner directly, below you can find links to a number of ongoing fundraising campaigns:
Tzibal
  is fundraising for a local program of "bolsas familiares", or emergency family relief kits that involve the entire community of about 100 Q'eqchi' families in Guatemala.
RightsAction
  is funding and supporting land, human rights and environmental defenders and their communities in Guatemala and Honduras.
DESGUA
  is supporting food solidarity and multilingual informational media with Mayan communities in Guatemala.
Yabal
  is providing emergency food relief to the rural weaving communities of Pacutama and Chuicutama, in the region of Santa Catarina Ixtahuacan.
Tiny Toones
  is supporting youth who are particularly vulnerable to drug and substance abuse, sexual and labor exploitation, domestic violence, and gang involvement through the arts and dance in Cambodia.
Sokha Farm
  (goal achieved) is organizing COVID-19 response kits and expansion of his nursery to help local families with their hygiene and food security needs in Cambodia.
Sahainan Permaculture Organic Farm
  is supporting rural farmers who grow a sustainable food forest. They are fundraising to install a solar powered pumping system that will help with forest fire mitigation and provide water for the farms and nearby villages.
Chico Mendes Reforestation Project
  is raising money to provide reforestation employment to community members of Cantel, Guatemala in need while planting the 40,000 saplings in their tree nursery.