Good Life Garden Fundraiser
My name is Kofi Thomas and I have been working to preserve and improve green spaces for the last few years. I am a neighbor that believes in the power of community and recognizes green spaces as a catalyst to unlocking  that potential. Our gardens are a place of healing and growth.

Our Brooklyn neighborhood has suffered physically and mentally over this past year. Physically from an inability    to be mobile and be outside. Mentally we have sustained trauma from isolation, fear and loss of loved ones due to    the pandemic.  We are victims of social, economical, and environmental inequalities that have been intensified. We will begin to heal through the transformation of our green spaces. l We are raising money to improve our Environment as a vehicle to Educate and Empower communities in Brooklyn.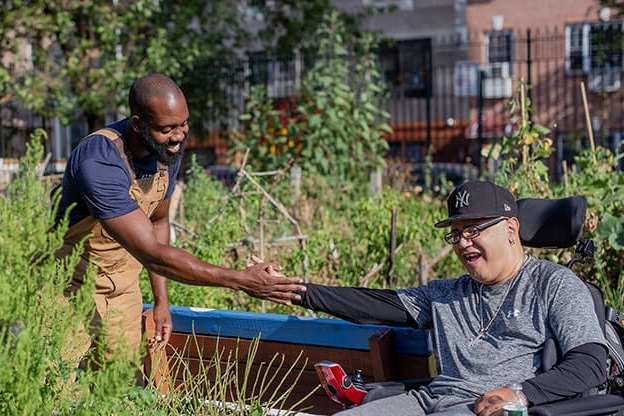 The money donated will go towards a number of impactful improvements:

-Building raised beds to increase healthy locally grown food production
- A chicken coop, chickens are nature's farmers. They eat weeds and bad insects and their manure helps fertilize the earth. Plus they will be an attraction for the kids in the neighborhood. 
- Art as a means of therapy. We will invest in music equipment and art supplies, giving our community some tools    to express themselves and come together. Being able to pay local artists and bring culturally rich entertainment to a neighborhood sparse with outdoor activities. 
- Offer enriching activities like Yoga classes, Salsa dancing, painting and writing workshops.
- Build partnerships with local schools and youth organizations to plant the seed early and create young farmers     and environmental activists
- Invest in a clean energy system that will improve our air quality, reduce fossil fuels and serve as a teaching tool        for other gardens and science classes
- Composting program to divert food waste and remediate our soils

We impact the community in a number of ways: 



Youth Education and Empowerment
The Good Life Garden in Brooklyn, one of our gardens, is a green space  that had fallen into the hands of vagrants and drug dealers over a decade ago. We cleaned it up and now use it as a space to uplift the community. We believe our future is in the youth. We have hosted the Girls Scouts who planted vegetables and learned how food grows. We also worked with teachers from Bushwick Ascend Middle School to design a garden centered 3 week curriculum focusing on Math, History of the neighborhood, and Art expression. We continue to reach out to local schools that lack outdoor space. Now we have partnerships with local highschools and Universities. 


Food Access and Healthy Living
Part of our ongoing programming is providing fresh vegetables and sometimes full meals to the community. We live in a    food desert with with little affordable or healthy options
In this picture neighbors cooked a free lunch, played music and it became a block party! We have given away over 8,000 lbs of free  fresh food to date




Senior Engagement
We reserve space in our garden for seniors and we listen to their guidance.  In 2017 only about 3 were actively
gardening.  Now we have over 30 senior gardeners growing their own produce and teaching farming techniques from around the world. We have built them an additional garden on a previously unused piece of land and are looking to improve that space.



Arts and Culture
These are from Arts Festivals we hosted this past summer. We welcome musicians, poets, painters and artists of all mediums to enrich our creativity and celebrate diversity.  

Your contribution will allow us to continue the work of addressing the needs in our neighborhoods and expand our capacity to deliver on our mission. This year is special as we are looking to transform 4 green spaces, a large undertaking that will shape the future of our neighborhood.

Your support means the world to us. It gives us the strength and courage to keep going.  It is about people collaborating and learning that we have strength as a community.  We grow together!