Support Palabras Bilingual Bookstore
Hi there,
I hope that you (and yours) are hanging in there. I'm reaching out to you because
Palabras Bilingual Bookstore
  needs our support to weather the current Covid-19 health crisis. In order to keep this magical space up and running through the summer, Chawa Magaña (owner/operator) and Jeff Slim (Chawa's right hand human) need help covering basic operating expenses (think rent, water, electric, basic inventory, etc.). Whether or not you can provide financial support, there are lots of ways we can show up for Chawa and Jeff right now, because we can't imagine a Phoenix without Palabras.
Palabras is a one-of-a-kind gem. It is womxn-owned, Latinx/Diné-run, and Arizona's only bilingual bookstore. But Palabras is far more than a bookstore—
Palabras is a space OF, BY, and FOR the community.
It has devoted itself to providing a home for our local POC, LGBTQ+, and other powerful (though marginalized) communities. Even in these difficult times, Palabras has continued to provide support, hosting virtual "POC-It-To-Me" open mics, uplifting undersung voices through online bookclubs/writing groups, and serving as a physical drop-off/pick-up site for the Covid-19
Phoenix Mutual Aid Network
 . Now is a time when we can stand alongside Chawa and Jeff as they work to keep Palabras alive for all of us. 

There are three key ways that you can stand in solidarity with Palabras right now:
Financial Support:
–Contribute online via the "Support Palabras" GoFundMe campaign.
–Shop online at the
Palabras website
  or set up an in-store
appointment
  to buy books, self-care items, gift cards, and more! *If possible, please pay via PayPal at checkout since it's more efficient than card processing and reduces fees.*
–Send checks to Palabras at 1738 E. McDowell Rd., Phoenix, Arizona 85006. In the memo, write "Support for Palabras."

Social Support:
–Share the "Support Palabras" GoFundMe campaign on your social media.
–Encourage others to shop online at the
Palabras website
  or to set up an in-store
appointment
 . *Again, if possible, encourage them to pay via PayPal at checkout to increase efficiency and reduce fees.*
Emotional Support:
–Send public or private affirmations to Chawa and Jeff via
Facebook
,
Instagram
, or email (
[email redacted]
).
–Share stories on your social media about what Palabras means to you.
Palabras has supported so many of us over the last 5 years, and now members of the community are committed to supporting Palabras in this time of need. We refuse to imagine a Phoenix without Palabras.
Thank you and take care!
Love,
Friends of Palabras
-----------------------
#SmallBusinessRelief
Want to learn more about Palabras? Check out these articles!
AZ Central's Coverage of Palabras' 4-Year Anniversary
Arizona Humanities' announcement naming Chawa as the recipient of the 2020 AZ Humanities Rising Star Award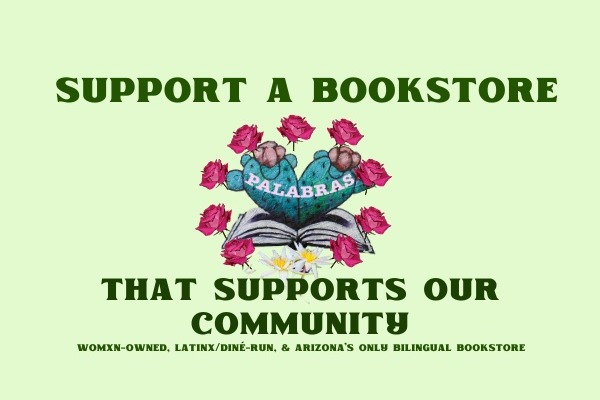 Fundraising team (4)
Raquel Denis
Organizer
Raised $715 from 14 donations
Phoenix, AZ
Rosaura Magana
Beneficiary
Mary Hope Lee
Team member
Raised $483 from 9 donations
Ryan Greene
Team member
Raised $385 from 4 donations
This team raised $12,087 from 181 other donations.