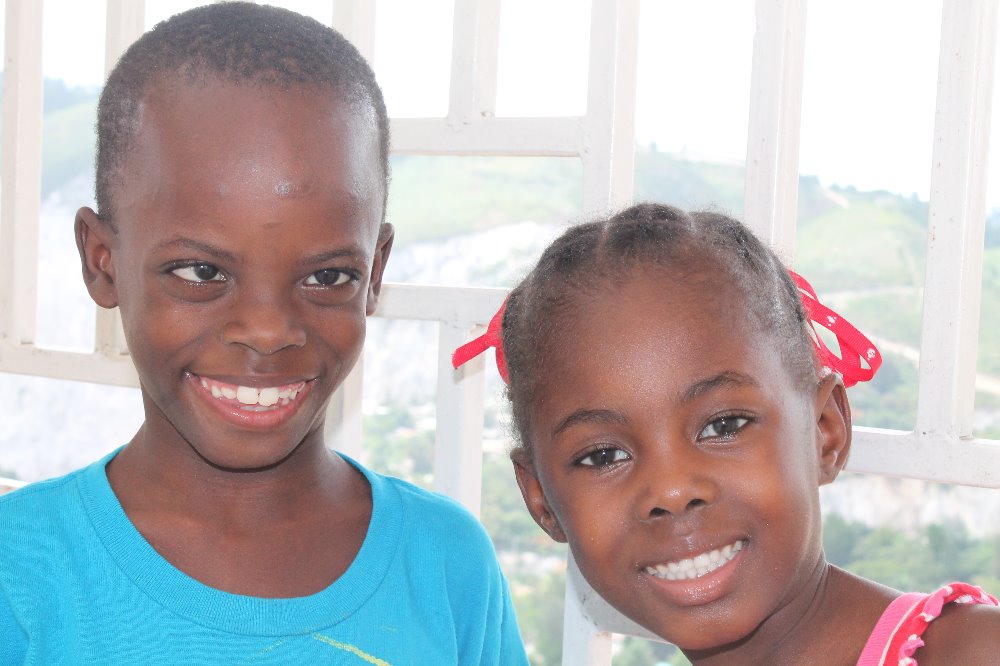 Time lost?  Time gained?  These are a few questions that have been on my mind for over a year now.  October 2013, was a time in my life when I would say time lost.  Did the Lord understand what He was doing?  My questions were just beginning.  Little did I know what long journey that we would be on over the next year and beyond. Please continue to pray for Barry and I, our boys here at home, and Ben and Lucy as they eagerly wait for us to bring them home.

September 2012, we began the adventure of a Haitian adoption with an Indiana based Christian Adoption agency.  We began our state side paperwork that is required for an international adoption.  In December of 2012, we were accepted as a family for an international adoption with this Indiana based agency.  During the next few months we waited as the Indiana agency processed our papers and sent the papers to Haiti.

April 9, 2013 (the day before my 36th bday) I was driving home from the grocery store afterschool and honestly, I was lamenting to the Lord.

"Is it too much for a Momma to know who her kids are?" 

I was frustrated with the timing of the Lord.  The Lord heard my words.  Within 30 minutes of being home and unpacking the groceries the Lord answered my whining!  Ben and Lucy were an official match with us!  We of course were overjoyed, thrilled, and jumping around!  Happy Birthday to me!  More paperwork and waiting followed us for the next few months.

 

The next step was a match visit in Haiti with the kids.  This was scheduled for July. Early in June the trip was canceled by our Indiana agency.  We were told that we could travel in October for our match visit. We were told that mission staff in Haiti would not be able to help us as many were going to be home on furlough during the summer and they apologized for the oversight in our planning.  The summer was long as we waited on information to come out of Haiti. We waited to hear if our paperwork was moving through the proper offices of their government.

As our trip grew closer in late September 2013, we began to gather our items for the trip as well as our thoughts. Were we ready for this change?  How would our boys do? What was it going to be like in Haiti with these kids?  Are we really this crazy? 

 

October 2013, one year ago last week the bomb was dropped one evening around dinner time.  I still remember the pit in my stomach, the buzzing sound in my ears and the plant that I threw up on.  Another adoptive family had reached out to Barry and me by phone.  This family was also adopting from the same orphanage using the same Indiana agency.  The mother is an attorney and the father a business man; Godly folks that were following the call from the Lord to adopt as well. During the first phone conversation with her, she explained to me what had been happening in Haiti at our orphanage.  Lies, corruption, sin on many levels, fraud, just to name a few.  Barry and I were in shock.  We were literally at a loss on what do to, where to turn, and who to trust.  Here we are less than 10 days from traveling to a third world country, with a language barrier to meet our sweet children for the first time and we have no idea what to do now. You see, we were also told that the Colorado based mission group had pulled all their onsite mission staff from Haiti because of the unlawful acts we had just found out about.  This Colorado based mission group were to be our support, our transportation, and translators while we were in Haiti.  We were at a loss.  We consulted a few other families that were in the same situation we were.  Over the next three days Barry and I decided that we would not travel at this time.  Our hearts were broken but we had to put that aside for the moment because our kids whereabouts, safety and adoptability came into question. 

 

During the next five days we learned that 21 other families were affected in the same way we were. We began to pull together as a group asking questions to Haitian Authorities, U.S. Authorities, and Congressman/women. Some answers were coming in but nothing that we wanted to hear.  Haiti began to shut down the lines of communicating as the pressure began to build in the case.  They officially closed our orphanage.  Panic rang out in all 21 homes as we raced to find orphanages for our children to go.  The group of 21 families hired a Private Investigator to try to locate any living family members to help move the children.  Please understand at this moment our children were more orphans than ever.  No orphanage, no biological family, and we did not yet have an adoption decree.  They "belonged" to no one. Time lost?  Time gained? Some families came to move their children to other orphanages; some came and took their children home with them. We had no news out of Haiti of the whereabouts of Ben and Lucy.  This was early November, 2013. We felt as though a dense fog had set in and we could not see through it.

 

Things began to become more real each day as the news out of Haiti became worse, darker, and more sin was revealed.  The day that it really hit home was when we were contacted by an FBI agent.  This was an interesting feeling as I  saw  those words come across on our caller I.D.  After that phone conversation, things were bleak.  The FBI Agent painted a realistic picture for us of what was in store in regards to the 17+ thousand dollars we lost.  The illegal activity here in Indiana and in Haiti that was done with our paperwork, and the possibilities that Ben and Lucy may never come home with us. Time lost? Time gained?

 

Thanksgiving, Christmas break and New Year's, the many snow days home from school had all brought news out of Haiti, some okay, some bad, but nothing solid for us.  We had learned that our kids had been picked up by their father and he had changed his mind. He would be keeping the children. Crushed by this news, we celebrated for the kids that they would have a family.  But our worry about basic needs being met, Ben's eye,  would he be cared for? Not to mention education for them both were also in the forefront of our minds. We had heard that other adoptive families from the group of 21 had set up monthly support for the families that had returned for the children through a local (in Haiti) American Missionary.  Barry and I agreed that this was an option that we wanted to explore.  The father refused.  Time lost?  Time gained?  What was the point of all of this time, energy, and loss of funds?  We were lost in the emotion and confusion of it all.

 

Barry and I began to disagree on how to handle this news and huge mountain that had been dropped in our paths.  Barry wanted to share the news,

"People, who know, are people that can pray," was his common phrase. 

Me…I was the complete opposite.  Silence, close people off, if I move on through life without anyone knowing I can fix this.  I can rise above this!  I can do this. I can!  This is not the course that was right, but it was the course that I chose.  Very few people even knew what was going on until February, 2013 when everything changed. 

 

President's Day, 2013  was celebrated on a Monday.  Tuesday was a snow day…another snow day.  I was contacted early in the afternoon by an adoptive mother from the group of 21.  She told me one of the Private Investigators in Haiti had contacted her, looking for me.  I was unsure of what he wanted or needed.  Please understand that during all of these weeks and months that the orphanaged had closed, this group of P.I.'s had been searching for both missing children and missing family member's.  Immediately, I contacted him.  He began to tell me the most amazing story of how God was still moving in Haiti and in our children's lives. And when we thought things were over.    Time lost?  Time gained?

 

The P.I. began to tell me of his day, how that it had started around 4:30 a.m.  He was meant to be in south Haiti that day working.  But being so tired and having started his day so early he began driving north, as he had so many times in the last few months.  Once he realized he was headed north out of habit, he was too far into his trip to turn around.  He figured that he would tie up some loose-in's while in the town and an orphanage was in that direction.  The day became hot and he had pulled over to a roadside stand to get a drink.  While he was standing there he noticed an American group of doctors and nurses who were holding a clinic on the next block.  As he stood there a tall thin man approached him, and said,

"You are supposed to help me get my children adopted." 

The P.I. explained to him that he wasn't with the medical clinic (in Haiti it is common for parents who are struggling to approach those medical groups and ask for help with their children.  Our P.I. thought that man was confused and thought he was with the group.  The man was firm and said again, 

"You are supposed to help my kids." 

The P.I. at this point told the man that if he needed help, that he would walk over to the medical group with him. 

"No, you are supposed to help me get my kids adopted."  the tall man stated again.

 

Moments later Ben stepped around from behind the parked vehicle. The P.I. knew him!  That crazy eye of his helped him be found! God works in odd ways sometimes. See, the P.I. had seen Ben's pictures many times up to this point because he had been looking for Ben and Lucy.  We had gotten word in late December that the man that had stepped forward as the kids father was lying. He had no relation to them he was just going on a lead that he had heard that two children were missing from the orphanage that had been closed.  He wanted money from us.  He wanted a bribe.  Time after time during December and January he requested money from us through a translator.  Each time we refused.   Time lost? Time gained? 

 

All those nights of worry, crying myself to sleep…begging to God to help my kids.  Somehow, send someone to help them.  Who had them? Where were they? Are they safe? Alive?  All of these questions were answered in that one moment when the P.I. said

"Madame Andrew…I am looking at your son!  He has been found." 

 

Friends, our children had been more physical orphans than they had ever been.  Lost physically in our eyes,  but the Lord had them in His hands the whole time.  He knew.  Time lost?  Time gained? 

 

The following months have been easier emotionally knowing they are safe and relocated at an amazing orphanage in Port Au Prince.  They arrived there just days after being "found". The crisis was over but the drama would continue as the paperwork mess was just beginning to be revealed to us.  As the new orphanage staff and attorneys began to work on our files that were in Haitian Government offices it became apparent to them that the director of the Indiana based agency had done illegal things to our file and was filing documents unlawfully, both in the U.S. and Haiti. So we began the lengthy process again that was completed in 2012.  Documents were obtained, redone, time and money lost as the result of sin.  No other way around it…it seemed like Satan was still holding on to this process for us. 

 

Daily I would struggle through the silence of trying to fix this or get things done.  Gently, kindly, and with a warm smile my husband let me handle this in my way and in my timing.  April 2013, came and went; our 1 year mark of being officially matched with the kids and painful reminder of the sin of the year and the bomb that was dropped. Hope remained in us as monthly pictures and updates would come in from the new orphanage.  In June of this year we were able to take the trip of a life time…we meet the newest Andrew family members.  Claudyson Bennett Andrew and Loudjina Jae Andrew, let me tell you they are FABOULOUS!

 

We are currently "stuck"  with paperwork issues in the first step of this process.  Yes, 17 months and counting in one office. This isn't uncommon for files to sit in this office for 12-36 months.  Our paperwork is up to date and legal.  We are extremely confident in our new orphanage and director.  They are Godly folks that have been doing adoptions for almost 30 years.  They tell us often,

"Your children will come home!"

 

We see families that are with this orphanage bringing kids home each month.  We know that things are moving there.  God is moving there.  Barry and I were blown away in June by the care and love for these children.  Ben and Lucy are extremely blessed to be there at this point and time in their lives.  Now, that we have overwhelmed you and left you with many questions…we ask you to pray for several things specifically.

 

*All our kids' hearts. Our boys at home are tired of waiting and are growing weary of this process (so are the parents).  Ben and Lucy's hearts as they long to be home in Indiana. When we Skype with them or hear from them they ask "when?" It's hard to explain the timing of God to 6 and 8 year olds that do not speak English well (honestly, it's hard to explain that to any child!)

*Finances, we are paying all over again.  The funds, which were saved or donated, are gone, stollen.

 

*Timing and our faith.  We have faith in the process.  We have faith in the folks that are currently helping us with this process.  We need prayer that we stay strong and don't grow weary.  We have many offices and processes that our papers still have to go through until the kids come home.  We need focused prayer that the papers do not stay long in any one place. 

 

 

This has been an emotional year as you can tell. At this point in the adventure of adoption we are daily asking...time lost?  Time gained? A perspective that I hope we never loose as a family, no matter where we travel or what we endure together.
 We have grown as a family and will continue to do so.  I hope that you can accept my apology if I have hurt your feelings in anyway because I chose silence instead of sharing.  We were emotionally raw most days and the news out of Haiti literally changed day to day.  We couldn't keep up with it ourselves. It just seemed overwhelming to share and expose the rawness to anyone…even family and our closest friends. We are committed to doing a better job sharing with you all, both the good and the bad.  Thank you for taking time to read this extremely lengthy letter.  Thank you for praying. And thank you for supporting us.

ja
Organizer
Joye Simkins Andrew
Organizer
Warsaw, IN