It's Back to school and food insecurity does not stop!
Hello, you have landed on a page dedicated to providing access to safe food.
My name is Jessica, you may know me as the online personality and community advocate GFreeWifey. I NEED YOUR HELP, providing access to safe food for people who medically require a gluten-free food.
The need is real and the need is now. As we all navigate this challenging time many have lost their income and grocery store shelves are suddenly unreliable. Social distancing as change how many options function and service the community. The government has just dedicated funds to supporting food-banks as the use is expected to explode with the current status. GFreeWifey Food Bank provided gluten-free food boxes directly to the people who need it most now. I accept donations sort them and hand deliver them to the doors of our registered clients. We were partnering directly with food banks for years but those food banks are at capacity and not providing specialized service for gluten-free clients so we needed to pivot and provide a more direct service to ensure access to safe food was available for those who need it in the greater Toronto area. Your funds donated will help me purchase the items most needed and deliver them quickly.
We have done a lot together since starting in May 2018. Food insecurity is unfortunately a growing concern here at home in Canada. Over 1 million hungry people each month visited a Canadian food bank. We want to ensure people who are experiencing food insecurity have access to safe food. We work to support this deficiency by providing education and training workshops to local organizations as well as fund-raising and food drives. Every dollar contributed directly funds a project or partnership advocating  access to safe food. A big Thank-you to our contributors who help us continue advocating access to safe food for all. Check out some of the amazing things we have done together so far at
www.gfreewifey.com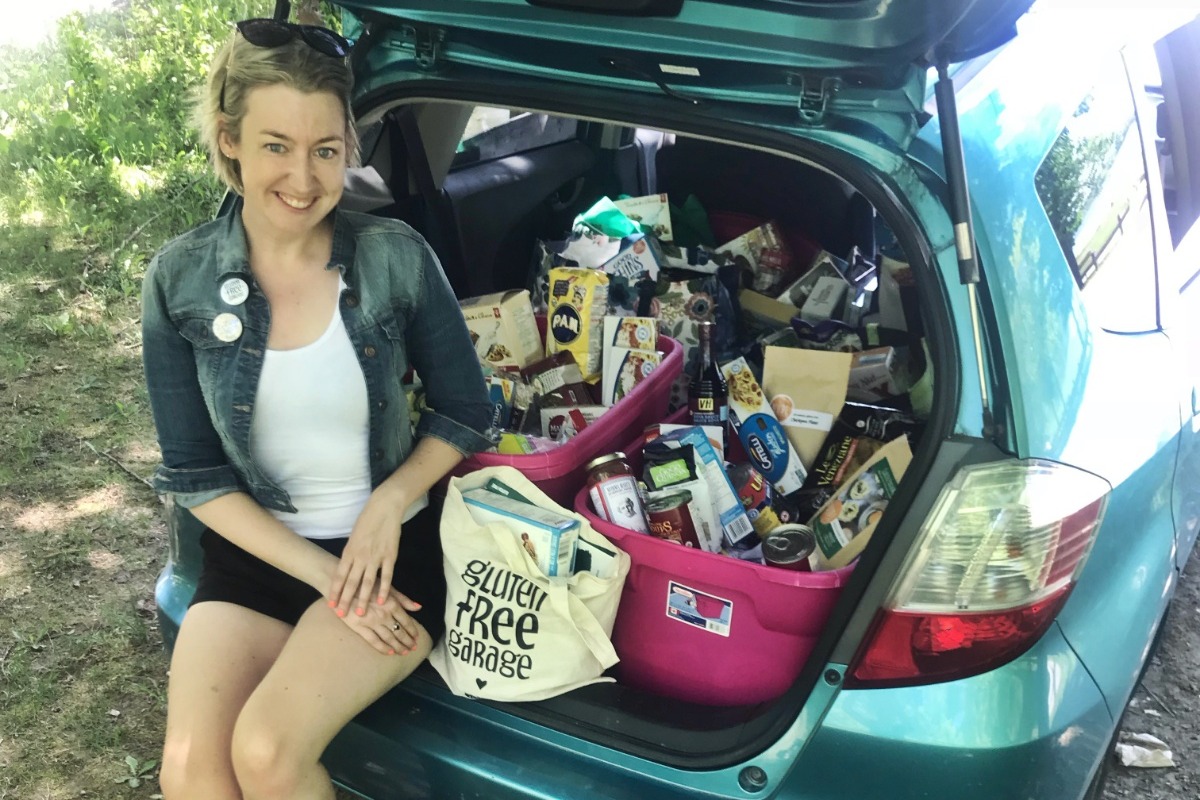 Check out the all the #GFREEWIFEYFOODBANK  community achieved together;

* $1000 Daily Bread Food Bank – May 2018
* 200 Pounds of food donated to Red Cross  Mobile Food bank – May 2018
* $1000 donation to The Stop Food Bank – August 2018
* Nominated for Daily Bread Best in Class award Community Champion – September 2018
* $1000 to the Canadian Celiac Association – October 2018 – Ran my first 5k
* 200 pounds of food donated to The Mississauga Food Bank – January 2019
* Food Banks Canada to add GF to Data collection upon release in 2 years – January 2019
* 400 pounds of food donated to The Mississauga Food Bank – March 2019
* 100 pounds of food Donation to Feed It Forward – March 2019
* Food Rescue to add GF as a selective option in the dietary registration section – April 2019
* 900 pounds donated to Wychwood drop-in - May 2019
* 35 pounds of food served direct to registered clients in food hampers - June 2019
* 155 pounds donated to Food-bank of Waterloo region - September 2019
* 200 pounds of food collected through our holiday food drive for GfreeWifey food bank clients.
* 2020 Switched to directly supporting clients as food banks are not providing adequate support to clients requesting gluten-free.
* 729 pounds of food and $1000 to fill the 25 food boxes in April 2020 
$514 Raised to fill the 25 food boxes for clients of Gfreewifey Foodbank - Celiac awareness campaign
1406 pounds of food collected through the Celiac Awareness corporate food drive Campaign
April food box contributors:
Promise Gluten Free
Only Oats 
Fody Foods
Queen Street Bakery
Healthy Prickly
Scharr Glutenfree
Beekeeper Naturals
Sunshine Wholesome Market
Neil Brothers
The GFB
Chickpea
Enerjive
Cal's Glutenfree Bakery


Happening now… The Community Cook Book Project
Do you have a gluten-free recipe that you love or that helped you transition to a gf-life? You are invited to share a go-to GF recipe to help people transiting to a their new gf life. It can be overwhelming when you first find out you have to cut gluten forever. Most people think they will never eat a carb or anything tasty ever again. That is simply not the case. Al sales of the book support GfreeWifey Food Bank.
We want to hear from you if:
You have a recipe you love! A go-to or a great replacement for a "gluten favourite" food. We all have different tastes, cooking styles and skill sets in the kitchen so all are welcome to share an idea to support a diverse community who are facing this life change.
You have tips, tricks and life hacks to help people transition to a gluten-free life
If you are experiencing food insecurity and want to have a confidential conversation. Share your experience so I can elevate that feedback to community partners and organizations.
You work with a community organization, food program, healthcare practice or alike that would benefit from educational resources about adhering to a strict gluten free lifestyle. (Yes, it's more than just food. Its self care products too like lipstick, hairspray, lotions and medications and more)
You have an upcoming event that would be great opportunity to host a
#GFREEWIFEYFOODBANK
  fundraiser or food drive. Let's talk about how we can partner.
You wish to make a contribution to GFREEWIFEY FOOD BANK or Schedule a drop-off/pick-up  of food donations that are not expired and still safe for consumption.
You are a local business who would like to minimize food waste and provide access to safe food.
You are a business that would like to sponsor a project.
You would love to share your story about going gluten-free and the ups and downs of your transition.
SEND AN EMAIL TO  Jessica Danford  TO CONNECT TODAY [email redacted]