George*  is a handsome 13 year old child with autism diagnosed with severe verbal apraxia, meaning he cannot speak like other kids.   He is able only to "echo" one or two word utterances from what he is told. His mind is trapped inside his body.
His school treats him as he is intellectually impaired.  
They wrongly assume that he is intellectually disabled because he cannot speak normally. For seven years, they have forced him to do tasks appropriate for toddlers - like trying to get him to say letters and numbers. 7 years!! His school insists that he can be trained to speak, even though their own documentation shows the same 1-2 word utterances for the last 7 years. Unable to get the support he needs, he spends much of his day at school in a cubicle, watching YouTube videos. 
Like others with severe autism, George suffers from bloating due to gastrointestinal distress. Even when he is pain and needs to lie down, his school tries to force him to speak to express even his urgent physical needs. When he gets upset at this ridiculous situation, he is told "No!" Denied the mode of communication that works for him, George has had to explain his frustration non-verbally, resulting several times in self -injury. 
Recently, for example, he was unable to express that he had a headache and needed a break. He squeezed his forehead so hard that he came home with a bruise: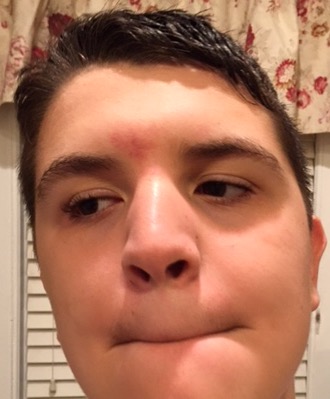 About two years ago, his persistent and resourceful Mom found a technique for him to communicate, using a letterboard and verbal prompting technique called RPM ("Rapid Prompting Method"), provided by a trained interpreter like a teacher or aide. A letterboard is a laminated sheet of paper with letters of the alphabet on one side and numbers & symbols on the other.
George quickly displayed grade-level reading, writing (see picture) and math - including up to two page stories with wit and sarcasm:
While at first I was skeptical, I've seen him to these things in person. I've made videos of him doing it. He is a smart, sweet, capable boy who has endured unimaginable frustration. But similar to Steven Hawkings, he needs a communication accomodation to express what he knows.
George's mom invited the school to see him communicating with the letterboard - live and in person. The response of his teacher, the school Director, and the President of the non-profit that owns the school was:  "Very Impressed." However, then the Director added, referring to George's mode with the letterboard:  "We won't do that!".  
George and his family have endured incredible stress and cost due to lack of effective communication, a right conferred by the Americans with Disabilities Act (ADA). His situation is under investigation by the Department of Justice as a case of potential national importance, but it can take a year or more to resolve.  The school's response? They kicked him out effective next month!
In the meantime, George's Mom asked for her son to be formally evaluated under Federal law and state code, using his letterboard to show what he can do. The school refused. 
We are raising money to get him properly evaluated using his mode of communication as required by law. Fight4Autism has already committed $500. The money will cover a proper evaluation, reports and explanations by certified speech therapist, special ed teacher, psychologist, etc. with an RPM interpreter.  Any excess will be used for related support so George can communicate. So far, the evaluators have adjusted their normal fees to accommodate the family. The money is needed for appointments scheduled starting May 10. All funds will go directly to George's family.
Not only will your donation help George get the communication he needs and the education he has long deserved, but it should help set a critical precedent for the 23,000 other minimally-speaking children with autism in the United States. 
I am a systemic special education advocate who has spent hundred of hours working on George's case without charge.  The family has gone into hundreds of thousand of $ of debt trying to get George help he needs, mortgaged and had to downsize their house. They are financially and emotionally exhausted. 
George's situation is expected to receive national publicity soon. Let us know if you'd like to be recognized a donor that help provide voices for at least one, and maybe thousands of children. Donors of $50 or more can elect to receive updates on George's situation via Facebook or email. 
Thank you in advance for helping give George, and thousands of similar children, their voice!
* Real name withheld to protect privacy of family.

Organizer and beneficiary
#1 fundraising platform

People have raised more money on GoFundMe than anywhere else. Learn more

GoFundMe Guarantee

In the rare case that something isn't right, we will refund your donation. Learn more

Expert advice, 24/7

Contact us with your questions and we'll answer, day or night. Learn more