Garment District for Gowns: NYC PPE Support Fund
UPDATE: Thank you to everyone who has been supporting and donating to Garment District for Gowns! We started this fund to support New York City healthcare workers on the front line of the COVID-19 pandemic. Using our access to suitable fabrics, sewing skills, manufacturing experience, and most recently a partnership with the NYC Department of Health, we have distributed over 130,000 Personal Protective Equipment (PPE) gowns to hospitals, nursing homes, and healthcare centers across the city, as well as to other states in need. We are committed to continuing to our work, reaching more people and supporting more communities.

In addition to continuing the fight against COVID-19, Garment District for Gowns is proud to support the Black Lives Matter movement and will be directing our next round of gowns to underserved hospitals, community health centers, nursing homes and schools throughout NYC, to better support the Black community and protect those fighting at the forefront of social justice.   

_________________________________________________

COVID-19 has afflicted more people in the United States than in any other country in the world, and New York has become the epicenter of the pandemic. As hospitals have struggled with overflow and lack of PPE, COVID-19 has disproportionately affected Black and low-income communities, so the need for PPE in these communities is even greater. 

For months, New York City hospitals have been in dire need of more PPE to protect their staff and mitigate further spread of the disease. They're especially hurting for masks and gowns. Fortunately, we can help - but we must act now.

To accelerate this effort, we launched this Support Fund to help finance and scale the manufacturing of medical gowns, beginning with healthcare workers in New York City.

WE HAVE THE CAPACITY TO MAKE THESE ITEMS IN NEED

Who are we?

We are a group of independent professionals in the fashion industry, with training and experience working for brands such as Ralph Lauren, Dior, Marchesa, The Row, Vera Wang, Ralph Rucci, and Oscar de la Renta. We are designers, product developers, pattern makers, and sewers, and we're strengthened by our relationships with factories in New York City's Garment District. 

 We have assembled our skills and resources to help supply healthcare workers with an essential piece of protection needed on the front lines. Within our first week of launching in April, we self-financed our first batch of 300 gowns, which was sewn by 30+ volunteer sewers. Thanks to the support received via our GoFundMe campaign, we were then able to scale up manufacturing by subcontracting factories, safely bring back over 320 furloughed workers, and produce thousands of additional gowns. Throughout this process, we have stayed in close contact with Governor Cuomo's office representatives, the FDA, the NY State Department of Health, Tri-State area hospitals, fire departments, and ambulance departments to coordinate on distribution. We need your help to continue making more gowns and scale fast.

First milestone: The first batch of gowns was delivered on April 2nd to Mount Sinai Hospital, Jersey City Medical Center, Metropolitan Hospital Center,  and the NY State Department of Health.

Second milestone: In the interim, we have distributed PPE gowns to over 36 of the hardest hit healthcare facilities including Elmhurst Hospital, SUNY Downstate, Coney Island Hospital- Department of Emergency Medicine.



Third milestone: Governor Cuomo and Empire State Development named Garment District for Gowns (GDFG) among the first grant awardees in support of the manufacturing of critically needed Personal Protective Equipment (PPE) related to the COVID-19 pandemic.


WHY GOWNS? 

Our team is able to source the appropriate fabrics needed to make medical gowns that meet the rigorous standards of the healthcare community. Unlike face masks, which require FDA-approved filters that are harder to come by in this moment of crisis, medical gowns are made of high performance fabrics, which we are versed in handling and feel confident we can produce in batch quantities. However, continued funding is needed to maintain our output.

Pictured above: Nurses at Mount Sinai West wear trash bags when left with no better alternative for protective gear, according to the NY Post . 

WHY NOW?

COVID-19 has now afflicted more people in the United States than any other country in the world, and has disproportionately affected the Black community. Following the killing of George Floyd and many innocent Black men and women that preceded him, the GDFG will be directing their next round of gowns to medical centers and hospitals in predominantly Black communities, to better support and protect those fighting at the frontlines of social justice.

According to the NYC EDC, the city currently burns through PPE gowns at a rate of 2 million gowns per week.  Our aim is to make sure these gowns reach the hands of those most in need. All healthcare workers deserve equal protection.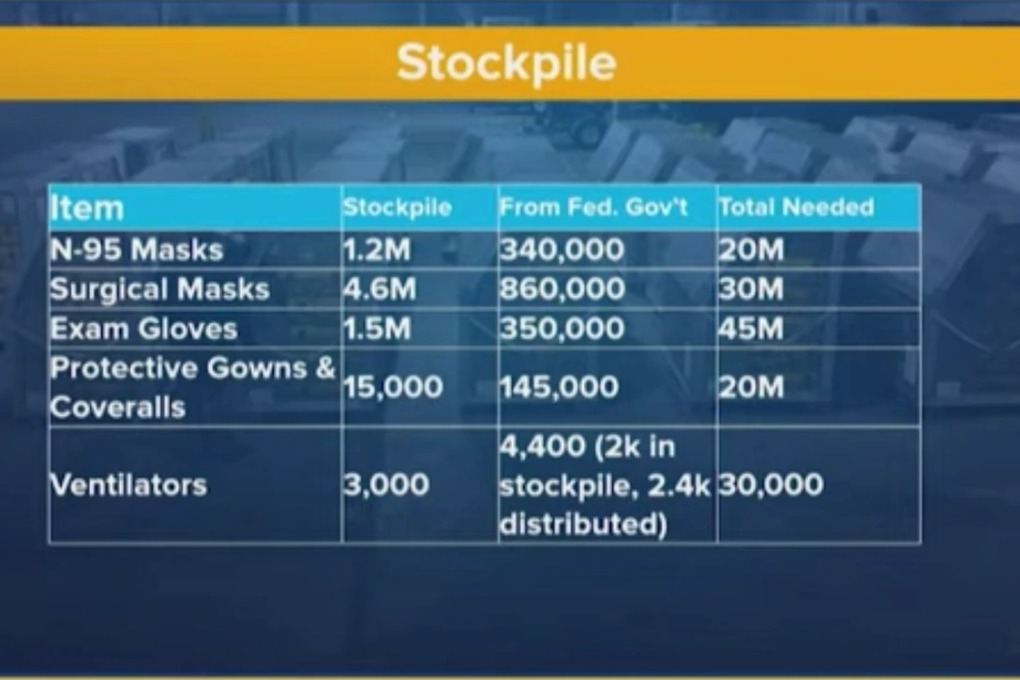 Figure 1: Slide depiction of Gov. Cuomo's statewide equipment needs on March 27, 2020, showing the deficit of PPE in New York state. Reported by Syracuse.com .

ABOUT OUR GOWNS

GDFG designs and manufactures American-made, reusable, and fluid repellent medical gowns from their facilities in New York and New Jersey. Our gowns meet AAMI standards for FDA Class I- Level 2 under current EUA.

The main fabric is an extra strength DWR coated (Durable Water Repellent) ripstop nylon with a polyurethane coating.

The cuffs are made of a non-absorbent, polyester jersey, and ensure a secure and sealed fit at the wrist

The pattern is worn with an opening in the back, like standard medical gowns. Medical workers put them on arms-first, then tie around the waist and back of the neck. Waist ties are long enough to tie in the back or front, aiding in quick application and removal.

The sewers are approximately 320 talented individuals from a wide range of backgrounds, whom we are proud to have brought back from being furloughed.
Figure 2 : See above photos of one of our finished gowns.
WHO WE ARE

Rachel Rothenberg-Saenz is a graduate of Parsons School of Design who most recently works as Head of Product Design & Development for Oscar de la Renta. Previously, she has worked in both design and development capacities at Ralph Lauren, The Row, and Ralph Rucci. 

Alex Baylis is a graduate of Central Saint Martins University in London, who most recently works as Senior Knitwear Designer for Oscar de la Renta. Previously, she has worked at Dior, Carolina Herrera, Vera Wang.

Amy Tiefermann is a graduate of Kent State University in Ohio, who most recently works as a Patternmaker for Oscar de la Renta. Previously, she has worked at Marchesa.

Alessandra Dean is a graduate of RMIT University in Melbourne, and Fashion Institute of Technology. She has spent the last decade in Production, manufacturing in the garment district and abroad. Most recently she has worked at The Row and Opening Ceremony.

OUR COMMITMENT

We will be posting stories & photos of our donations, hospitals and healthcare workers you are helping on our Instagram @garmentdistrictforgowns 

OUR ACHIEVEMENTS IN A NUTSHELL 

> Distributed over 130k gowns to date
> Helped re-employ over 320 previously furloughed workers
> Secured 10+ factories in the Garment District ready to help
> Built contacts with hospitals, state representatives, and the FDA to securely guide donations
>Among first awarded in NY State COVID-19 related grant



OUR FUNDING

100% of the funds will go directly to financing the production of our gowns and other urgent PPE for frontline healthcare workers at New York City's largest hospitals. No one on the team will benefit financially in any way from this campaign. 

We are committed to ensuring that our suppliers provide us with the most competitive rates available for medical-grade gowns, so that the value of each dollar we raise is maximized. Should we raise excess funds and supplies, we hope to expand our donations to other hospitals in need.

FAQs

Are donations tax deductible? Currently, donations are not tax-deductible. We are in a process of filing a 501(c)(3) charity and will update our status as soon as possible.

What goes into producing these gowns?
Garments are produced by hand, by real individuals in the USA!  After design and technical development they will pass through the hands of those at fabric mills, trucking companies, cutting rooms, sewing, finishing and packaging lines.  Each contractor manages their employees, logistics and overhead in this team effort.



Aside from donations, how can you help?
We are seeking:
> Fabric donations (subject to close scrutiny)
> Company partnerships for services or goods in need (for example, Ziploc has generously supplied us with cartons of bags to pack each individual gown in)

What's next?
In addition to continuing the first against COVID-19, Garment District for Gowns is proud to support the Black Lives Matter movement and will be directing our next round of gowns to medical centers and hospitals nearest to the protest lines.

Contact:
Instagram:  @GarmentDistrictForGowns 
Facebook: Facebook Page 
Email: [email redacted]
Fundraising team: Équipe de collecte de fonds (4)
Rachel Rothenberg 
Organizer
Raised $35,089 from 362 donations
New York, NY
Garment District For Gowns 
Amy Tiefermann 
Team member
Raised $1,600 from 2 donations