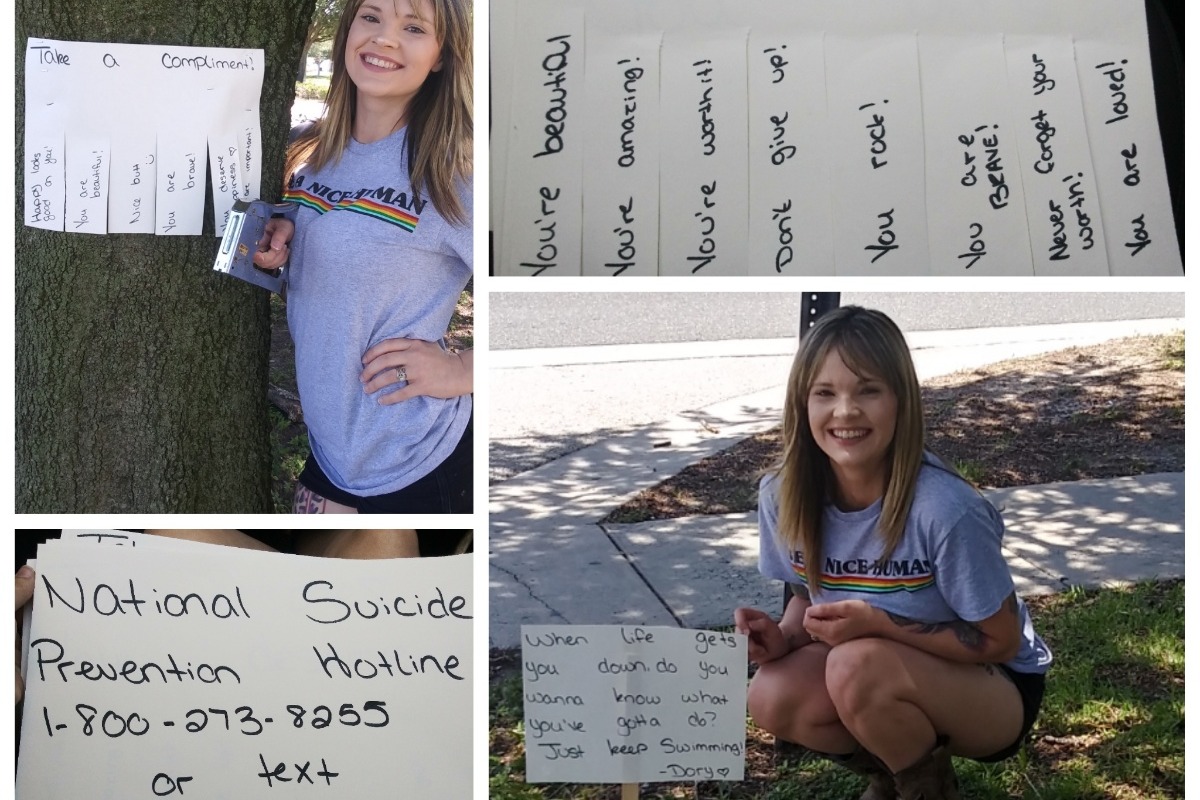 7
2
Signed, With Love
$110
of $1,000 goal
Raised by
6
people in 1 month
My name is Tiffany Mills.
On April 4th, 2019, I placed signs all over the sides of the skyway bridge. The signs were all torn down (it was paper and tape so I fully understand why they were removed), however, with some help, FDOT placed permanent plaques with words of encouragement on the bridge. 
The skyway bridge is the #4 suicide location in the country. It's also the #1 suicide location EAST of California.
Mental illness is REAL and is wreaking havoc on so many people, yet so many people are still narrow minded about it. There are so many different forms and levels of mental health. Two people can can have the exact same diagnosis but present different symptoms or triggers. Everyone says "if someone is feeling that way, they need to reach out" but turn around and accuse that person of just wanting attention when they do finally reach out. Stop judging and throwing stones at those who struggle with things you're lucky enough to not struggle with. One persons struggle doesn't discredit someone elses. Stop with the "I went through worse than that and I'm fine." Mental health is not a competition of who had it worse or who deserves to feel the way they do. There's such a stigma against mental health and it's AWFUL!!!!
Be kind to each other. It costs absolutely nothing to be a decent human being. It's 100% free.
Suicide is not the answer to your problems. You are worth it and you deserve to see life get better. Life is scary. It can be dark, painful, and people can be cruel..but not everyone is mean and not every moment of your life has to hurt. You're amazing and no one can take that from you. Whatever you're going through, it gets better. I promise. You can get through this. Reach out to someone, anyone. You can message me. I'm ALWAYS here for A N Y of you. You can message friends or family. If you want to remain anonymous, call this number
1-800-273-8255
Text the word HOME to this number
741741
Both are helplines that are available 24 hours, 7 days a week.
Every 40 seconds, someone commits suicide. Every 41 seconds, someone is left to make sense of it. You are somebody's somebody...and I promise you, you would be incredibly missed. I could write a novel about my feelings/thoughts on this subject because it's so close to home...but I'll just leave it at this.
You. Are. Worth. It. If you've been hurting and looking for a sign that you're worth it, here it is. You deserve to see life get better You are loved and the world is a better place with you in it
On June 23rd, 2019.. I placed signs all over the city of St Petersburg, FL. The signs had different words of encouragement, some had different compliments that people could take with them as they passed by.  They also have the national suicide prevention hotline written on them. I've been absolutely overwhelmed with support and people with stories about their loved ones who they've lost to suicide, thanking me for trying to bring awareness to mental health. I suffer from ptsd and anxiety, so I understand the struggle people go through.
I'm filing for documentation to make this a legal nonprofit so any donations can be written off for taxes! It's pretty expensive to do so, along with making all of these signs, it's costly. I have 3 children and as much as I LOVE spreading the awareness, I need help. There are photos attached of the signs, news links attached, and I'll post updates as everything progresses!
Thank you so much  
-Signed, With Love
Tiffany 
https://www.abcactionnews.com/news/region-pinellas/fdot-to-install-plaques-with-messages-of-encouragement-and-hope-on-skyway-bridge
http://www.fox13news.com/news/local-news/woman-spreads-messages-of-hope-on-sunshine-skyway-bridge
+ Read More
Update 1
1 month ago
Share
Today, I went around and placed 75 signs! I wasn't able to finish the other 15 signs, but I'll be going out again soon to place more I have an official logo now!! And we will be called "Signed, With Love"
I can't wait for this to grow more!
+ Read More