Hunger has no religion Fundraiser South Africa

Hi dear friends, we both (Leigh Taylor and Justin Van Uytrecht on behalf of Nuraan Esack Gain) are collecting any size donations for this humble feeding project from Nuraans's own home in a vulnerable area in Johannesburg South Africa. She is currently feeding approx 1200 people a day and it is growing daily as the need rises.
Nuraan and her small team work tirelessly every single day to provide meals and try their best to help people keep safe, especially during these trying and desperate times.
They are trying to give families a loaf of bread in addition to a hot meal to take home which costs €0.31 (which is specially being discounted for her). This wonderful selfless woman touches my heart deeply and every cent raised goes towards buying food and cooking hot meals. Many of the recipients are tiny children who also come from abusive homes. It is a dire and desperate situation and I feel absolutely compelled to support her as she feeds people every day of the week and often has no funds. 
If you are at all able to spare a few coins it will be an act of kindness that will be greatly and sincerely appreciated. I started this gofundme as appreciation and to create awareness for all the dignified work she is doing in the community  for anyone who turns up hungry. Her selfless kindness is an inspiration and her efforts should not go unnoticed.  Please kindly share this with anyone who may be able to make an offering that could feed many by even the smallest contribution.
How did she start?
Nuraan just cannot bear to see people going hungry, especially children who are impoverished and often come from broken and violent homes. She felt an overwhelming  sense of compassion and started her small feeding project 7 years ago. Often there are no funds or donations or the offering is very meagre. A few years ago she set up a feeding project in her local community centre where people could sit down at a table with dignity and enjoy a hot meal but the rental fees were very high and she felt the money could be best spent to feed more people directly from her home as the need was so essential and she could not bear to turn anyone away when they ran out of food.

It always amazes me how the humble invisible mothers or the grandmothers (and often the guys too no doubt) are the ones who step up and take action and make a plan, even from a difficult place because they cannot bear to see others struggle, go hungry or suffer. Those that often have a humble life are those who are always ironically the biggest givers with the biggest hearts - others' pain is their own pain naturally. 
The immediate need
Usually she feeds about 300-400 people a day but now during the Covid-19 pandemic  and the strong and often brutal lockdown measures in South Africa, more and more people are becoming absolutely desperate and there are easily 1200 families per meal! Every day the need increases as people have no form of income and they have no option but to turn to begging or in worse cases stealing as they need to feed their families. Government support is not possible and getting grants is an almost impossible and tedious process fraught with complexity and delays. There is sadly a lot of corruption with huge organisations of pilfering and food parcels not being fairly or evenly distributed amongst areas.  So to support these courageous and selfless individuals to continue serving directly is genuinely an act of grace and compassion where one can meet the need directly and know that the money is going to feed mouths and bellies directly.

They get up before sunrise every day to prepare for the now increased cooking and food preparation time required and to make sure that everything is hygienic and that people stay safe.
Longterm goal
Nuraan is steadfastly working and engaged in the slow process of setting up an NPO " Hunger has no Religion" so that she will be able to raise funds in a more consistent way and be able to create more awareness locally and hopefully internationally.  She is working incredibly hard so that she can continue her project and in addition to hot meals or food parcels provide essential items like blankets, sanitary pads and essential items that young girls, babies, children, mothers and the elderly need on a day to day basis to survive and also to give some dignity to those who have no opportunity to uplift themselves due to not having work and being destitute.  The unemployment rate in South Africa is extremely high at the best of times and during this current situation like in many places many jobs have been lost.  The known unemployment rate in South Africa before lockdown was between 29 and 40% ! Now during and post this pandemic it is unthinkable how many more people will be left homeless, jobless and hungry!


Thank you kindly for opening your heart, every drop helps and no size donation is too small and will be gratefully and humbly appreciated.
May all of you please stay safe and healthy and the world quickly rise above this situation causing endless rippling affects of sadness and devastation, those seen and unseen...with humble gratitude Sherab (Leigh Taylor and Justin Van Uytrecht).
Note: Funds are transferred directly to Nuraan Esack Gain's FNB bank account in Johannesburg via TRANSFERWISE from Justin Van Uytrecht's bank account in Spain,Europe from Euros to ZAR South African currency).  Full transparency of all funds are available and 100% of all funds are transferred (except the GOFUNDME transaction fees) All funds are used to  purchase food supplies by Nuraan and feed hungry people.
For any enquiries please check the Facebook Page: @hungerhasnoreligion
Or email: [email redacted]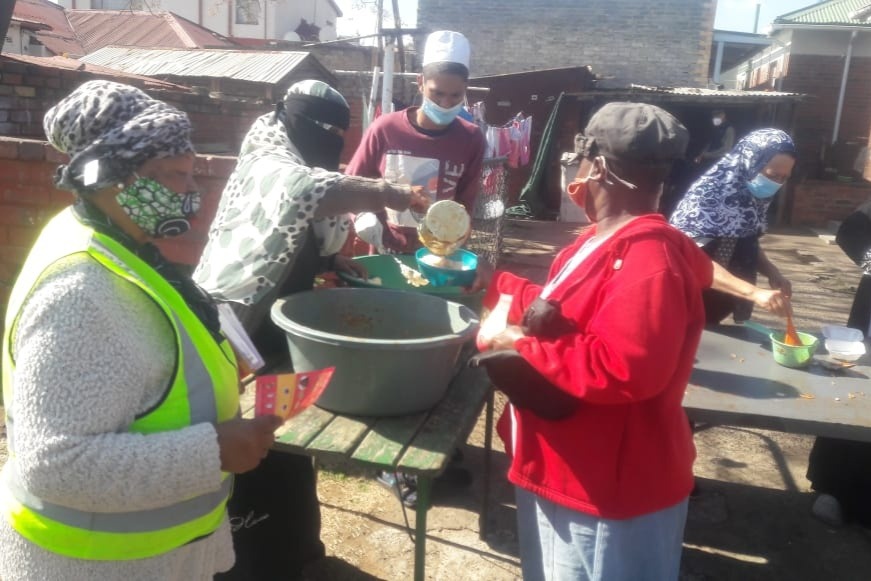 Nuraan is in the process of setting up a charity/ Non-Profit organisation " Hunger has no religion" so that it will enable the project to receive more regular ongoing donations to create a solid foundation for continual support to the community.  The administration process is being delayed due to Covid-19  but she is continuing to feed people regardless as she cannot ignore the suffering happening around her and relies completely on donations from friends, strangers and anyone who is able to recognise the absolute need. We are helping her to make a dedicated FB page and helping to create more awareness of this humble woman's good work and support in the community.



Thank you kindly for any kind of support, or if you have any contacts for connecting to local food suppliers with excess give away food or discounted food in Johannesburg or any forms of donations, like blankets or essential products are  gratefully accepted.  Monetary contributions are humbly accepted regardless of the size.  _/\_




Organizer and beneficiary
Leigh Taylor 
Organizer
Badalona, CT, Spain
#1 fundraising platform

More people start fundraisers on GoFundMe than on any other platform. Learn more

GoFundMe Guarantee

In the rare case something isn't right, we will work with you to determine if misuse occurred. Learn more

Expert advice, 24/7

Contact us with your questions and we'll answer, day or night. Learn more