Feed Families in Bali: Covid-19 Relief Fund
At this moment, thousands of families in Bali are running short on food.
The Covid-19 pandemic has severely impacted economies around the world, including Bali, where tourism accounts for 80% of the island's economy.
With airports closed since March and current projections that the island may not open to International tourists till September (at the earliest), most jobs effectively vanished overnight.
This mass job loss and lack of government-funded support
has in turn left thousands of Balinese short on one of life's basic survival needs: food.
It is now August and the economic impacts will continue to worsen especially amongst the most vulnerable families and villages.
We —
Outsite
  — operate a coliving space in Canggu and are committed to the people of Bali. We have started this campaign to help raise funds for Feed Bali and highlight the current situation on the island.
100% of funds raised will be given directly to Feed Bali 
, a local organization that sprung up to provide Covid-19 emergency food relief. Feed Bali was founded by married couple Adi (Balinese) and Frances (Canadian) and are supported by their local team of package assemblers, drivers and organizers. They document every cost, every donation, and every single family who receives food, so we are entirely confident in their transparency and ability to reach the most in need families on the island.
Feed Bali's Process
1) Working with the local village leaders to identify the families most in need
2) Buying food from local markets and directly from local farmers.
3) Assembling and delivering food packages to the identified families. Food packages contain a healthy mix of carbs, veggies, fruits, immunity building spices, protein, flavour, and oil.
Please JOIN US!

A $30 donation will feed a family of 4 for 2 weeks. 
With our goal of $1500 USD, we aim to feed 50 families of 4 for 2 weeks. To help reach our goal,
Outsite will MATCH the first $250 USD of donations with an additional $250 USD
.
The island means so much to all of us: Outsite has called Bali home for years and many of our staff are Balinese. We are committed to the long term health of the local economy and community in both good and challenging times.
The Balinese have warmly welcomed people from all over the globe. Now that tourism has halted, it's our collective responsibility to step up and give back. 
Please donate, tell others who love Bali, and share on social media.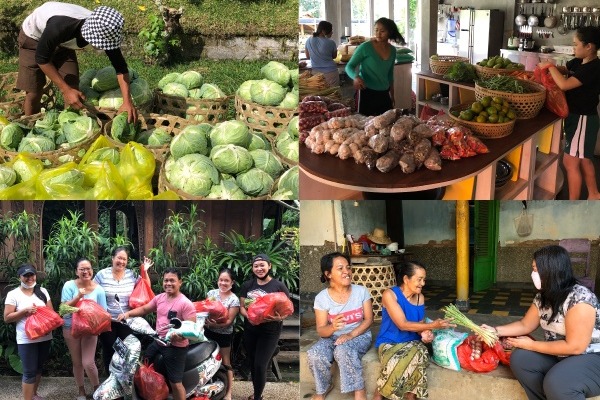 All photos courtesy of Feed Bali organization.
Organizer and beneficiary