Family of 4 Loses Everything Because of Tesla
My name is Meir. I am a proud 31 year old father of 2 beautiful girls, who are my world. Also, I'm a husband to a loving an supporting wife named Lily.
Like so many of you out there, I put my family first. In whatever means necessary. I whole heartedly wanted to take care of them and give them the best life possible. I searched many years to find the right career path in order to accomplish this for us.
One day, I have received an email invitation from Tesla inviting me to apply to a special 4 year program called the Tesla START Program. The start date for the program was July 17th 2023.
As soon as I saw the invitation, the prospect of my family's future and making them happy flashed through my mind. I realized that for this position, I would do anything to be an employee at such a cool and futuristic company. But most of all, to help us afford a better life.
After I applied for the 4 YEAR PROGRAM:
After many interviews, I was pleased to learn that I was officially offered the position by Tesla as an apprentice for 4 years so that I could become a Technician at Tesla's START Program at BCIT college in Vancouver.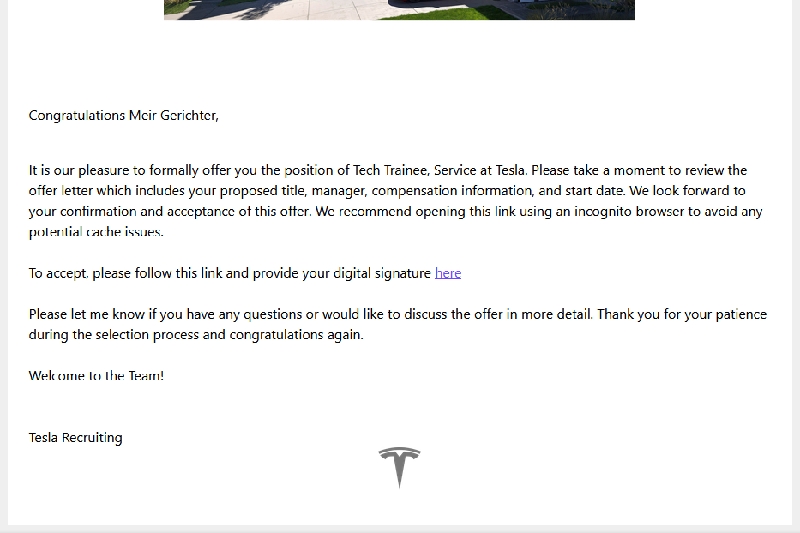 This required a big move from Toronto to Vancouver. I was so excited, passionate, dedicated and devoted to the company. 
So, my wife and I as well as our 2 girls left for a new beginning. 
Before leaving Ontario, we asked Tesla to provide a letter proving to our mortgage lender that I had long term employment for 4 years. This way, we could renew our mortgage contract.
We left our home, jobs and put everything on the line for this promising path. 
Our family packed as many things as we possibly could into our vehicle. We have started our adventure. We couldn't wait to explore what would be our new community.
For 1 week, we drove together across Canada in the middle of the winter through dangerous conditions which we were not expecting. However, we continued on. We arrived in Vancouver, finally. I was officially hired on April 12th.
This is the acknowledgement from Tesla that we were on the way ti Vancouver for the PROGRAM:
I was hired April 12th with no end date. I cannot show my contract due to NDA privacy agreement as that is the law and I will leave that to my lawyer.
In the middle of the weekend, Saturday July 15th, HR said my "contract expired". They lied, made up a fake end date just 2 days before my course... without any warning!
After all of this, the last day that I worked was July 17th, not the 14th because the contract doesn't have an end date!  
It was on monday July 17th, i returned my work laptop and that was my final day. The "3 months probation" excuse does not apply!
Terms of employment were misrepresented. 
Tesla, whom I had trusted and loved dearly, lied about my employment terms. This is called negligent misrepresentation. 
They lied on my Record of Employment saying there was a "shortage of work". I was not given warning of any kind or severance pay. Just ONE BIG LIE that my contract expired along with constructive dismissal.
Because of their negligence and carelessness, my precious family has now lost everything. I went from hoping to be a savior, to looking like a fool. My wife and I are losing our precious home in Ontario. I was stripped of my honor.
How could Tesla be so heartless? How could Tesla do this to a family? How could Tesla ignore my contract? How could they lie on the Record of Employment? How many other people have they done this to?
I want to be the voice of others who were mistreated. For those who have no funds to fight back.
Too often, bullies take advantage of good people. Know that it's too expensive for us to fightback legally.
Tesla has broken the law under section 2.8 of the Employment Standards Act (Misrepresentation of Employment Terms). They constructively dismissed me, and I received no severance pay, no benefits and had no written or verbal warning of any kind.
The money raised from this fundraiser, will help my family and I to offset mounting legal costs. It will also help us to secure a place that we can call our home as we try to sort out this mess and the financial burden that they've left us with.
If we can successfully win our case against Tesla, we hope to be one of the first to go up against the modern day Goliath like David did. If you could help donate to this cause, you will also be just like King David. Helping the Israelites to defeat the Giant.
I have started suing on my own through small claims court. I have no experience with legal matters. I am seeking to take this to the Supreme Court of British Columbia. I have all the documentation necessary to prove this.
We trusted Tesla. This has caused us a great deal of financial hardship. The loss of our home in Ontario. Missing out on 4 years of pay. Worst of all... we are now stuck in BC with no homes to return to.
My first court hearing is Sep. 18th. We are in dire need of a lawyer as soon as possible. We are a good family in need of support.
Fundraising team (2)

Meir Gerichter
Organizer
Raised $208 from 6 donations
Vancouver, BC
Lila Gerichter
Team member