2014 Christmas Eve DTES Meals
This all started when Joshua asked me *will Santa find the homeless people*  
I told him no, Santa is for the children ... so in classic Joshua style he said to me
*what are we going to do about it then!*
And the Joshua Tree Project began.  We believe that all people are valuable and need to be treated with dignity, honesty and integrity...and sometimes that means just being thought of during a huge commercial holiday where it is all about what WE want...nevermind what a community actually needs to simply survive.
The first year (2012) when Joshua was 5 we did 150 meals with $70 and cleaned out our cupboards (that is the picture that is posted).
Last year (2013) with your generous donations of $465 we were able to do 350 meals.
This year –
500 meals is our goal!!
YES!! We have received a donation and the use of a commercial kitchen by Charest Reporting. Our bagged meals will consist of a meat and cheese sandwich, fruit, and a sweet like cookies or a brownie.
Pics from 2012.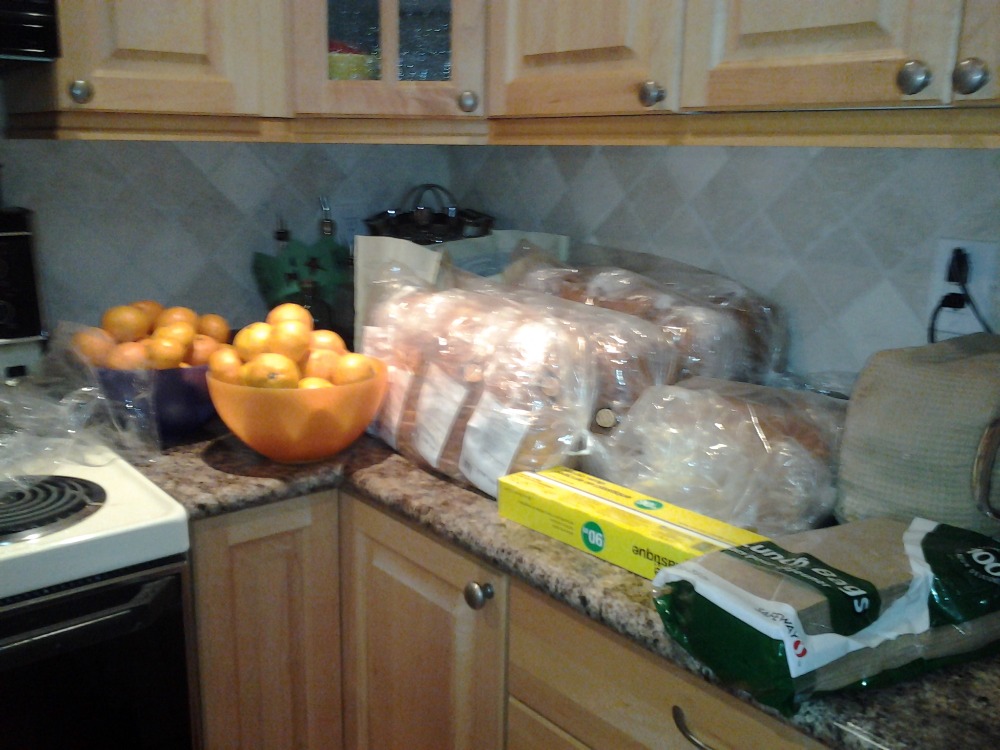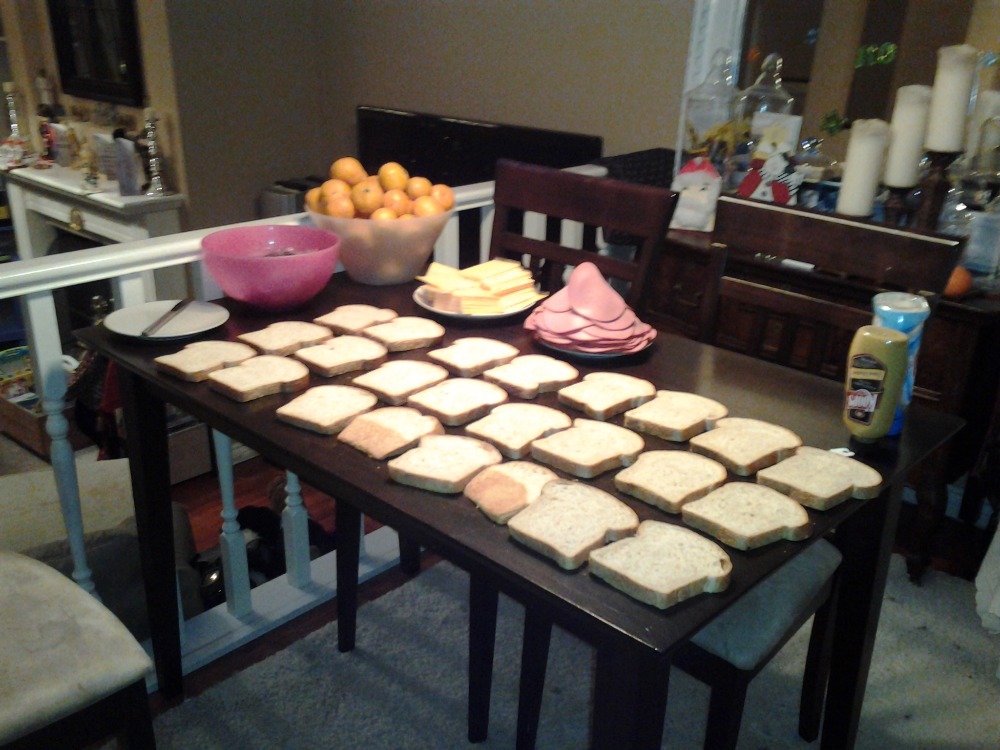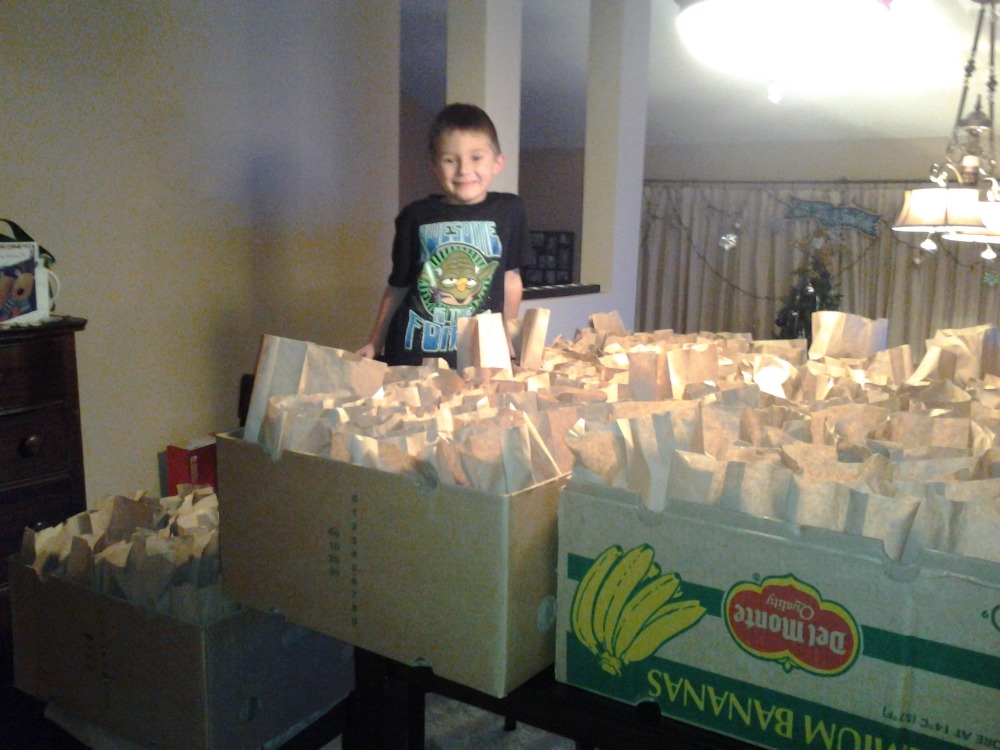 Pics from 2013.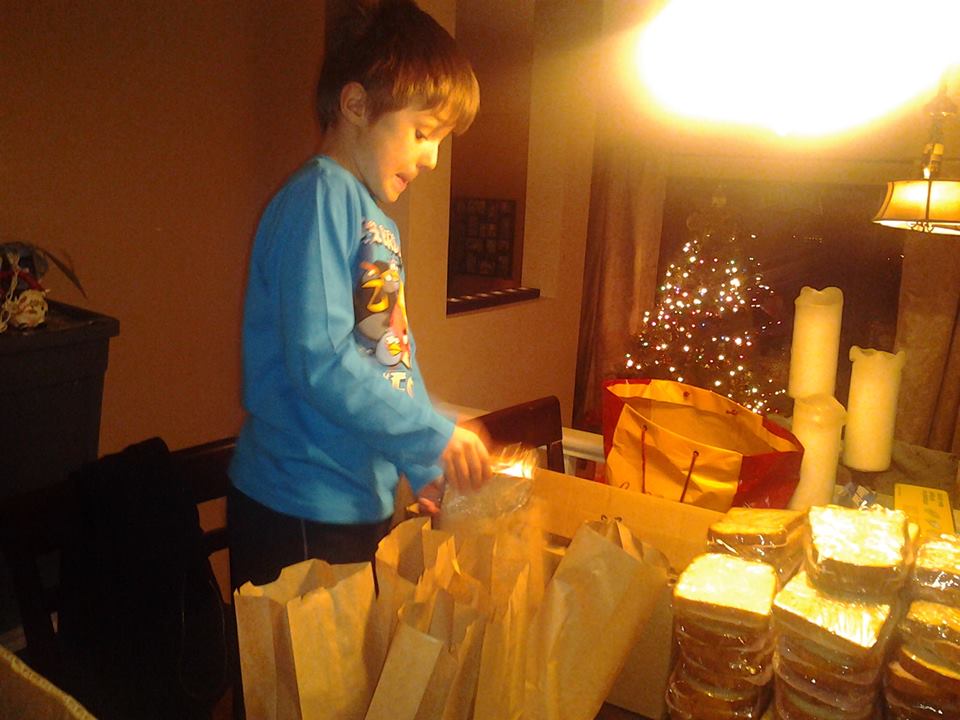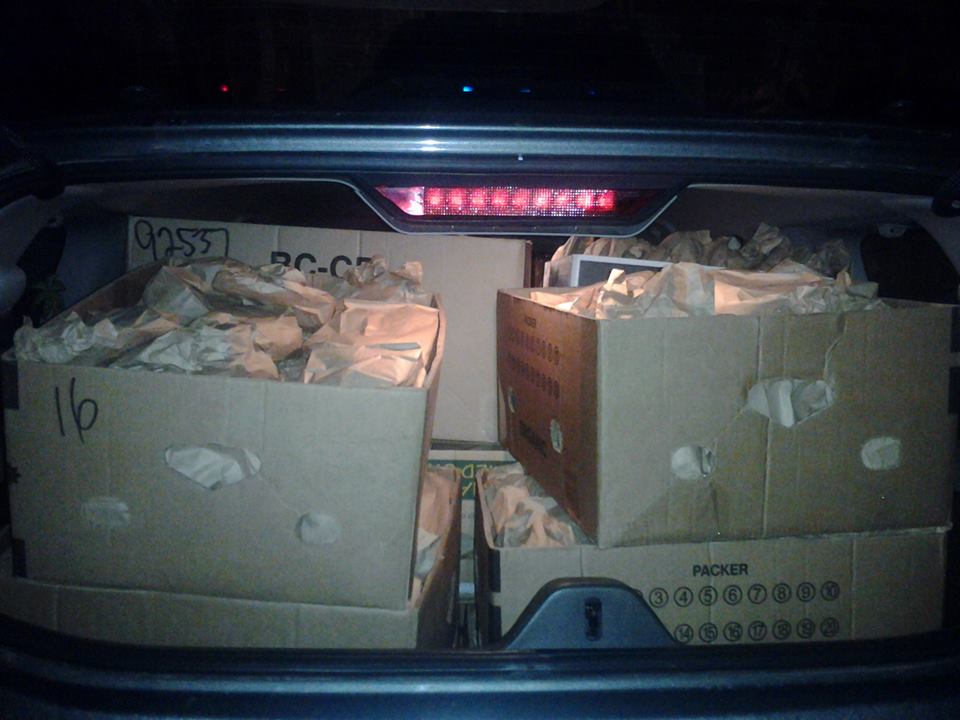 We are trying to include things that are perishable and non-perishable that the homeless would not get to usually experience due to money issues like drinks (juice, milk), cheese strings, pudding cups, fruit cups, etc.  
SOOOOO, if you feel like being part of a worthy cause ANYTHING helps! $1, $2, $5 or the sky is the limit!! You will be provided pictures after the event.
A BIG BIG Thank you!!
Traci & Joshua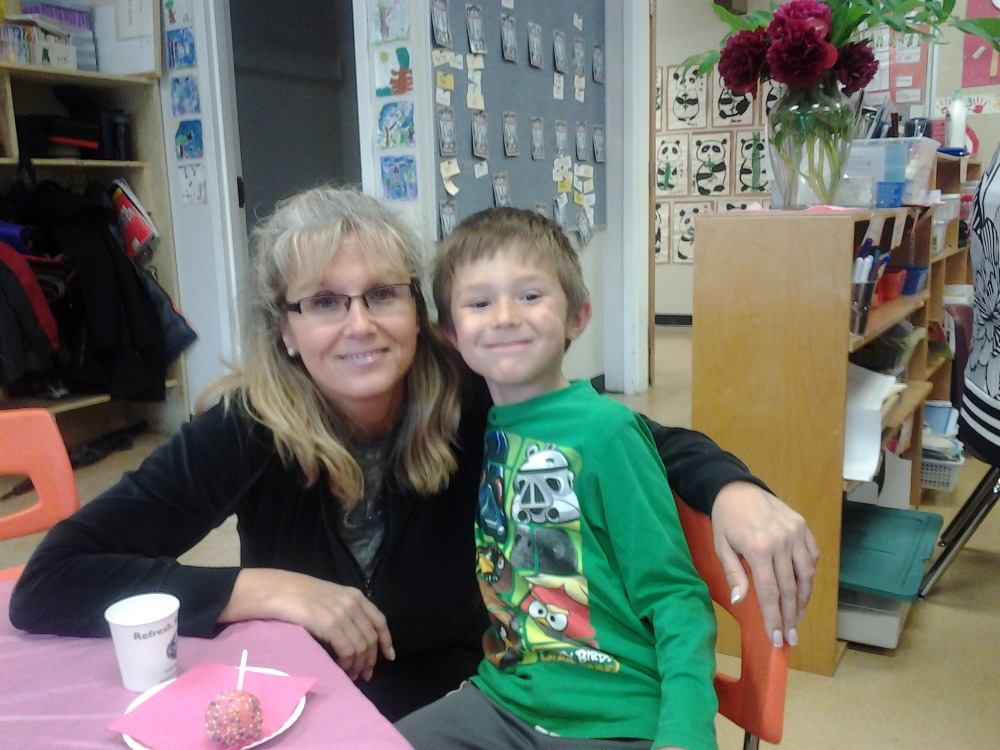 A recap of 2013:
Thank you wonderful Contributors!!!
Here are the pictures of the meals being made and loaded. Thanks to Continental Sausage for a great price on ham!! Big thanks to Cactus Club in Surrey for their donation of 100 lbs of fresh fruit! We only had to buy 67 more pieces to fill our bags. The "chocolate" portion of the meal was Whonu cookies or a chocolate covered granola bar.
The morning of Sunday, December 22 Joshua and I were up and at Superstore for 6 am to get all our bread (some 50 loaves) at 50% off…this was a HUGE cost saving, but remember, we were celebrating Joshua's 7th Birthday at Potter's Place Mission, serving dinner with our church team that goes down on the third Saturday of every month and handing out cake until 11:30 pm. We were not home until midnight!
The precious moment of that evening (besides all the locals singing happy birthday to Josh, and signing a book with birthday wishes for him) was standing on the street with the cake.
The HUGE cake that was 4 feet long and 2 feet wide that took me 3 days to make!
(Thank you Cariboo Road Christian Fellowship for lending me the pans to orchestrate this!) I explained to Joshua that street people are usually grab and go, they have enough condemnation, but they stood around like we were all good friends, eating the cake, savoring it and saying "this is so good" thanking Josh for wanting to spend his birthday with them.
One women in a wheelchair with extremely gnarled hands was being carefully and gently fed by another local street person. I have no idea if they "know" each other or not. It was extremely tough to watch when I realize I have no handicaps and take so much for granted, but touching to see such tenderness in action as she could NOT hold a fork and was reliant on others. But I digress…
Melissa (my total wonder bunny) tirelessly and with an infectious smile on her face, made 350 ham and cheese sandwhiches!!  Is she not great!!!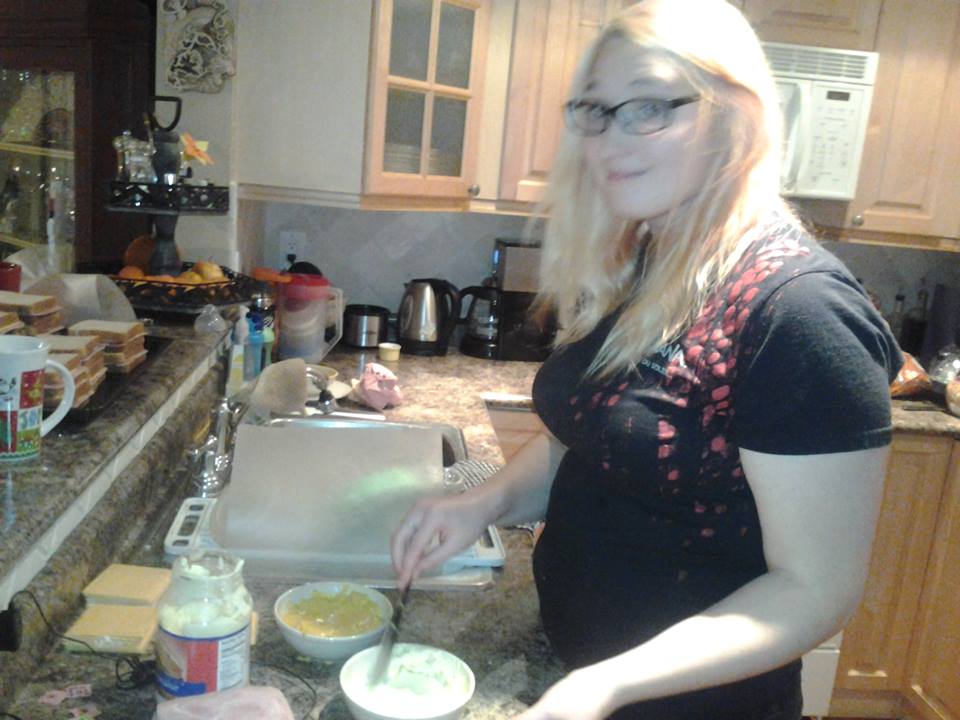 I wrapped them and Joshua and I loaded bags and boxes. To give you an idea of how long it takes to do this, we started at 1:30 pm and finished by 6:10 pm with no breaks!!! It's about 78 meals an hour we are preparing. You can see all the boxes stacked up in my dining room.
My thanks to Evan who double counted all our bags and was the man in charge in carrying it all out and loading a Nissan Pathfinder! We only had so much room to work with and HAD to make it work!
Evan also doubles as a great cowboy at the birthday bash for Joshua this year!
Heather Hynard came along to hand out the meals with Joshua and I. Michael (Heather's son  and from Hoodwinked Films) helped with taking some 45 minutes of video, but as of yet I cannot figure out how to edit it so stay tuned and watch for another email when that is ready.
The locals of the downtown eastside are thankful and touched to NOT be forgotten on Christmas Eve, especially when it is a little child who approaches them with a gift of a meal. They are generous with their praise and thank Joshua for coming out to find them clad in his Santa hat and smiles. They are not greedy and surprisingly will not take 2 bagged meals until we ask them "do you have children? A partner at home?" then reluctantly will take them. Or if we try to give them a meal they say "thanks, you already gave me one." The honesty shows the actual fortitude of these amazing people, simply coping day to day.
One man was telling us that he had saved enough money to get off the street and make it back home to Prince George on a bus later that evening. Think about it…not an easy feat if you are suffering from an addiction. He asked to have his picture taken with Joshua (he had a camera) and said it was a pivotal moment for him.
For him? For me too!! I think of how much I readily have and have been blessed with and its sobering when I think that I have really never had to "cope" like they do day to day just struggling to be warm, have enough to eat, etc. I've only ever really been "inconvenienced" when I look at the big picture.
In Oppenheimer Park a few locals were sitting there and we listened to the lone trumpeter who had come down, stood by the park playing Christmas carols. All we really needed was snow…but thankfully there was none for the locals who sleep outside.
Joshua made it home by 11:10 pm in time to be asleep before Santa came! His last words he asked me before going to sleep was "will they be okay mom?" Hmmm….I told him that for a brief moment they were okay when touched by the love of a child with the gift of a meal. After that, I don't know…but can pray that they find their way. We look for the familiar faces when we go to Potter's Place, and I am saddened if I don't see them as I am not sure what it means: are they warm? Safe? Or? I never like to finish the thought…
And to all a good year! May you be happy, healthy and prosper well…(cause I'll look for you again!! LOL)
Thank you AGAIN for helping us with Joshua's Bagged Meals 2013!
Organizer