"Serving Thy Neighbors As Thy Self"
The Destiny Community Cafe is located at 5060 Dorchester Rd., North Charleston, SC 29418 inside our for profit Scott's Grand Banquet Hall, which allows us to keep overhead low but operating any food service is very costly. 

Please share or/& donate if you can. This is a Faith base mission and the Bible says you have not bc you ask not. 

PLEASE HELP DESTINY REACH OUR ORIGINAL GOAL OF $25,000 THIS MONTH❤️ 
Destiny Community Café is in North Charleston, SC  to make a difference. Community dining with dignity.


All are welcome at our table where locally-sourced ingredients, dignity and respect are always on the menu.

We are a 501(c)3 organization:
Contributions to the Destiny Community Cafe– a program of the DESTINY COMMUNITY OUTREACH, INC. a
tax-exempt organization under Section 501(c)(3) of the Internal Revenue Code, are tax deductible.

We are also a member of One World Everybody Eats.



INTERVIEW: Transformations, Interviewing World Changers Interview: Ragina Scott Saunders, Destiny Community Cafe
NOVEMBER 11, 2019
Click to Listen: https://www.buzzsprout.com/624592/2044392

Natural Awakenings Magazine: https://issuu.com/toniowenconover/docs/na_charleston_1118_hi_res_with_link/14?ff

News 2 Story on the Cafe
Watch click here...
http://counton2.com/2018/02/17/everyday-hero-destiny-community-cafe/



We offer Vegan/ Vegetarian options.

Ragina Scott Saunders, Founder/Executive Director: 
"My family and I were raised to operate our homes and business to reduce food waste while serving and giving from our hearts.

We have always had a heart for people in need and giving food where we can." 

Facts: 
For a significant number of Americans, putting food on the table every day is a struggle.

16 million kids – 1 in 5 – do not have enough to eat each day and lack the means to get enough nutritious food on a regular basis.


According to the United States Department of Agriculture (USDA), over 17 million U.S. households are considered food insecure.

We have a warm & happy environment that is welcoming to existing and new diners, staff, and volunteers at all times.

Destiny's Features:
•Pay-what-you-can pricing
•Healthy, seasonal foods - providing local and organic where possible; We work closely with the local farms.
•Eliminate food waste daily
•Community Table – We have larger tables where individuals and small groups can sit with others and make a larger group that can cross social, economic and other societal boundaries.



Destiny Community Café is open seasonal hours(FALL: Wednesday-Thursday 11-6PM) as a community cafe where diners pay what they can afford. If you are unable to donate you may do volunteer work.


Destiny Community Cafe is unique in the lack of a set menu as well as set prices. Daily selections are made using fresh, organic as much as possible ingredients, and funded by the donations of patrons. We are also partner with local farms.

Instead of a cash register, a donation box is available for one to pay what they they can afford.
Our philosophy is that everyone, regardless of economic status, deserves the chance to eat healthy food while being treated with dignity

Ways You can help:
Come for lunch
Donate MONEY $$$
Become a regular Sponsor
Spread the word
Volunteer
Sustainability is crucial!!!  
Note: If you are not able to donate money at this time you can Donate goods instead,  Here's our current needs...




Donation Wish List as of 9/2020:

Front of the house:
Ac unit needs repaired
Entrance needs new doors
Floor carpet needs replaced with new flooring

Kitchen:
Convection Oven, Hot and Cold Buffet Unit on wheels w sneeze windows,  Commercial Pots, Pans, Serving-wares, Flatwares, Vitamix, Steamers, more Prep Tables, Mobile Pull Trailer for Off-site locations, Shelving, Refrigerator, Freezer

Other Day to Day Supplies:
Plastic Gloves, Trash Bags 55gal, Toiletries

Larger item: Walkin Refrigerator/Cooler

Note: We shop for regular commercial supplies with one of our partnered restaurant supply stores in North Charleston, SC, "FRS Charleston" they also have a supply donation bin for the cafe. https://www.gofrs.com/


Volunteers are Greatly needed!- Join us to work for meals or just because you want to support our efforts to curb hunger and awareness in the community.

Donations may also be sent to:
DESTINY COMMUNITY OUTREACH, INC.
5060 Dorchester Rd, Suite 320, N. Charleston, SC 29418

CAFE DONATION BOX: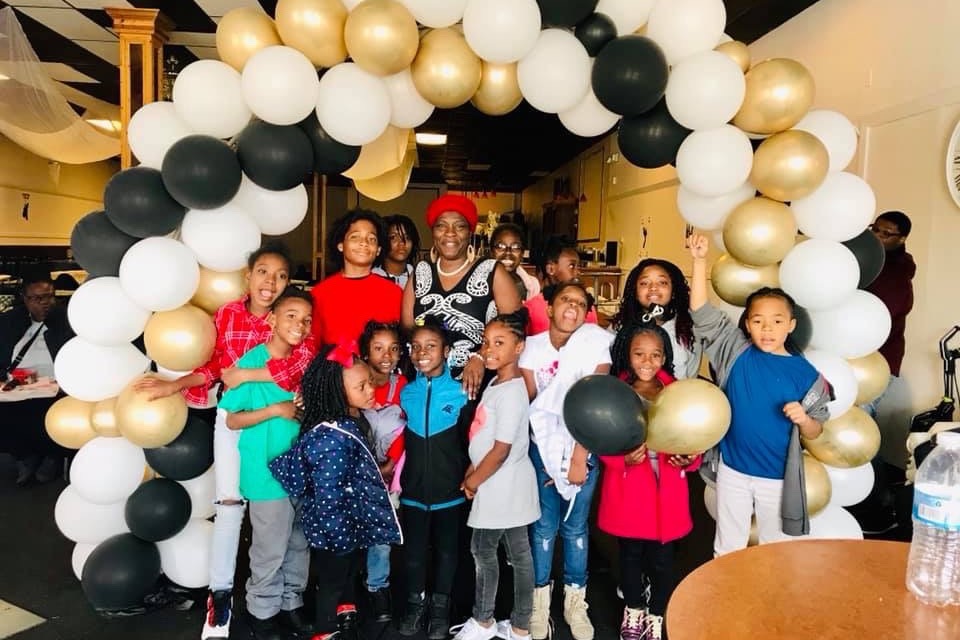 Organizer
Ragina Scott Saunders 
Organizer
North Charleston, SC