Daniel Haney SMA Type 1 Diagnosis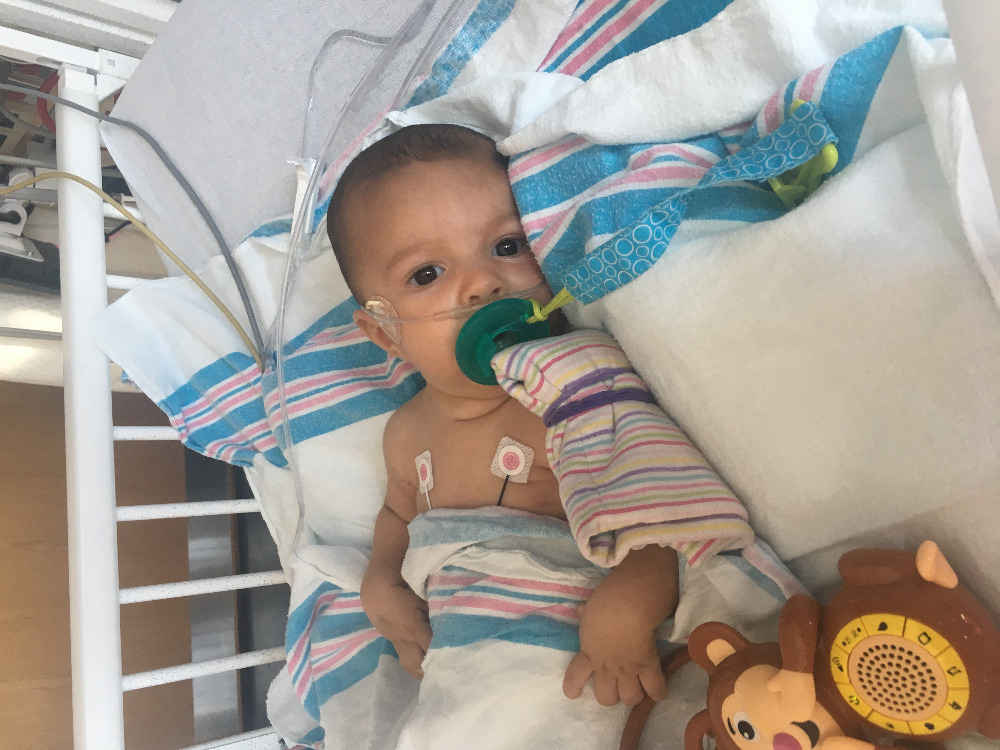 Sometimes unfortunate things happen at unexpected times and we never fully understand why. Most of you have been following the Haney's and I for years as I've shared our Christmas mornings, and family game nights on Youtube.
This past summer I announced that Meka and Daniel were expecting their second child after praying and trying for over a year. I was nothing short of overwhelmed by the messages of love and celebration for the expecting parents and future big sister.
On March 29th, 2017, Daniel Jr was welcomed into the world and all seemed well for mommy and baby. At Daniels one month well check appt, his dr noticed his grasp was weak and that he was un able to push off with his feet. Our dr was concerned and reffered us to a pediactic neuroloist three hours away.
Upon arrivng to our Neurology appointment Daniel Jr.'s oxygen was at 87. This caused him to be admitted before he was even seen for his neurology appt. I was told he would be seen by neurolgy as an impaitent. Jr's labs came back saying he had a viral brochial infection.
After testing and 3 long weeks of waiting, the Haney's were told that Jr.has Spinal Muscular Atrophy type 1. Infants diagnosed with SMA never learn to roll over, sit up, support the heads or stand. The parents were told that babies left untreated rarely live to see their first birthday.
At 3 months of life, Daniel Jr. does not have the strength to turn his head and is losing weight at a steady rate. He underwent surgery to place a feeding tube the  Monday ,26th of June. They are running tests as I'm sitting here typing. In an effort to decide if he needs to be moved to the ICU because, he's having trouble breathing. If his oxygen levels continue to drop then they will perform a Tracheotomy so that he will be able to breath easier via ventilator.
SMA type 1 has no cure. The drug SPINRAZA that was released December 2016 has allowed children born with SMA type  1 to grow stronger and meet some milstones  like sitting up, standing, and even walking. With this treatment Daniel Jr. could surpass the age of two though Doctors cannot yet say how long for the mere fact that testing with this new medicine is ongoing.  God is good and has been provided all that this family needs. There faith is strong.
The Haney's are trying to get an approval from their insurance for the medicine even though the first year of treatment is over $900,000. Daniel Sr. is scheduled for a year long deployment  this year. His command is working hard to have those orders cancelled so that he may spend as much time with his son as he can.
After giving an update on social media, I was asked from several people if the Haney's had a Go Fund Me account. It amazes me how people who have never met this family in person would care enough about them to want to help. They've received hospital care packages and gift certificates to restaurants from families in their neighborhood since they are 3 hours away from home while baby is hospitalized. The Ronald McDonald House is TRULY AMAZING. They have housed them since last Wednesday and will continue to do so until baby is discharged from the hospital. Hopefully sometime after the 4th of July.
Please do not feel obligated to donate a monetary amount. If you have any advice or know of any support groups for families also going through something like this then please feel free to reach out. I know Meka is at a loss on what to say to her 4 year old daughter to help her understand that bubba may not always be with us. Prayers are certainly welcome at this time.

Organizer and beneficiary
Maican Mitch 
Organizer
Holloman Air Force Base, NM