Grown in Haiti's Community Center!
https://growninhaiti.bio.link/
Update 9/11/2021:
In light of the recent earthquake and a unanimous decision by a good number of our supporters, we decided to change our goal amount to reflect the steel structure that we are wanting to build so that the community center can also double as a safe space during emergencies. Quote for steel frame will be posted as an update. Thank you all for your continued support
Grown in Haiti was established in 2014 and in the last five years has already made a lasting impact within the community. It is our hope that in the next year, we will have the organizational infrastructure and funds to build the area's first community center thanks to the generosity of sponsors like you.
Most of our time has been spent maintaining and distributing saplings from our ever growing fruit tree nurseries while simultaneously converting our land into sustainable food forests which now hosts 95+ different species of trees. Forests fulfill numerous functions, and do so particularly well if they have a diversity of trees. Studies show that when trees inhabit forests with many tree species, they grow at a faster rate, store more carbon and are more resistant to pests and diseases than trees in species-poor forests. This not only allows us to feed our community but it also provides us with a healthy, living seed bank.

Some of our accomplishments since 2014 include:
• Planting and distribution of over 5,000 fruit bearing trees throughout our community and across the island of Haiti at no charge to anyone.
• Starting a seed library in order to support local seed sovereignty and food security. This keeps seeds in the hands of local farmers while diversifying their crops and economic opportunities.
• Constructing a 9,000 gallon water catchment system that not only waters every plant in our nurseries, but also provides for our personal use and entire community during the dry season.
• Providing emergency first-aid at no charge to anyone that is within our capacity to help in a rural community without roads where the nearest formal hospital, for those that can afford it, is a 4 hour hike away.
• Starting a community sustained agricultural program in order to help the local farmers connect with a new market and have opportunities for financial growth.

Challenges in our Community
•
Low enrollment in schools:
The average Haitian citizen, age 25 years or older, has less than 5 years of schooling. Haiti has 15,200 primary schools, of which 90% are not public, making school fees prohibitively expensive for low-income families. Approximately 30% of the children attending primary school will not make it to third grade; 60% will abandon school before 6th grade.
•
Food insecurity:
Roughly 38% of Haiti's population is food insecure and our community is not exempt. Farmers have resorted to mono-cropping low value crops as a quick source of income to purchase even cheaper foreign imports. Mono-cropping has been found to deplete nutrition in soil and creates the spread of pests and diseases making it unable to support healthy plant growth leading to the over use of chemical fertilizers and pesticides.
•
Poor literacy rate:
Haiti's literacy rate of 61% (64.3% for males and 57.3% for females) is well below the 90% average rate for Latin American and Caribbean countries. Early grade reading assessment revealed that roughly 75% of children at the end of first grade and nearly half of students at the end of second grade could not read a single word. Further, only 61% of the population is literate.
•
Lack of governmental support:
Most schools in Haiti receive minimal government oversight and are expensive relative to average income. More than 85% of primary schools are privately managed by NGOs, churches, communities and for-profit operators.

Statement of Need
We are pleased to submit this request of support to you as an individual who has shown dedication to social justice and community building. We look forward to your partnership in our cooperative efforts to strengthen the community of Cap Rouge by building a creative, safe, and sustainable space for our community members to gather, learn and grow together.
Currently, the majority of our community lack access to quality education; a prerequisite for sustained social and economic development. The Haitian educational system yields the lowest rate in the education realm of the Western Hemisphere. The fact that Haiti is a Creole speaking country, yet classes are held in French, makes learning and comprehension challenging and puts Haitian youth at risk of lacking knowledge and basic skills necessary to succeed in our ever-expanding society.
Research shows that a community benefits when young people have access to recreational and after school activities. School attendance and grades improve, incidences of risky behavior decrease, life skills and lifelong healthy habits are acquired. There are over two hundred young people between the ages of five and eighteen who live within a two mile radius of where we are planning to build this much-needed space. None of the kids currently have the option to participate in after school sports, arts, educational, or recreational activities and we aim to fill that void. We are simply lacking the space do more right now.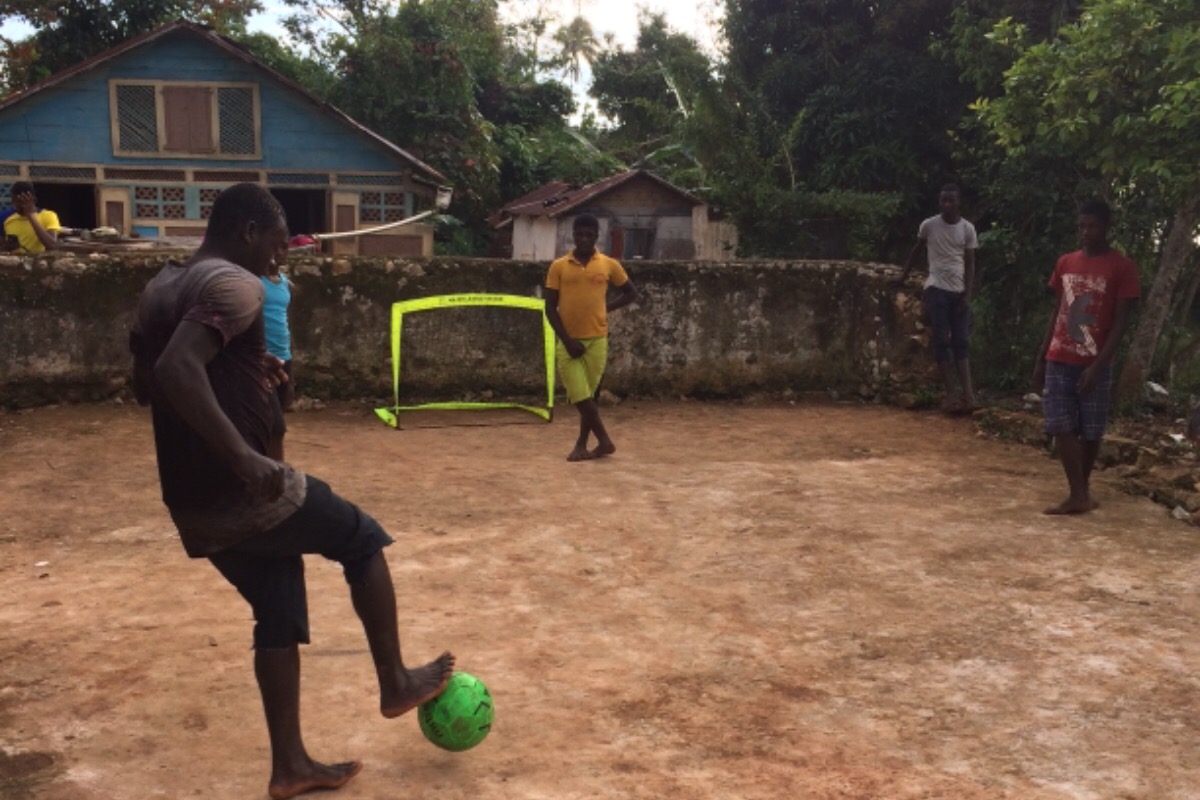 The mission for Grown in Haiti's Community Center is to offer the Cap Rouge area the following:
•
Renewed focus on teamwork and sustainability:
For the general public, the center will bring a renewed focus on teamwork and sustainability. It will serve as a point of pride for this growing community and will help maintain cultural identity while simultaneously embracing global influence. Within the center's walls, we will house our seed library where people can check out seeds from our collection of seeds, grow them, save a portion of seeds after harvest to return to the library.
•
A platform for community members:
Positions at the community center will be held by the very people living in the community to increase involvement and sustain engagement and responsibility. This way, community members will be able to have a direct impact by being able to identify their needs, articulate the appropriate solutions to those needs and participate in the decision-making process that affects their daily lives while demonstrating community values of stewardship, interdependence and independence.
•
A safe space for growth:
This center brings a sense of grounding in having a home for personal exploration and expression. Studying and meeting spaces, equipped with solar power, will allow further personal development than currently available. Instead of seeking dire opportunities elsewhere, the community will be able to learn new skills in order to unlock new opportunities.
•
Inclusive of all ages and sex:
A well established community center opened to kids and adults alike fosters creativity, collaboration and interaction across generations and disciplines create educational opportunities that can help broaden their each other's perspectives and find new options for sustainable growth. Lessons in reading and writing, foreign languages, sustainable agriculture, home economics, woodworking and artistic expression would be available and open to the community.
•
Global center of connection:
Having this center will continue to draw like-minded people to the area from other region and countries to share and grow with our community. This exchange of ideas can help create new opportunities for personal advancements, be it educational or financial. The presence of this center makes a statement that we care strongly about our community's long-term development and will continue to expand global awareness of Haiti.
•
A creative outlet:
Installations, performance and art exhibitions by community members will be ongoing and open to the public. When opportunities arise and funding is available, we will replenish our stock of mediums for further artistic exploration with the potential of hosting artist-in-residences.

Proposed Budget
Our proposal requests $30,000 USD to fund the construction of a two-story, multipurpose community center on land already purchased. This space will host recreational and after school activities for the young people of our community, a permanent community garden to learn about sustainable agricultural practices, a rooftop greenhouse classroom, a paved playground for outdoor activities, and an academic and social space equipped with solar power for evening studies and gatherings.  
Members of our crew and volunteers who bring a wide variety of skills and talent will establish periodic classes such as weekend workshops and summer programs where both local and foreign participants are brought together to share information and ideas. Anyone in our community will be able to use the facility year-round for organized and unstructured activities such as community events, receptions and other group activities.
* Budget purpose is to build infrastructure of community center
Fundraising team: Fundraiser Team (9)
Sidney Etienne
Organizer
Raised $10,418 from 97 donations
Cherry Hill, NJ
Iram Padder
Team member
Raised $6,472 from 30 donations
Miranda Shaffer
Team member
Raised $550 from 7 donations
Candice Fortin
Team member
Raised $275 from 4 donations
Mark Leger
Team member
Raised $200 from 1 donation
See all