Lightning Only Strikes Once: A Clexa Comic

    What if Clarke Griffin and Lexa kom Trikru had the opportunity to travel back in time all the way to the beginning of the story of The 100? Lightning Only Strikes Once will follow our heroes as Clarke wakes up in her cell on the Ark, and Lexa in her bedroom in Polis.
    The story then sets out to change the events of the first two seasons of the show. Certain plot points and events will be similar, but many will diverge from the original television program.
    Furthermore, subjects such as xenophobia, racism, queer baiting, and many others for which the show has been criticized will be treated with the utmost care to ensure that the same mistakes are not repeated. 
Click here for a preview of the first five pages!
     The author of the fanfiction, Fiona Dean, is aware of this project and has given us written permission to use the story in any measure. Derrick Crow, our story director, is in charge of translating the written work into a comic book format.
You can find the fanfiction work this comic is based on
here
.
    Our fabulous artist Alais will paint this comic book in a semi-realistic style, staying as true as possible to the characters we fell in love with.
    Once published, the final printed book will be A4 size, which is 21 x 29.7 mm/8.27 x 11.69 inches. The book will have 46 pages of full colored illustrations. Hardcover and softcover versions will both be offered.
Hardcover:
Softcover:

Book Orders:
    There are several different tiers to choose from with varying rewards for each one.
     Alongside the book you also have the opportunity to get an A3 (29.7 x 42.0cm / 11.69 x 16.53 in) poster delivered to you for a $15 donation. If you would like to bundle your orders (for example, the $40 softcover comic book plus the $15 poster) you may add up the costs (in the case of the softcover plus the poster, a total of $55) and then leave a note stating your bundle order when you donate on the GoFundMe page.
  The Mini Poster in A4 size (2.10 × 29.7 cm, 8.27 × 11.69 inches) is available in the $45 and $65 tiers.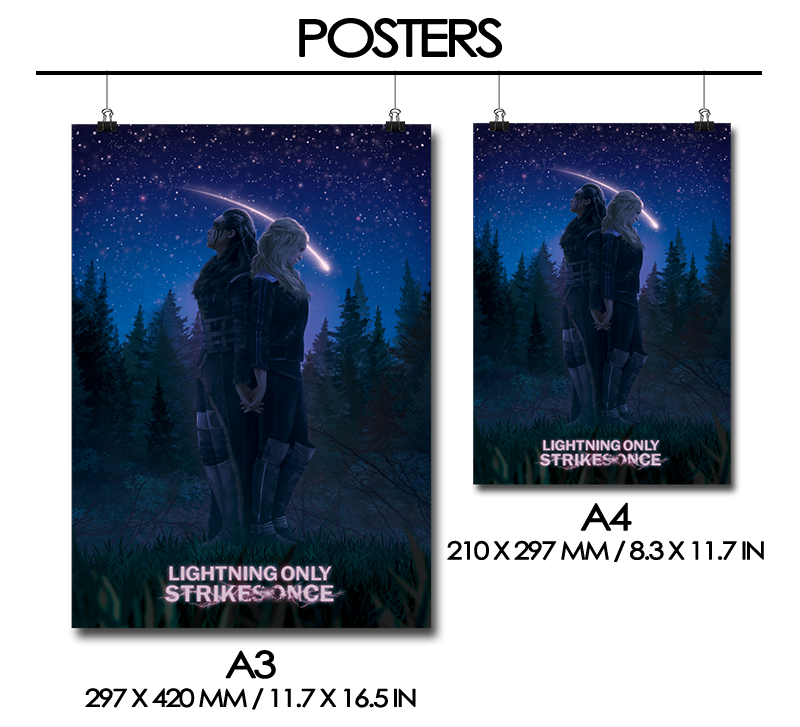 The Lextra Pack - please note this pack is SOLD OUT and is no longer available! Perhaps it will make a return for volume 2 ;)
    More rewards may be made available later on when we hit stretch goals. For example, if we hit $12k, a survey will be sent out to gauge interest for adding a Black & White version of the comic book.  
If you do not want your name listed on  our thank-you page, check the "Hide name and comment from everyone but the organizer" box when you place your order on the GoFundMe donation page. This will enable you to be an Anonymous donor. If you would like to remain Anonymous on GoFundMe but still have your name shown on our Tumblr thank-you page, please contact us.
  To place an order, select your preferred tier on the top-right column of the GoFundMe page. The  website will take you through the steps of donating your amount. It will collect your email and shipping address so that we can deliver your book to you, but that information will not be made public.
    If you would like to change your order or inquire for more information, you can contact us on any of our social media platforms or email us at
[email redacted]
.
----  
Charity begins at home.
As proud members of the Clexa fandom family, we always make sure to help each other in times of need.
Eliza Taylor (Clarke) and Alycia Debnam-Carey (Lexa)
gave life and depth to the amazing journey of Clexa, inspiring many to create different types of art and supported us during difficult times.  
Eliza
recently posted the emotional story of
Koh Tao International Primary
, a not-for-profit school in Thailand she helped build with her friend Claire two years ago. The school's fees are meant to be permanently kept as low as possible - the lower the fees are, the more children can get access to affordable education.
    As a token of our love and appreciation, we've decided that
a portion of each sold "LOSO: Vol.1" book and all leftover proceeds
will be donated to the Koh Tao International Primary fundraiser, which can be found here along with the full story:
https://www.gofundme.com/elizataylorschool
    We hope your donations will be able to reach as many children as possible. Let's help give them the education they all deserve in order to build a better life and make a difference in the world.
----
FAQ:1 - When will I receive my book?
     Digital downloads of the book will be made available on April 1st 2018 according to our tentative schedule. We estimate that physical copies of the comic can begin to be shipped out around April 16th 2018. For more information about the dates,
see this post.
2 - Regarding finances, you started a crowdfunding campaign to fund the creation of the first volume of the comic book and set the goal at 20k US Dollars. How did you calculate this number?
     $20k US dollars is what we calculated when we combined compensation for the artist and story director with the highest estimates of all the costs related to printing and shipping. For example, for shipping costs, we input what it would cost to ship all the comic books to the farthest international locations. We wanted to be prepared for any scenario and make sure that there wouldn't be any logistical problems once the campaign was funded. Additionally, we calculated about $3-4k that will be donated to the school.  We are using 500 books as our base cost.  
     See below for a comprehensive pie chart portraying how the cost estimations are broken down.
     None of the organizers are receiving any money whatsoever from this campaign. The project is solely for the benefit for the fandom. Leftover proceeds not used for the production of books will be donated to the school.
3 - Will I have to pay shipping costs on top of the book purchase?
     No. The shipping cost is included in the flat price for each reward tier. You will not be expected to pay any extra costs.
4- How many pages are planned for the comic book? How many volumes will it have?
       The first volume will have 46 pages of the actual plot. Depending on how much money is raised in the future, subsequent volumes could possibly be expanded by a few more pages. We are planning for10 volumes to tell the whole story. 
5 - What happens if you don't reach your financial goal?
    We have multiple plans in mind. The main goal of $20k would be ideal to reach because it will let us donate a good amount to a great cause.
    In the case that the goal of $20k isn't met, the comic will still be produced as long as a minimum of $12k has been raised. The difference is that we won't be able to donate to the school if we raise less than the main goal. It might still be possible to make the comic and distribute it in a purely digital format as long as at least $8k have been raised.  If the goal of $8k is not reached then the comic will not be made and all the money raised will go towards the school's fundraiser.
   To sum it up, these are the possible scenarios at the end of the campaign depending on how much has been raised: 
- $20k or more raised: 
a physical comic book will be produced, and a donation of a few thousand dollars will be made to the school. 
- $12k to $19k raised: 
a physical comic book will be produced, but less money will be donated to the school.
 - $8k to $11k raised: 
a digital only format of the comic will be produced with very little left over to donate or none at all.
 - less than $8k being raised: 
automatic donation of all of the money raised to the school, and the comic will not be produced either physically or digitally.   
See more questions and answers here.
Visit our tumblr page for more information!
Disclaimer:
   We do not claim ownership over any of the characters, settings, concepts or storylines featured in The 100. This story is based on characters and situations created and owned by Jason Rothenberg and Kass Morgan, various publishers including Alloy Entertainment, CBS Television Studios and Warner Bros. Television. Those involved with the production of the comic are in no way associated with the owners, creators, or producers of any previously copyrighted material. ​No copyright infringement is intended, the purpose of this fundraiser is just to raise enough money to create and print a fan comic. All proceeds will go towards production of the book, costs of shipping to its contributors, and charity. Our intent is to create a transformative fan work that both critiques and celebrates the parts of The 100 that fans love, we do not intend to generate any profits nor do we seek any personal gain.
Organizer
Clexa Clexa
Organizer
Fremont, CA