Donate to CentroCSO | Chican@Power!

Centro CSO needs your help.

We are a neighborhood organization; completely funded by the people. We are 100% grass-roots, and we are not affiliated with any political parties.
Centro CSO is comprised of mothers, parents, teens, veterans, rank-and-filers, the elderly, students, bus-drivers, and teachers! Everything we do is voluntary and none of us are interested in making a profit. However, we do have expenses during big events.
Our main events are listed below, and your donation today will be immensely appreciated. Each dollar donated will be channeled into the following:
May Day: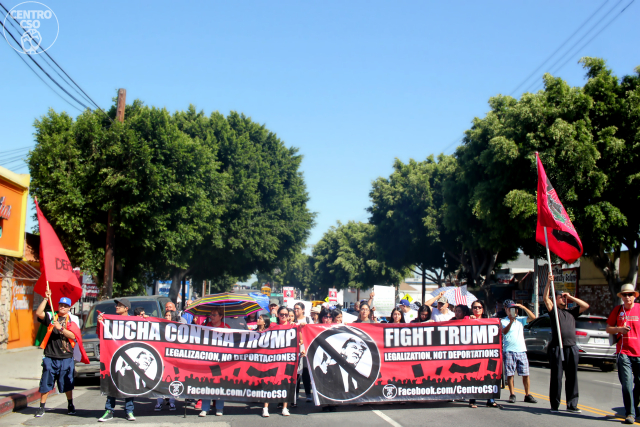 Every 1st of May, Centro CSO participates in International Worker's Day to empower and educate people of Boyle Heights to reclaim our streets and push forward real demands from the working-class.
We have been hosting May Day in Boyle Heights since 2014 and plan to continue doing so, indefinitely.
Chicano Moratorium:
Yearly on the 29th of August, Centro CSO organizes and hosts a profound recount of the Chicano Moratorium. A historic day in 1970 when more than 25,000 Chicanos hit the streets to protest police killings and brutality, discrimination, racism in public schools, and the Vietnam war.
We never charge any participant and often times cook and serve our own food.
Every 3rd Wednesday of every month:
Centro CSO hosts a public meeting at the Boyle Heights Benjamin Franklin Library at 6:00 PM - we always provide food and healthy snacks to all who attend.
Your funds would help provide this much-needed gesture as well as all the printing involved with every action and event we host. At our meetings, we provide transparent bank statements to all attendees on how your donations and any money Centro CSO obtains, is used. We are proud to serve our neighborhood of Boyle Heights, and proud of your support.
Thank you.

The movement against the racist Trump administration, killer cops, and against displacements will continue in Boyle Heights. Join the movement to fight back. Si se puede!