Nicolò is an11-year-old child born with Trisomy 18, a rare chromosomic disease considered by traditional medicine
incompatible with life
because of the multiple organs' malformations these children are born with.
Both Nicolò and his mom, Christiana are our close family friends.  Due to the tireless work of Christiana, his full time caretaker, and help funding important treatments not available for free in Italy, Nico has been able to enjoy a close to "normal" childhood. 
We are today looking to raise money for a special trip this June to a Tampa, Florida, USA where a special Rehab and Treatment facility exists called Brain Boost which has shown significant progress for people with issues like Nicolò
We would be incredibly grateful for any support you can lend to our cause.  We get to see daily the struggles Christiana and Nico go through and how significant improvements in his physical and cognitive development have been through continuous treatments we can provide with this help.  Thank you, here is Nico and Christiana's story.
-----------------------------------
Nicolò lives in Italy where there are no clinical and rehabilitation protocols for this disease.   From his first days of life, his mother has had to fight to ensure his survival. After being diagnosed with trisomy 18 he was in fact refused heart surgery. The struggle has then continued for all kinds of medical interventions that a healthy child would normally receive without objections among which the major ones, to open-heart surgeries at birth and at 9 months, surgery for bowel obstruction at age 4, knee surgery at age 10 for patella stabilization due to bone malformation.
Thanks to his mom's determination and knowledge who has spent the last years researching new cutting-edge treatments Nicolò's health has improved considerably. 
The turning point arrived when Nicolò' started, at age 4, hyperbaric oxygen therapy. Not only Nicolò's health started improving overall, but he has also recovered from a severe anemia, he has discontinued growth hormone therapy (the hyperbaric oxygen activated his own production of growth hormone), and most importantly he keeps making significant progress cognitively with the oxygen providing the necessary support to all other rehabilitation therapies he's currently involved in.
Another turning point was the introduction of primary reflex integration. Thanks to her contacts in the USA, Nicolò's mom back in 2015 learned about a doctor based out of Orlando with a great reputation, Dr. Svetlana Masgutova, who has successfully developed over the past 20 years a therapy called 'primary reflex integration' which helps children recover the missing milestones typical of the first year of life in this way compensating their neurological, cognitive and motorial gaps. She travelled back and forth to Poland for 2 years where Dr. Masgutova has a rehab institute for intensive treatments and continued the therapy herself at home with great results. 
Beside working on the integration of primary reflexes, Nicolò is now working at school with a new cognitive enhancing method by an Italian University Professor Dr. Benso from Genua which works on executive functions and working memory. 
Based on the yearly cognitive and speech evaluation which Nicolò completed last June at the Stella Maris Institute, thanks to this new method and the other ongoing therapies (hyperbaric oxygen, music therapy, craniosacral massage, physiotherapy, osteopathy, optometry) in one year Nicolò has grown of an additional year cognitively. His skills like in all special children are not homogeneous. In some skills he is at the level of a 7 year old boy and in some others like a 10 year old kid.
At the moment his mom is trying to address his biggest issues which are auditory understanding in general and specifically of abstract word/concept, short and sequential visual and working memory and still gross and fine motricity which unfortunately greatly affect his leaning path at school. His academic level is comparable to a 1st grade child.
The neuropsychiatrist from the Stella maris Institute Dr. Bargagna, however, confirms that Nicolò has still a large potential of growth as he keeps showing to be still in constant evolution.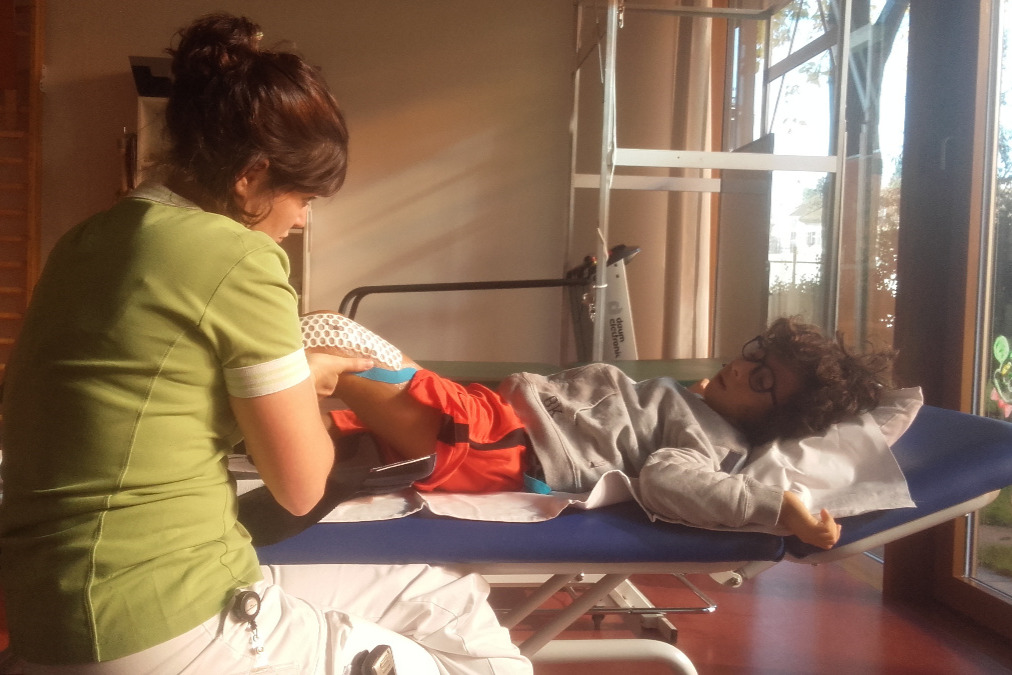 Recently his mom Cristiana has investigated a new cutting edge therapy LLLT, Low light laser therapy which from several clinical studies published by the NIH has proven to stimulate remyelination and growth of neuron dendrites. Nicolò' mom has found out about the existence of a Rehab Center near Tampa called Brain Boost Center which has developed LLLT rehab protocols based on these recent studies to the benefit of children with the most varied disabilities from Down syndrome to cerebral palsy and all kinds of genetic diseases, and so far all children report, based on the parent testimonials, great benefits. 
 The cost of the therapy for a 5 days intensive treatment is $2,000 dollars plus costs for travelling from Italy and lodging. Cristiana is looking for help to raise funds to bring Nicolò to this center at least twice a year for the next couple of years so as to take advantage of his maximum brain plasticity and bring out his full potential by the time he reaches age 15, which according to the new medical standards is the age when brain plasticity start to diminish.
 Nicolò has so far challenged whatever traditional medicine had to say about trisomy 18, and his mom truly believes this new therapy will make it possible for him to achieve a higher level of autonomy and therefore a much better quality of life.
Thank you for your support.