Help hundreds of children and young people in southern India grow up to a better life!
UPDATE: Thanks to your generous donations of more than CHF 5000 (USD 5500) so far, the foundations of the new building have been laid, as you can see in the video above. We and the team at Madurai Seed are very grateful to you! Madurai Seed's new education centre will enable hundreds of children to grow up to a better life in the coming years.
But much work remains to be done and to complete Madurai Seed's the building, CHF 22,000 (about USD 24,500) is still needed. So please share this GoFundMe campaign with your friends, neighbours, family, work colleagues, and anyone else you can think of! THANK YOU!
Our names are Keith, Maggi and Nick, and we are members of the Swiss support group
Friends of Madurai Seed
. We are passionate about Building Hope in Madurai, our project to raise money for a new building for
Madurai Seed
. We have known Karthik, the founder and director of Madurai Seed, for several years and we want to support him and his team in the wonderful work they do.
Karthik will explain what the project is all about.
Karthik with a group at Madurai Seed
Dear Friends and Supporters
Vanakkam. Greetings from Madurai Seed. This is to seek your benevolent support for an essential need of Madurai Seed. Since 1999, Madurai Seed has supported numerous children and young people from underprivileged backgrounds to reach great heights through education. We would like you to join in our mission to create our own building.
Why we need our own building:
Now, Madurai Seed is operating in two leased buildings and three rental buildings. The leased buildings were from the generous support of Madurai Seed friends. In the rental buildings, the rents go up higher every year. It is hard to get donations matching the rental amount every single year. The rooms are small. The owners aren't interested in fulfilling our requirements in terms of water, electricity, ventilation, repairs and maintenance, painting, etc. Since we are operating among children, it is very essential to provide them with a good environment, safety and comforts which they already lack in their families.
Benefits of having our own building:
In the year 2023-24, we have decided to move to our own building. If we have our own building, we can operate more independently. We can have a hall for gatherings instead of small rooms. It will provide a safe, comfortable environment for children. It will ease the financial burden of paying out rent. Ultimately, it will give strength to Madurai Seed for its sustainable running through many years in the future.
The situation now:
We have our own plot (land) of 675 sq.ft (63 m2) in Karumbalai itself. At present, there is an old house with roof tiles on it. We had classes in it last year. Now it is no longer safe to run classes in this old house. It has to be demolished and newly built. We plan to have a library on the first floor and a hall for classes on the ground floor. 100 children will benefit daily from the building.
Update: Building work has started and the foundations have been laid! See the video above!
The budget:
It is estimated around Rs. 25,00,000 (twenty-five lakhs) are needed for completing the ground floor and first floor. This is approximately CHF 27,000.
How can you help:
We request you to support this mission which will help children and young people in this area for years to come. We all know "little drops make the mighty ocean".
You can donate as much as you wish, small or large.
You can also encourage your friends and family members to donate.
Donations from the GoFundMe project will go to Friends of Madurai Seed, which is a charitable organization registered in Switzerland, where donations are tax deductible. Friends of Madurai Seed will transfer the funds raised to Madurai Seed in India. The building project accounts will be transparent. Progress and expenditure will be shared with all donors.
Keith with volunteers and children in an old classroom in a rented building.
The conditions are cramped!
This renovated classroom in one of the leased buildings suggests the more spacious and modern conditions the new building will provide.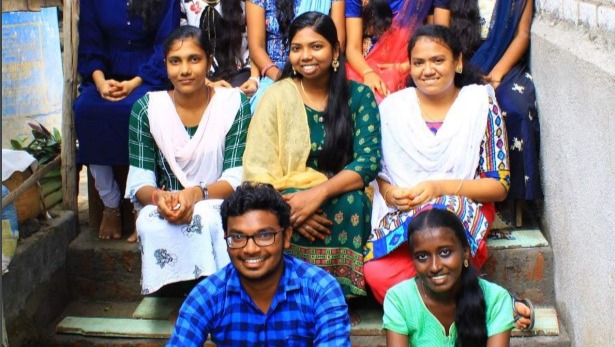 Find out more about the work of Madurai Seed's education centres
here
!