Building a Home for Christopher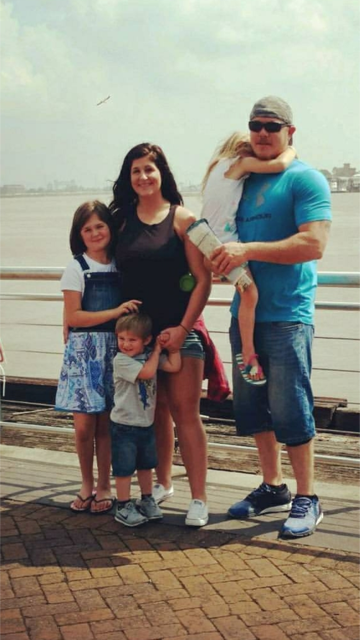 We are close to finishing this project. We would like to invite all who have assisted thus far as well as anyone who would like to help finish the project to attend an event, meet Christopher, and see the home on Thursday, October 24th at 12 noon.
We are #OneCommunity and we are #BurkeCountyStrong
https://www.gofundme.com/f/building-a-home-for-christopher
32-year-old Christopher Grubisa is a Journeyman with IBEW local 1579. He is a long term employee of Marko Electric and his loving wife Amber is a stay at home mom to their 3 young children ages 8,5 & 3.
He is a loving son (and only child) of long time Burke county residents Nick and Sandy Grubisa.
Monday, October 23, life was normal other than pain in his left arm.  However, when he walked into the ER on the 24th his life changed drastically as he was diagnosed with Meningococcal Nisseria Meningitis with septicemia.  For quite a while, it was touch and go as to if Christopher would live.  He did live but has had both arms and legs amputated. 
The Burke County Sheriff's Office – Georgia is taking the lead under Sheriff Alfonzo Williams and Chief Deputy Lewis Blanchard with Team Leaders Jay Hollingsworth and Brad Capitosti to ensure that an ADA house is taken care of for Christopher, his wife Amber, and their three children.  Our goal is to ensure that Christopher has a fully paid for ADA home for him and his family here in Burke County, Georgia as they have asked us to take the lead on this project.  All funds will be handled by Annette Ports, the Administrative Assistant to Sheriff Williams with the Sheriff's Office for the building of the home as well as the ADA needs.
The Full Story….
Monday Oct 23rd, life was normal. Christopher's only complaint being joint pain in his left arm to the point he could not use it properly. He and his family assumed it was a gym injury. By 1030 pm, he had a fever, vomiting, diarrhea, and chills.  He and his family again made another assumption, thinking he had the flu. On Tuesday Oct 24th around 830am they decided to make a trip to the ER. Christopher "WALKED" in to the ER.  After roughly 8-10 hrs in the ER his organs began to shut down and he was on life support in ICU. Doctors informed the family that Christopher might not make it through the night. His official diagnosis was a form of meningitis:  Meningococcal Neisseria with septicemia (infection of the blood). This is a rare but serious bacterial infection. It causes the membranes that cover the brain and spinal cord to become inflamed. He developed a rash with this infection referred to as purpura; this rash caused 2nd, 3rd, and 4th degree burns to roughly 80-90% of his body. Doctors immediately started him on vasopressors; medications that constrict blood vessels, in an attempt to keep his blood pressure up. These medications restricted the blood flow to his the extremities resulting in his amputations. The medications also caused damage to the ears and nose. As of today, 2/27/2018 Christopher has undergone 21 surgeries. He has had skin grafts done to all burn areas. He had his extremities amputated just above the wrist on the right arm, just below the elbow on the left arm, above the knee on the left leg, and below the knee on the right leg. Christopher has spent over 120 days in the ICU with his family by his side daily.  They have watched his body slowly come back to life and he continues making great improvements daily. He does PT and OT every day and is learning to use his body again. He is eating, talking, smiling, and occasionally giving his nurses a hard time . It seemed as if we watched him sedated for so long we felt we might not ever get to experience his beautiful personality again but he is coming back. The first few weeks of him waking up and learning what all has happened were very emotional/mentally challenging but as always he has overcome and there have been more good days recently than bad. He only recently has been able to visit with his children for the first time and we truly feel that was the best medicine.
Thankfully, the family is not grieving the death of Christopher, but they are grieving the loss of who Christopher was. His life, our lives and all that know him will never be the same. Christopher still faces an uphill battle, but the odds he has defied already are immeasurable. His fight, his strength his determination, his endurance and his faith in GOD has allowed him to fight back and WIN!!
He has touched many lives through all of this. He is and always will be a testimony that others will draw from. He earned the rank of Eagle Scout earlier in his life and is excited to one day help his own son accomplish that as well.  With the help of many, he will also one day walk his daughters down the aisle at their weddings.
He is fighting to come home to his wife and family and we are fighting to prepare a place for him to come home to. The Neville family of Hephzibah has graciously donated land in Northern Burke County where he will be able to live near his parents. Our goal is to ensure that we are able to build Christopher, his wife Amber, and their three children a home that he as a quadro amputee can live in.
Burke County will rally behind this local family but we are a small rural community and help from others as well would be greatly appreciated!
The Grubisa Family Thanks you in advance for all of your support, donations, and prayers.

Organizer and beneficiary