Build a home for family in Cambodia
We now have an Instagram page with all of the updates & Photos - www.instagram.com/build.cambodia

Build Cambodia is an ongoing project started by Josh Marques &
Marques Flooring
where each year with the help of other local businesses and donations we return to Cambodia to build more houses for very poor families in need. If you scroll to the very bottom you will see the original post which also has information on why Cambodians are struggling and need a lot of help. Below you will also find all of the information and photos on the 5 houses so far we have managed to build in Cambodia.
As you will also see below, money goes very far in Cambodia so please help us to help them. This is 100% for them, there is zero administration (except for the small % that gofundme charge.) Otherwise all of our time is 100% volunteer. If you donate $100, exactly $100 gets to them, making the impact huge.  Thank you so much for your ongoing support and help!


August 2020 Update - A lot has changed due to COVID, still we have good news (we are still building a house):

Feb this year we let everyone know that we had selected another family that we wanted to build a house for whilst on our planned visit for September to Cambodia. We then planned to find another family as well and then..... COVID. This changed everything for Cambodia! Firstly it put them under even more financial strain with tourism coming to a complete stop. This then created massive problems with many suffering and dying from things as simple as starvation.
We redirected our donations towards food packs for many families (probably now close to over 50 families we helped).  This then got so big that some of the hotels that were forced to close got together to create a complete program to feed over 400 every day. you can directly support this at:
https://hotelsjoininghands.com
COVID also meant we had to cancel our trip this year to Cambodia, BUT, we have worked out that we can still get the house built without us there. It will also employ more people during this time!
So we are still going to keep our word and build a house for these guys. We will be able to receive updates, images and still arrange for gifts as well. We hope you can help us select some gifts for them too!
Here is some more info on the family:
Father: "Mike Hame" (yes he wanted a western name!! ) 24 years of age and he works as a farm hand.
Mother: "Kolarb", 31 years of age, stay at home mum.
Oldest daughters name is "Salsa" 5 years old, going to school.
Youngest child (daughter) "sam Nor" 2 years old. (all pictured below)
Aaaand even more exciting, they are located in the same village as the previous 4 houses/families so it means we will be able to see all of the updates from the build etc. This is how they currently live, very small, no protection, and being so close to the ground means during the wet season they are at risk of it floating away!
We are about $1,300 short (at time of writing) so if you want to be a part of this family build you can join us! 
We can't wait to see this begin in mid September. More updates coming soon!



October 2019 UPDATE! 5 houses in total now complete!

·         Built 2 more houses, just 500m from 2nd and 3rd house.

o   4th family is husband and wife with 3 kids, 12-18 approx, 1 off working in Phonm Penh. Grandma also lives with them.
o   5th family is a single mum with 3 kids, newborn, Vinchika 2, Lisa 7


·         Visited 2018 families for update and gifts
o 
  2nd family were not there but because they all including the son have full time work in Siem Reap
o   3rd family is doing great, family extended on their house. Surrounding areas looking much better

·         Visited 1st family from 2017.

o   They are doing amazing, they were all their including kids (except the father).  Kids were so excited to see us and we played games for hours. They ran and grabbed photos we gave them from year before when we got there.
o   Water well was broken


·         Fixed water well for first family.

·         Possibly found location and 2 families for the 2 houses planned for 2020.

A bit of a wrap up of 2019 trip:

In the lead up to our third visit to Cambodia we had the usual mixed feelings. We were both very excited but also a little scared. We are excited because we know we are going to meet new families, build two more houses and of course get to see our past families. But we are then also apprehensive about it. We never forget that we are going out in the middle of nowhere in a third world country with people that don't really speak any English. We also wonder if they have forgotten who we are or how we will be welcomed into the new village?
For our first day we are going to out to the new village and start building both houses. This time we were already organised and had with us plenty of stuff for the kids and the families. Some of it we brought over but most of it from the local market.
We were so excited to see Sabet. Sabet is our amazing local contact who tries his best to translate for us and navigate us around safely, he has the biggest heart ever. He organises most of what happens while we are in Cambodia. He takes us to the local markets for supplies, arranges the builders, and most importantly makes us feel safe if anything were to happen.
Cambodians are not very affectionate but we always try to make a point of getting a proper hug out of Sabet. This time it was so exciting to see him waiting with open arms, initiating the hug! The apprehension about it all starts to settle as it begins to feel like home again.
We jump on the Tuk Tuk and make the long journey out to the village. When we got closer we recognised a lot from last year as these new families are only 500m from the two houses we built in 2018. We got so excited the closer we got as people came out from their houses, waving and yelling 'hello' from all directions. It is the most amazing feeling.
When we arrived at the first family there were approximately 15 people including the builders, and some of the family. This quickly grew to 20 – 25 people and they were all looking at us. It felt daunting for a brief moment but as soon as we smiled, 25 smiles and a slight nod of the head returned to us, it felt like home again.
We then met the first family, Cheuom Chunn and Sam Sokvanna and their three teenage kids. We took some photos and handed out drawing books and colouring pencils to the kids. We also found out that their Grandma lives with them too.  The impact of this house is already going to be bigger than we thought. We hung out here while they started to dig the footings for the first house. It was so hot and not much shade in this spot so we spent a little bit of time drawing and playing with the kids before we moved onto the second house location.
The second family had tonnes of families and kids really close to them so there were a lot more people here. Some of which followed us from the first families location. There was a lot more shade here too so we set up a big matt and handed out more stuff to the kids. This family is a single mum named Mon Salon and she has three beautiful young kids. Their 2 year old Daughter Vinchika (November) was so scared of me at first, she would cry even when I looked at her!
Digging the holes for the posts
Family 1, mum and dad and three teenage kids (1 was at school, 1 at work)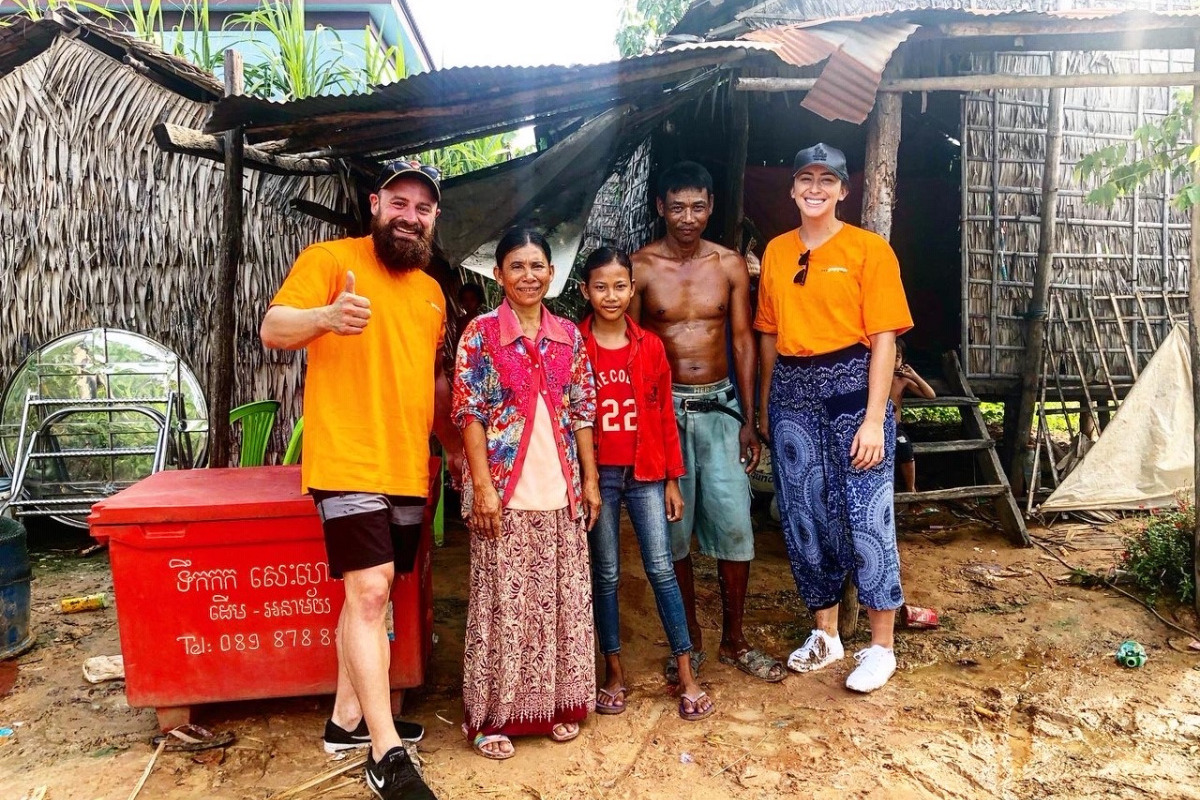 Posts are in and floor begins.
I spent most the day digging the footings and helping lift the posts in while Hannah played with all of the kids which in the end was over 20 kids, all drawing and playing. I went back and forth between building and playing with the kids, mostly so I didn't die from the heat! By the end of the first day both houses have the 9 posts in and the floor of the house is being started. In just one day most of the kids were hanging off us, we played games all day and also made note of how many kids and their approximate ages so we can go to the markets and get more things for tomorrow! We say approximate ages as we have found out over the years that some are not quite sure of their age, plus in Cambodia they have two ages. In some cases when they are born they are actually considered to being a one year old and not zero. Plus they add a year on when they celebrate the new year in April, it is a bit confusing through broken translation! In addition to that, they don't have a 'registry' as such for births for everyone.
Family 2, single mum with 3 kids.
To start off day 2, Sabet took us to the local markets so we could buy all sorts of things for the kids. The local markets are always such an adventure as we are the only foreigners there. To date we have never even seen another foreigner there so we get a lot of people looking at us. It would be impossible at the markets if it wasn't for Sabet! We bought so many things including soccer balls for the kids, all for ridiculously cheap. We would have purchased things for about 30 kids and spent about $150, we clean out some of the shops!
This time when we arrive at the village there are a lot more people and kids. It is amazing how fast word must spread around the village. The kids see all the bags and know we have things for them so they normally coming running up to the Tuk Tuk, we have to do our best to hide it all. We get all of the kids to sit on the matt again and hand out all the stuff to them. This is one of the most exciting parts as we can tell that a lot of the stuff they either don't have, or have never even seen before. Seeing all of their smiles and excitement is one of the best feelings ever. We have realised that something as simple as a mirror or a sharpener is one of their favourite things! They normally hold onto most of their stuff and don't want to use it until we all start. For kids that don't have things to draw with normally or a TV, their drawing skills and imagination is incredible! They also normally teach us all types of different games they play with the minimum things they have. Sometimes it could be some rope with a thong tied to the end of it. The boys are also stoked we have soccer balls to kick around. Vinchika is also no longer crying when I look at her, it is my aim to get a hug out of her by the end of the trip.
Playing with the kids!
In just two days we are already so close to these guys, it is an overwhelming feeling and we make sure Sabet makes it clear to them that we will be back. It is almost impossible to leave and some of them get a little upset. For this day we didn't spend as long there as we wanted to also go and see our two families nearby from 2018.
As I mentioned earlier, when we go to see our past families we always get this weird feeling of wondering if they will remember us or not. These two houses and families were right next to each other and at first we don't realise where we are. The surrounding area even looks different, areas have been cleaned up, the swamped area is all clean and one of the families has even slightly extended on their house!
To our excitement they do remember us and we find out that the second unfortunately isn't there. The reason for this however is that the whole family now has full time jobs n Siem Reap.  In just 1 year we are blown away to see how much both families lives have improved, and even those around them. I remember spending quite a bit of time just standing and staring at both houses, taking all of this in. We simply can't believe it! Even within just a year it is also amazing to see how much some of the kids we were playing with last year have grown up!
Family 3 from 2018. with extension on their house!
Day 3 and this was the day we were most nervous for. The plan for today is to head out to see our first family from 2017, where it all began. We formed really close relationships with these guys and especially the kids from the surrounding area.  Last year we were so excited, they were all there when we visited, but this time again we weren't sure who would be there. Once again we bought so many things for them all, with the possibility of just leaving it at their doorstep if no one was around. We can't exactly call them and tell them we are coming out to see them!  These guys are in a village called Sososodom, which is even further away from Siem Reap.
In the very weird ways that the world works, as we get close to the house the mother of the family is walking in a field nearby,  and even from a distance she recognises us and comes running! We can't believe it! As we stop the Tuk Tuk we can also see further up the dirt road there is a group of young kids, Hannah and I look at each other and say, 'surely that's not them, what are the chances?'  The kids get closer and again to our surprise it is them and I can even hear some of the kids saying 'Hannah, Hannah'. They cling to us immediately and guide us out through the flooded field to the house. The kids just power through flooded long grass like there isn't anything to worry about. All we can think about is how dirty the water is and the potential dangers like snakes! As we got closer a couple of the kids ran off into their houses and within seconds return with something in their hands. It is the photos that we gave them last year from when we first met them in 2017, this is already getting emotional for us! Nita the baby girl from the family is no longer a baby and is now walking near the house with mum. Once again it amazing to see how much she has grown up!
Original family from 2017 plus all the kids
Pure joy...
We had originally only planned to be there for a short amount of time but we ended up staying all day with them, playing all sorts of games. I remember really trying to soak in the moments as I watched how genuinely happy they all were. The mum was so thankful for all of the gifts as was Nita who tried to hold all of her new toys at once, making sure none of the other kids touched them! This is the third year we have seen these guys and we truly feel like part of their family, something I find hard to put into words. Whilst there we find out that in the last floods their water-well stopped working so we make sure had organise someone to come out and fix it (cost us just $55).  When it came time to leave we couldn't hold the tears back. These are both happy and sad tears as we get hugs, including myself from all of the kids. I even get a little bit emotional when I write about it and re-live the moments. As we drive off the kids chase the Tuk Tuk up the road and we wave back to them off into the distance. It is a little easier knowing we will be back to see them again next year.
A lot of fun learning their local games.
During this time, both of the new houses are coming along nicely. Sabet went back to take some photos and check on the progress. Both have a roof now and the walls and windows are being completed. This means both houses will be ready for completion and handover tomorrow.
One of the houses being close to completion.
For the final day we have a loooong list of things to buy. When we do the handover ceremony for the house we always have our standard things we give each family to get them started. Mosquito nets, pots and pans, 50kg of rice, utensils and bowls, but in addition to these we always get personal things for each person in the family. This means having to guess their sizes and make sure we don't forget anyone. Once again we are spending peanuts to get all of these items.
We arrive at the 1st house and it is amazing, standing proud and tall, all freshly painted, it looks so good. The father comes running over still wearing his Marques Flooring shirt with the biggest smile on his face. He shakes my hand and helps carry all of the stuff from the Tuk Tuk. The house is completely finished and out of respect they don't go inside until we do the ceremony, so they are eager to start. They lay out a matt in front of the house and we begin to hand over all of their gifts to each of them. The smiles and their excitement is one of my favourite parts of this. I then get Sabet to read out a translated message I wrote for them and we clap and cheer in celebration. Even their grandma got up and joined us! As I shake the hands of the father and hug in celebration I thought I might check if his foot size was similar to mine. It seemed too good to be true, so I undid my shoes and gave them to him as well. We took many photos and assured them that we would be back next year to see them again.
Handover celebrations!
Onto the second family and we know this one will be a big one. In the time we have spent doing this we have become very close to all of the kids in all of the villages, but the kids in this village turned it up a notch. Her oldest daughter Lisa had the biggest smile you could ever imagine and she came running out the front to greet us, jumping up and down like the most excited kid you have ever seen. Vinchika, the one I would make cry even by looking at her is now my shadow, she follows me everywhere and always wants hugs, it is incredible. One of the older girls wrote Hannah a letter to say thank and please come back. There was also another younger girl who would laugh at everything and she remembered us from 2018, she was such a big bundle of joy. I had all the kids chasing me around trying to tickle me and tackle me to the ground; we are honestly like family with these guys. We had plenty of gifts to give these guys including other kids so we spend some time playing with them and handing out their gifts before starting the handover for the second house.
Vinchika, i used to make her cry, now she is my best little mate :)
This one remembered us from 2018 and came running this year for us!
Little Lisa, the happiest kid alive!
The handover is like before, many gather around as we hand over gifts. Lisa of course jumping up and down can't contain her excitement as she receives each gift. We all celebrate and get photos and Lisa is already at the top of the stairs jumping up and down and dancing, I remember trying to take it all in, I really wasn't looking forward to leaving these guys!  Second house is now complete and now our fifth in total. But the big thing for me now is the 5 families, and their neighbors, all of these amazing people we never knew a few years ago, now we are like family.
Handover to family 2 (5th family)
We hug Lisa about 20 times as it is unfortunately time to leave. Once again we assure them we will be back next year.
We end the day by taking Sabet to some shops. We give him very good money to help us while we are in Cambodia but we always want to help him more, he does so much and never asks so we go to the shops to get his kids school uniforms and books as well as a few thing for him. Then, in what seems to be a yearly tradition we take him to a local restaurant to enjoy a well earnt meal and of course a couple of 50 cent beers. When saying goodbye to Sabet he gave us many hugs and we all got a little bit emotional when in broken English he was telling us we are family and he will miss us.
We find ourselves back at our accommodation already planning for 2020. We can't wait.
June Update 2019 - 2019 trip is now booked in, soon to receive information on the families we are helping! 2019 GOAL; 3 HOUSES!
We are excited to share that the trip for this year is now booked in, and at the time of writing our local contact and contact from Australia are on the search for the next families that we will be helping. We hope this year to build 3 houses so please share the love and help make this happen. We have already locked in two houses for 2019 but hope to add a 3rd one so please share with anyone that would be interested in helping out!
The beard seems to fascinate them!
All the kids chasing me
November 2018 Update - 2 more houses complete!
After the life changing time we had in Cambodia last year in 2017 it was time to return again to help more families. Since returning from the 2017 trip, life back at home has been quite different. Different for the better and mostly in regards to my outlook on everything and opportunities in life. I found myself at almost all gatherings or business events somehow getting into conversations about Cambodia. After others back at home watched the videos, saw the many photos and heard all of the stories, the entire journey became real for everyone. The impact that was made in 2017 reached a lot of people and as a result many generous people came forward and wanted to be a part of it in 2018. I had always said I will make sure I come back in 2018, and it wasn't long after being back that through other people's support I quickly realised that the 2018 trip will definitely happen and we would help even more people.
The 2017 house build was mostly donated by myself but now that people could see the results, many others wanted to be involved with the next trip, some in a very big way. I even had one family, Andy & Mary Nematalla, gather all of the funds together to build their own house for a family in Cambodia, absolute champions! I will make sure I name everyone that helped out as I go through but this time around we had more than enough to do 2 complete new houses with the additional funds to go towards other crucial supplies for the families including others in the village.
Having been before, we headed off for this trip far more comfortable and excited. This time however we didn't have our Australian contact with us, Deb. So we were a little anxious of the unknown.
Day 1 and our local contact Sabet picked us up from in town. We were quite excited to see Sabet, and I think he was excited to see us too. He greeted us with a typical Cambodia awkward hug. They all do this type of hug where they put their head down and into your chest while reaching out to hug at the same time. Awkward but beautiful at the same time.
One of the families standing in front of their existing 'house'
We went straight to the local markets to pick up supplies and we immediately felt at home again. Smiles everywhere, including ourselves, we were already getting warm and fuzzy. Warm also because at this point we are probably already sweating from the 40 degree heat. We then start the trip out to the new village to meet the new families for the first time and start the build.
After just 5 minutes of travel and we were in the middle of nowhere. Siem Reap is a big town, but it quickly turns into just endless fields and the odd villages. A very bumpy 40 minutes later and we start getting close to our new village. The last stretch of this trip was a narrow and bumpy dirt road with water on either side. We could see kids swimming, buffalos, cows and some fisherman. It was nice scenery but clearly a lot poorer than any other places we had been to so far.
We were greeted by about 20 locals upon arrival. Once again full of smiles, they were all standing around waiting for us. This is a day that they have been waiting their whole lives for; most never get the chance to have their own house so it was very special.  It is hard to describe the initial feeling of being there. Many locals just stand and stare, with a smile of course. For a lot of them they may not have ever met anyone from outside of the village. The village has chickens & chicks running around as well as many dogs. The dogs are cute but they don't engage with dogs like we do, they are just for protection so it is not often you even get to pat a dog. The two families quickly gathered around and stood in front of their existing lean-to. We were blown away to think how they have been living in these places for their whole lives. They had 1 or 2 walls made of palm leaves, and looked like they were 1 decent storm away from crumbling. We meet the families, get some photos and then start by pulling down the old houses. Just as we guessed, both houses only took 10 minutes to pull down. We then started hand digging the holes for the support columns. Hannah sat down all of the kids and handed out to them colouring pencils, paper, and activity books. We were quickly reminded how grateful the kids are even at the simplest things. At first the kids hold onto all of their new possessions and are so excited they don't want to use them. After a short time Hannah looks like she is running a pre-school with close to 20 kids now all sitting and drawing and having the best time ever. Each kid took their turn in showing us their works of art, it was so exciting to see how proud of themselves they were.
Time to start digging!                                                    
Houses taking shape after the first day!
I hand out Marques Flooring hats and shirts to the builders and locals that have volunteered to help and we get right into building the houses. This time 2 houses side by side. Even though everything is done by hand, things happen pretty quickly and by the end of the day we had the 9 posts in place for both houses. It is amazing to see how they work and amazing that none of them get injured. Safety equipment doesn't exist with a lot of them either bare foot or in thongs. My day consisted of 30 minutes of work, die in the heat, play with the kids and re-hydrate, 30 minutes of work, then repeat. By the end of the day we had both drank excess of 5L of water. We tried to tell ourselves it wasn't as hot as last time, but it definitely was!  We wrap up day one exhausted and humbled and head back to our hotel.
Play time with the kids!
Day 2 and this time we are heading back to see our family from last year. Again we go past the local markets to grab some essentials for them like food and clothing. We were a bit apprehensive about this day not knowing if they were going to be there or not and if the kids would be there too. Of course they don't have phones so we just have to hope, especially because we had lots of gifts for them including little framed pictures from the 2017 trip.
Upon arriving to the house we noticed a young man walking up the road, to our delight it was Kang, the father of the family we built the house for, some early success! He is excited to see us and helped us unload the Tuk Tuk and begin the walk to their village. In the months leading up to this day they had experienced a lot of wet weather, so to get to their village we had to walk a bit of a distance through the long grass in ankle to knee deep water, quite scary to say the least. We finally get to the house and the mother Srey Eup is there and the now 2 year old daughter Nita, we simply cant believe it. Mum runs straight into the house and brings out the framed picture of all of us from last year. At this point we melt and a huge wave of happiness comes over us. They looked so happy and Nita was so much more grown up already. We start handing out all of their gifts including the pictures from last year and to our delight two other young girls that Hannah fell in love with last year come running in. They had heard we were there and came to see us. Almost instantly they yell out 'Hannah' in their cute accent and by now I think Hannah is holding back the tears. It is amazing to see just how much better life is for them since last year and was one of my favourite moments from the trip. We told them we would be back but I don't think they believed us, so they were very excited to see us again! We spent some time translating and chatting and playing with the kids before we head off to our next stop, to see the blind lady from last year and drop off more supplies.  
Seeing our family from 2017!
The road to get to the blind lady is even worse, the water level was even higher now and most roads were flooded over. Sabet seemed totally unfazed by it all and just continued on driving through, the last part however was so deep, again we had to get out to walk the last part and stumble through the water. We find out the blind lady hasn't been to her house for a while now, the water is so deep that she has had to live in her mums house which has water lapping up to it. The blind lady was so excited for us to be there, we were greeted with huge hugs once she knew who it was. For someone who is completely blind with 4 kids, she definitely makes up for it with love and is still so happy.
Day 3 and we return back to the new village to see how everything is going. We are greeted on the way into the village by many waves and kids yelling 'hello' in the distance, we aren't exactly strangers now and they are all very happy for us to be there. Wow they have been busy and this time when we get to the new houses we are greeted with even more kids! Both houses have the frames up and the roof on and now it is time to finish the floor and start sheeting the walls. Hannah greets the kids again with more gifts and this time we have close to 30 kids who are so excited to see us. I do some physical work on this day but the kids keep coming to grab me to play games with them, I can't say no!
The two houses taking shape                                      
They show us all kinds of clapping games and drawings and colouring in that they have done since we last saw them. By now we are starting to feel like extended family, kids are climbing all over us fighting for our attention. Lunch time comes around and this is the part of the day that is a bit awkward. Part of the plan is to bring a local cook with us as well as food for ourselves, the builders, and all of the families in the village. Where it gets awkward is no matter how hard we try, they will not eat anything until we have finished our lunch. We try every time, but once again they sit us down and bring us the food and sit around respectfully and wait for us to finish. This time however we managed to get some of the kids to join us, after being yelled at from the parents and we assure them it is okay, a few sit down and enjoy some lunch with us. Some of the kids go off to have a swim and return with a small handful of snails, their typical lunch. We of course scoff our lunch down and then everyone starts to grab themselves some food.
By the end of the day and both houses are getting close to completion. While we are there we ask Sabet to find out what essentials they will need, tomorrow will be the handover day which includes giving them a few extra luxuries to make it even more exciting.
On the final day Sabet picks us up as normal except this time he has already been to the markets and grabbed most of the things we will be giving them today, 50 kg of rice, insect nets, pots and pans and a few other essentials. At this point myself and Hannah have already made a list of the extra things that they would love. We are on a mission now, walking around the local markets, the only westerners there and we have a lot of people curious at what we are up to. 32 x soccer balls, musical instruments, books and school gear, hats, a handbag for the mums, a nice new shirt for them all and of course mirrors, they love mirrors!
The Tuk Tuk is completely loaded, we have things hanging from the roof and we don't really have room to even see. Sabet once again was unfased at the extra 200 odd kg loaded on his motorbike and off we go to the village.
Arriving into the village and we have a lot of locals waiting for us this time as today is the big day. Whilst the houses haven't been officially handed over yet, we pretend we don't know that they have already slept in the house the night before and moved some things in. I would too if I was in their position!
Of course with so many things loaded onto the Tuk Tuk they all help us to unload to countless bags of goodies for everyone and by this point we can feel their excitement at what is to come.
We first sit all the kids down in a big semi-circle, we learnt last year that if we just hand stuff out, it gets way out of hand and they end up crowding around us and we quickly lose track of who has received what.
Present time, those smiles! :)
One by one we hand out all of the presents for the kids, first the school books, then the colouring pencils, then sharpeners, one by one their faces light up, no matter what it is and they guard each of these items with their life. Then it is time to hand out the soccer balls. As the first soccer balls comes out all the kids jump up, not realising we have one for each of them, the kids thought they may have to battle it out, yelling 'me, me, me!' You can imagine how excited they were once every single one of them got a ball, including some of the adults hovering around. These are the moments that make all of this worth it. Now that the kids are occupied there are soccer balls going everywhere, kids drawing, kids playing their musical instruments, the entire mood in the village has completely changed now, it is like Christmas!
The families at this point gather at the base of the stairs of their new house and wait for 'handover'.  We gather all of their extra items and present them out on the matt for them to see. Then one by one we hand them the extra gifts, and for each gift we hear from everyone in the village ooohs, ahhs, and woos, each building in excitement as they receive a nice new shirt each, mirrors, hats, & handbags for the mothers.
The two very happy families for the handovers in front of their new houses!
This year I prepared a speech and had it translated to Khmer for it to be read to the families upon handover. It was at this point last year that I started crying and could barely get my words out so this time it was far easier and the message was more understood by them, each nodding and smiling from ear to ear. We complete the whole event with some celebration photos with everyone and then begin to play with all the kids in the village!
It then comes time for some sad goodbyes to everyone. It was easier this time as we now know we will definitely be back to see them but it is still a sad event leaving with many of the kids chasing the Tuk Tuk down the road waving good bye, it feels like something from a movie.
Whilst the new houses were complete we had a couple more surprises for Sabet & Rett, our local contacts. First we took Sabet to a department store to buy some brand new shoes. It was a very interesting experience as the first store we went to didn't have right size. Sabet however not wanting to miss out on his chance for new shoes kept just saying, 'yes this one' even though we could see his toes squished into the end of the shoe. It took us a while to assure him we would go to another store before he was happy to look elsewhere. Looking back we could tell he was worried that if the first store didn't have the shoe for him that he would miss out entirely. We get to another store and find the perfect shoe for him. Sabet finds a pair of brand new Nikes, and Sabet of course with a heart of gold is still trying to negotiate the price of the shoes down for us. At this point I thought, 'if I spend $60-$90 on shoes for him, I think it is money well spent after everything he does for us and the people of Cambodia.' To my delight, the shoes were only $38. Yes, $38 for a brand new pair of real Nike shoes, we definitely get ripped off back at home. Nonetheless Sabet can't believe it, hugging us over and over again, including Hannah! (Males don't often hug females except for partner or family). It was a moment we wish we got on film!
We then invite Sabet, Rett and both of their families to lunch in town. They both ask us countless times if it is okay and if they can bring their family, including kids. We keep assuring them it is fine, bring everyone! I remember one of the kids turning up with a Marques Flooring hat on and he thought it was so cool that we both had the same hat on! We sit down to lunch, 12 of us in total, at this point we find out that none of them had ever been out for a meal ever. We have to force them to order whatever they want as we can see they are hesitant, trying to share meals between them. In the end, they did order what they wanted, the kids had soft drink, ice cream and their favourite meal, and it was probably one of my favourite moments of the trip. It was at this point where Hannah got a bit emotional watching these beautiful families enjoying their restaurant meal and I wasn't too far behind her. All of this, and it only cost us $40 for lunch & drinks for 12 people, ridiculous!
Sabet our local legend
All of us enjoying a meal together after the houses are complete.
As the trip comes to a close we say our goodbyes to Sabet, Rett and their families but assure them that we will be back next year. Overall it was an incredible successful trip and one that I will remember forever. Each time I come away with important reminders on what life is really all about. Whilst I have plans to continue doing this every year I can see that each trip is going to be special for its own reasons. I am so in love with the people of Cambodia and I can confidently say they have the nicest people in the world, yet need so much help to live a life they deserve.
I would like to make a special mention for a few people and business that were involved in this trip;
Andy & Mary Nematalla
Jim Hilston – Hilston Wood Floors
Clint – Xpression Timber
Alex – AJ Kenny Air
Manny – EGI Tiles
Jill & Martin - MAIA Therapies & Case Management
Virginia Roberts
Robyn W – Welcome Change Realty
Alex Guthrie – Life Bi Design
Ben Warden
Behzad – Live Timber Flooring
Kayla & Izaac
Ian G
Ebony T
Mr & Mrs Turtle
Mitch – Azure IT
Melanie D
Kym B
Katherine E
Julia & Sam
Jacob H – JSH Haulage
Richard A
Debby & Pat T
Cindy A
Matt T
Hamish R
If you want to be involved with 2019 please get in touch with me. I am already making some early plans to return in October 2019 but with the huge interest I may even return in April 2019 as well. There are many ways you can be involved so please contact me if you are interested. I guarantee you will not regret it and you will definitely fall in love with them too! Thank you so much if you took the time to read this!


Remember 100% of all donations go directly to Cambodia. All my time is volunteer and I cover all of my own expenses.


September 2018 Update - new families:

Only 3 weeks until we go!!! We now have more information on the families we are helping.
Location: Roka Yea village, Koev Pour commun Pouk Distrik (Siem Reap).
Even poorer area compared to 1st trip. They have a small stream nearby and live off fishing and selling some of the fish, so very little to work with.
Family 1:
Father's name: Yean Pek, 35 y/o
Mother's name: Yon Srey Lea, 36 y/o
Son's name: Ren Pro Pie, 14 y/o
Family 2:
Father's name: Rous Poun, 42 y/o
Mother's name: Yon La, 42 y/o
Daughter's name: Leak Srey Lu, 18 y/o
Son's name: Leak Vicheka, 15 y/o
Grandson's name: Leak Sophon, 1 y/o
There are plenty of other people in this village that will probably end up living in these houses but these are the names of the immediate families. We are still a bit short of donations for these two houses plus we would love to be able to get them additional items (clothing & food) I am going to personally put forward anything else i need to to give them a big head-start but for anyone wanting to be involved there are still plenty of opportunities!
We are so excited to be back very soon!!!



September 2018 Update (3 weeks to go!):
Update on our 1st family from last year.
For those that have been watching the journey from the beginning we have been sent some updates from our first family. Look at how much the baby girl has grown up already! The family are doing much better of course. We are going to visit them to give them more food and more items they need but they are doing much better over all. So rewarding to see the change!!!
2017, our first family
2018 update, look how much she has grown up!!!




July 2018 update:
We now have approval from the village chief and we no have the photos of the two families that we will be helping. In this village we are going to be building 2 houses!! We are told it is in even poorer conditions than our first family. There are lots of people and kids in this village so it will be a huge experience! They may not know what it means to have your photo taken but they definitely know things are going to get a whole lot better in their village!
2018 Update and NEW GOAL! (October 2018)
Exciting news - three villages this year!
Since our trip in September the buzz about Cambodia has not left us, if anything, it possibly grew.
Our family in Cambodia is doing well, the father finds work a lot more often now and the little girl has recovered from Dengue Fever. It has been great to get updates on how they are doing and we can't wait to visit them again.
With the buzz still well and truly alive we now have an even better designed house as well as packaged everything up for the family and villages to make it easier to return and help more! October could not come sooner!
Our GOAL for this year is to return and to build three houses in three different villages. This would inlcude a water well, 50kg of rice, kitchen utensils, kids school books and toys, clothes, you name it, a complete set up!
For the the first one we completed in Septmber 2017 we funded these ourselves. With so many others wanting to get involved we now want to see what we can do with the power of lots of people (and some businesses maybe too!) We can make this massive - for sure!
Once again because there is no charity or admin and as the money goes directly to the source with local contacts we can get a lot done for a small amount of money. With everything they need, we can do this for $2,400AUD plus $350AUD for a water well if that is needed as well.
If you want to be involved, or you know any businesses that would like to sponsor a whole house or even half a house, we would be happy to take any of your business merchandise with us to give out to the village (clothes, hats, toys etc) and grab some great pictures so you can show more people the impact made - and give your business a bit of a plug too!
We are so excited for this to happen, please contact either myself @joshmarques or Hannah @smithstandard if you have any questions!
Update after first successful trip Oct 2017
For original with pictures visit:
http://marquesflooring.com.au/news/exciting-news-joshs-charity-trip-cambodia
Last month, my partner Hannah and I embarked on a lifechanging journey to Cambodia. We ventured out into a small village with the hope of helping many people, young and old, who desperately needed a better chance at life. Having done a lot of volunteer work here in Australia I had mixed feelings about what to expect.
Firstly, I was travelling to a country where I had never visited before, and then proceeded to travel miles away from the nearest city (where many tourists are site seeing, relaxing and enjoying cheap food and drinks) to what seemed like the middle of nowhere. To make it even more challenging, it was close to 40-degree heat and with no power or water, just the items we brought ourselves - far from the luxuries that Australians enjoy at home. Boy, it turns out i had nothing to worry about - the fear of the unknown and testing environment quickly disappeared as we arrive at the village and saw many children (and some adults) running to greet us with huge smiles on their faces. We felt like family almost immediately.
Our reason for the trip was to personally fund (with Marques Flooring) the building of a house for a young family. The father, Kang, his wife, Srey Eup and their young daughter Nita were currently living in what we would call a lean-to. Basically, some palm trees and some timber, providing them almost no protection from the elements. All it would take was a little storm and it would be flattened. Part of the task was to also help build the new house, all by hand. Without the use of any power tools, it was a very interesting task.
Whilst it was a slow process, it was fascinating to see how they build houses without the use of power tools and even most hand tools.  Locals from the surrounding villages travelled to help out as we slowly went through the process of digging the holes for the footings, building the base, the walls and of course, to install the flooring - a task they saved for me now knowing that I have timber flooring business (I handed many Marques Flooring hats when we first arrived.) Their flooring was quite a bit different from home however, all hand-nailed, small strands of stripped down bamboo... it took forever! The heat was unbelievable, we would have been drinking 4-6L of water per day and sweating it straight out. No need for a bathroom stop, which was lucky, as there wasn't a bathroom!
During our time in the village there was a of course a lot of playing games with the local kids. Many took a liking to Hannah, and I distinctly remember hearing the constant laughter and cheer from some of the happiest kids you will ever see. These little angels have none of the electronics, toys or even sporting equipment that most kids would have, yet they are still so incredibly happy. It was a very humbling experience and we quickly fell in love with them, and them us. So much that they wouldn't let us leave. It didn't take long to realise something quite mind-blowing for us and them - when we were trying to film 'selfie' videos with them. Most of these kids we don't think would have ever seen their own reflection. These children were completely mesmerised by seeing something move the same way as them on the screen... it is amazing to stop and think about it.
They showed us many of the games they play and the songs they sing, and no, not hit songs that we know. You could imagine the excitement from everyone when we returned on the last day with tonnes of toys, balls, clothing and drawing and writing material. It was incredible. These little ones have an incredible imagination, you should see how well they can draw and colour. They LOVE anything with colour and drew us a few pictures to take home with us (these are now pinned on the fridge).
While there, the locals cooked us lunch over a fire and insisted I try their 'rice wine'. Wow what a kick that gave me. I had to concentrate that little bit more when hand nailing the flooring after lunch that was for sure!
In the end, we ended up scrapping some of our relaxation days and visited some other villages to help out with various situations, including a young father that had been bitten by a Cobra. We had a bad feeling that he may not have been receiving the treatment needed and fortunately, we were able to get him to a hospital, to not only save his leg, but his life. Whilst the hospital was not that expensive ($90 usd) it would be more than he would earn in an entire year!
On the last day, we did what they call a handover ceremony. Here, we officially handed over the house to the family along with plenty of gifts like hammocks, clothing, cooking utensils and of course to make mum feel special, we got her a mirror and a handbag! I have to say, this entire thing was by far the most rewarding and humbling experience of my life. Yes, I cried, we all cried, in both happiness and sadness and I already can't wait to go back.

During our time there, through additional fundraising, we were also able to build a water well (only $200 usd) so now the whole village finally has fresh water, a massive improvement we definitely take for granted back at home.
When we returned to our accommodation it really hit home as to how much of an impact we had just made. Since being in Cambodia, word must have spread around our accommodation as to what we were doing and on the last day we were greeted by the General Manager, along with many of the staff members that wanted to personally thank us for what we had done. But the most moving part of this was when one of the staff members who accompanied us to our room told us his story. In short, just two years ago, he was in the same position as this family. As a result of someone building a house for him, it moved him up in the level of respect/status which then allowed him to get education, which then allowed him to get a job. And not just a regular job, a good paying job, something quite rare in Cambodia. It was so humbling to think how much different 'our family' will now live and I can't wait to visit them again in the near future.
Overall, this was an amazing time in our lives and I think everyone needs to experience at some point in their life. For both of us, it was definitely a life-changing experience and has totally changed my outlook on many things. After such a moving experience, my plan is to now continue to do this for many more families and villages and return as regularly as I can. I have a very unique opportunity whereby through the contacts I have in place, it means that 100% of all funds go directly to the cause. There is absolutely no administration whatsoever, which means we can make a far greater impact with less money. I have already been contacted by several 'charities' that have quoted me 2 - 3x the price to do exactly the same thing - quite disgusting really. If anything, this motivates me more to see just how much of an impact I can make. There are literally hundreds of thousands more people just like this in Cambodia that need help. What I have written here is only part of what we experienced and saw whilst over there. Some of the deeper things we heard and saw were horrifying, and I want to do everything that I can to give opportunities to those that need them. All in all, Cambodians are the nicest people I have ever met and Cambodia definitely has a place in my heart.
For anyone that wants to contribute, please leave a note for what specifically you would like it to go towards and I will personally deliver it and get footage so you can see just how big the impact is for yourself! :)
Thank you so much for reading through this.  As they say in Khmer (Cambodian) - Arkoun Chraen (thank you very much)
Original Journey - Written June 2017, trip and house completed in September 2017.
I am heading over to Cambodia in September and while i am there I will be personally funding (and helping build) a much needed home for a young family.
Meet Houme, Hime and their daughter Srey Net. This is their current partly still standing home in Cambodia.
That's Houme and his daughter in the background.
Houme like many, work when they can find it. Sometimes he works away in rice fields for 12 hours a day for approximately $2.
In short, Cambodia is one of the world's poorest countries. Living conditions are hazardous. Children are sometimes abandoned by their parents and left to die. Women are trafficed. It's a nation struggling to catch back up from the genocide, which claimed more than 3 million victims. Teachers, political figures, free thinkers, and artists were the main targets of the killings, further pushing Cambodia into a socio-economic spiral that's almost impossible to climb out of.
A close friend of mine who frequents Cambodia & Vietnam has been helping in various ways for other families with their own funds for several years. In doing so they have been able to set up a direct way whereby the money goes directly towards the building of the home making it a very low cost to do so.
This means that to build a liveable home it costs only $1800 USD! There are of course other things as well like wells and toilets, or essentials but you can see how easy it would be to put together a bit of money to build a house.
Between myself personally and Marques Flooring I have already funded this full amount and more to build this home. I will also be actually helping with the physical build of the home while i am there and getting my hands dirty too, very dirty - no power, all hand tools!
With the small network they have set up it means we get the real cost on what it would be to do this type of thing with no admin at all, everyone is 100% volunteers! I thought this would be the perfect opportunity to see how much more support i can get from both my friends and family and the contacts associated with Marques Flooring to see how much more i could give when i am over there. Hopefully i could be there for the building of two homes! You can even be there for this one or any future ones if you really wanted. Otherwise it could go towards many other things needed for this and many other families.
I am very excited about it already and will be documenting the whole thing as well to show everyone the whole experience and the end result. I think it is going to be a huge eye opener and have a good feeling we are going to make a huge impact!
Please share this around to everyone, including your boss! :)
Organizer
Josh Marques 
Organizer
Southern Lamington QLD