Build classrooms for children in Uganda
+++ DEUTSCHE VERSION UNTEN +++

***Update - March 2020***
We have just returned from our classroom construction project in Mutoto, Uganda, and would like to take a moment to thank you for your incredible support. 
During the four weeks of February, we've built three entirely new classrooms for the Golden Hill Academy in Mutoto, District of Mbale. All of this was only possible thanks to the financial contributions of you and many other donors, as well as the support from 40+ volunteers who joined us on the ground in Uganda. They helped us build the classrooms with their own hands and great spirit — we're as grateful as we can be for your and their support.
Of course, the classroom construction is just the beginning of our long–term collaboration with our local partner in Mutoto - Jeremiah. We will help to cover the school's running costs, such as teacher salaries and school material. Besides that, we'll also cover the cost for one meal a day for each child — this is our way of incentivizing and motivating even more local parents to send their kids to school. - That's why every additional EUR counts!

**************************** 
OUR MISSION: BUILDING THREE CLASS ROOMS:

In February 2020, we will build three class rooms for the Golden Hill Academy in Mutoto, District of Mbale (Uganda). 
As of today, the school teaches about 180 children, ranging from 3 to 14 year olds, in seven different classes. 

THE PROBLEM: NO REAL CLASS ROOMS

This is how the classrooms currently look like: 


These metal shack class rooms come with two big problems:
- wet class-rooms during rainy season and
- Ugandan government demands proper buildings

- During rainy season, the school is closed (Since the temporary buildings are not able to keep the water out of the classrooms)
- Ugandan government demands proper buildings. If we don't build real classrooms, the classes will get shut down by the government

Our goal is to keep all the children in school, by providing them with the opportunity to study in a real class room - like you and I did when we were little.


THE SCHOOL AS IT IS TODAY
- it's philosophy, impact on the community and plans for the future:



The Golden Hill Academy is located in Mutoto, District of Mbale, Uganda. It is the only school in that area providing education to the poorest children of the community. The school teaches three elementary level classes (3-6yo) and four primary level classes (7-14yo). 

The children going to primary classes are lucky to have proper buildings already. Now it's the time to build real class rooms for the three classes on elementary level.

Its 180 children are taught in english in subjects such as maths, english, science, music, art, geography, reading, writing and basic hygiene lessons.

We believe that school should be a place of joy, fun, happiness and friendship.
Our local teachers create an environment where children are happy and creative. Teachers use positive reinforcement in class to emphasize good behavior, rather than punish pupils for wrongdoing.

Here is a glance in one of our class-rooms:


The school's impact, doesn't stop with educating the children. Building the classrooms is no one-time project. It is a chain of life-changing opportunities, which can elevate the entire community of Mutoto. The school is center to the positive change that is on-going in Mutoto - here are a couple of examples:

a) Serving food at the school
Since Mutoto is a rural and very poor area, the school plays a critical role in the life's of most families.
The Golden Hill Academy does not stop at educating the children. We also provide the children with one warm meal a day - mostly porridge, since it is relatively cheap and provides lots of energy to the kids:



Serving food at school has two important advantages.
1) Increases class attendance:
For one, it makes sure the children go to school. Oftentimes parents are not able to afford proper meals to serve to the kids. By sending them to the school, they know their child gets food to stay healthy. As a result, serving food increases school attendance. Since Uganda is a very poor country families are struggling with the trade-off between sending children to school vs. sending them to work to support the family. Additionally, most of the parents in the village have not had the chance to receive education. Hence, they don't see the value of educating their children. Porridge helps us to convince the parents to send their children to school.

2) It energizes the kids: 
They are able to concentrate better in the afternoon after a proper bowl of porridge. 


b) Computer classes: We believe in empowering every memberof the community
We don't stop by educating children. There is tremendous need in the entire community and lots of young people striving for education. Hence, we are providing everyone who is interested with computer classes. Especially teenagers take advantage of that offer to increase their chances of getting a job. A real job with stable income.




c) Empowering women by teaching them how to tailor.
Women work hard to raise children, manage the household and work on the fields. Unfortunately, women get suppressed by men or society quite often in Uganda.
Through our school, we are trying to provide them with skills and tools to become more independent. Currently, we're offering free tailoring and hairstyling classes at the school. By learning new skills, they are able to offer services to others and earn some money.




d) Clean water: Water as a big source of disease in Uganda.
A lot of Ugandans source their drinking water from swamps. Since sanitation facilities are rare, swamps are filled with bacteria, spreading lots of diseases. 
We have started to address this issue by installing a water tank to collect rain water and a filtering system that cleans water from bacteria.
Currently we are teaching locals about the importants of clean drinking water and how to use this filter. 


Watch that two-minute video, where Kate (our local partner running the school) talks about some of the side-projects of the Golden Hill Academy:



As you can see, the school does not just 'impact' the 180 children we educate, but everyone who is involved in the school and benefits from its side projects.

HOW WILL THE MONEY BE SPENT?

Using local workers to increase our impact.
To empower the people of Mutoto, we decided not to hire a large corporation for construction — but instead chose experienced local workers who will help us realize this goal.

This way we can provide income to families within the community and help tie the connection between locals and the Golden Hill Academy.

The only way to create long-term impact, is to make the locals part of our project.

An architect outlined our building.
We were able to convince a proper architect to donate his services to our project. He had a look at our land, designed a project plan and calculated our costs. This ensures no miscalculation on our side.




OUR LOCAL PARTNERS RUNNING THE SCHOOL

Meet Kate (right) & Jeremiah (left) - our partners running the Golden Hill Academy and all adjacent projects. They are dedicating their time and life to the community to provide a better future for the children and the members of Mutoto.



Watch our 10-minute interview with Jeremiah and Kate to learn more about them and our project. They are talking about
- their motivation to wake up everyday
- why the community needs a school
- how the living conditions are in Mutoto
- and how they are able to fund the school



CURRENT SITUATION OF EDUCATION IN UGANDA

+++ From 100 children starting school at age 6, only twenty children graduate the final class. +++

Uganda is way behind international averages when it comes to education. Two important dimensions that we look at, at 264, are
(1) How many children graduate (make it from 1st to final class)
(2) How many children achieve minimum proficiency in reading and mathematics

The UNESCO stats (see below) show that Uganda is way behind with graduation rates.  Uganda's rates decline tremendously from academic step to step: 44%, 26% and 18% graduation rates.

That means:
From 100 children starting school at age 6 in primary school, only twenty children go through all classes up to secondary school to graduate.

Overall quality of education is quite poor in Uganda. Hence, only 53% of the children attending primary school, achieve minimum proficiency in reading and mathematics. 





ABOUT 264.education e.V.

264.education is a NGO, building and supporting schools in developing countries.  We believe in the power of education to create a better future for everybody. 

Warren Buffet once said, everything good that happened in his life, can be traced back to the fact that he was born in the right country. We believe, everyone has the right to get a fair chance in life. No matter where they are born. We provide free quality education to children and are bringing them a step closer to the chance of becoming whatever or whoever they want in life.

+++ a bit more about 264 +++

Further information on 264:

Website: www.264.education
Instagram: https://www.instagram.com/264.education/
Facebook: https://www.facebook.com/264.education/


+++ DEUTSCHE VERSION +++
***Update - März 2020***
Wir sind gerade von unserem Projekt zum Bau von Klassenzimmern in Mutoto, Uganda, zurückgekehrt und möchten uns kurz für die unglaubliche Unterstützung unserer Spender bedanken. 
In den vier Februarwochen haben wir drei neue Klassenzimmer für die Golden Hill Academy in Mutoto, Distrikt Mbale, gebaut. All dies war nur dank der finanziellen Beiträge unserer vieler Spender sowie der Unterstützung von über 40 Freiwilligen, die sich uns vor Ort in Uganda angeschlossen haben, möglich. Sie halfen uns, die Klassenzimmer mit ihren eigenen Händen und mit großem Engagement zu bauen - wir sind ihnen und ihrer Unterstützung so dankbar wie nur möglich.
Natürlich ist der Bau der Klassenzimmer erst der Anfang unserer langfristigen Zusammenarbeit mit unserem lokalen Partner in Mutoto - Jeremiah. Wir werden langfristig dazu beitragen, die laufenden Kosten der Schule, wie z.B. Lehrergehälter und Schulmaterial, zu decken. Darüber hinaus werden wir auch die Kosten für eine Mahlzeit pro Tag für jedes Kind übernehmen - dies ist unsere Art, noch mehr lokale Eltern zu motivieren, ihre Kinder zur Schule zu schicken. - Dafür zählt jeder weitere EUR!
**************************** 

UNSERE MISSION: DREI KLASSENZIMMER BAUEN

Im Februar 2020 werden wir drei Klassenzimmer für die Golden Hill Academy in Mutoto, District of Mbale (Uganda), bauen. Bis heute unterrichtet die Schule rund 180 Kinder im Alter von 3 bis 14 Jahren in sieben verschiedenen Klassen.

DAS PROBLEM: KEINE ECHTEN KLASSENZIMMER

So sehen die Klassenzimmer derzeit aus:




Die Klassenzimmer aus Metall haben zwei große Probleme:
- Nasse Klassenzimmer in der Regenzeit
- Die ugandische Regierung fordert richtige Gebäude

- Während der Regenzeit ist die Schule geschlossen (da die temporären Gebäude nicht in der Lage sind, das Wasser aus den Klassenzimmern fernzuhalten).

- Die ugandische Regierung fordert richtige Gebäude. Wenn wir keine echten Klassenzimmer bauen, werden die Klassen von der Regierung geschlossen.

Unser Ziel ist es, alle Kinder in der Schule zu halten, indem wir ihnen die Möglichkeit geben, in einem echten Klassenzimmer zu lernen - so wie du und ich, als wir klein waren.

DIE SCHULE, WIE SIE HEUTE IST

- ihre Philosophie, ihr Einfluss auf die Gemeinschaft und ihre Pläne für die Zukunft:




Die Golden Hill Academy befindet sich in Mutoto, District of Mbale, Uganda. Es ist die einzige Schule in der Umgebung, die den ärmsten Kindern der Gemeinde Bildung bietet. Die Schule unterrichtet drei Klassen der Grundschule (3-6 Jahre) und vier Klassen der weiterführenden Schule (7-14 Jahre).

Die Kinder, die in den Grundschulunterricht gehen, haben Glück, dass sie bereits richtige Gebäude haben. Jetzt ist es an der Zeit, echte Klassenzimmer für die drei Klassen der weiterführenden Schule zu bauen. Die 180 Kinder werden in Englisch in Fächern wie Mathematik, Englisch, Naturwissenschaften, Musik, Kunst, Geographie, Lesen, Schreiben und grundlegender Hygiene unterrichtet.

Wir glauben, dass die Schule ein Ort der Freude, der Freude, des Glücks und der Freundschaft sein sollte. Unsere lokalen Lehrer schaffen eine Umgebung, in der die Kinder glücklich und kreativ sind. Lehrer nutzen positive Bildungsmaßnahmen im Unterricht, wobei sie gutes Verhalten belohnen, statte die Schüler für Fehlverhalten zu bestrafen.

Hier ist ein Blick in eines der Wellblech-Klassenzimmer:



Der Beitrag der Schule geht weit über die Bildung von Kindern hinaus. Der Bau der Klassenzimmer ist kein einmaliges Projekt. Es ist eine Kette von lebensverändernden Möglichkeiten, die die gesamte Gemeinschaft von Mutoto nachhaltig verändern können. Die Schule steht im Mittelpunkt des positiven Wandels, der in Mutoto stattfindet - hier sind einige Beispiele:


a) Bereitstellung einer Mahlzeit in der Schule

Da Mutoto eine ländliche und sehr arme Gegend ist, spielt die Schule eine entscheidende Rolle im Leben der meisten Familien.

Die Golden Hill Academy hört nicht bei der Erziehung der Kinder auf. Wir versorgen die Kinder auch mit einer warmen Mahlzeit pro Tag - meist Haferbrei, da er relativ günstig ist und den Kindern viel Energie liefert:


Die Bereitstellung einer Mahlzeit in der Schule hat zwei wichtige Vorteile.
1) Sie erhöht die Anwesenheit in der Klasse:
Zum einen sorgt sie dafür, dass die Kinder zur Schule gehen. Oftmals sind Eltern nicht in der Lage, sich die richtigen Mahlzeiten für die Kinder zu leisten. Indem sie sie zur Schule schicken, wissen sie, dass ihr Kind Nahrung bekommt, um gesund zu bleiben. Infolgedessen erhöht die Bereitstellung einer Mahlzeit den Schulbesuch. Da Uganda ein sehr armes Land ist, kämpfen die Familien mit dem Kompromiss zwischen dem Schulbesuch und der Arbeit zur Unterstützung der Familie. Außerdem hatten die meisten Eltern im Dorf keine Chance auf eine Ausbildung. Daher sehen sie nicht den Wert der Erziehung ihrer Kinder. Haferbrei hilft uns, die Eltern davon zu überzeugen, ihre Kinder zur Schule zu schicken.
2) Sie liefert den Kindern die nötige Energie:
Sie sind schlichtweg in der Lage, sich am Nachmittag nach einer richtigen Schüssel Haferbrei besser zu konzentrieren. 
b) Computerunterricht: Wir glauben daran, jedes Mitglied der Gemeinschaft zu befähigen.
Wir hören nicht auf, indem wir Kinder erziehen. Es besteht ein enormer Bedarf in der gesamten Gemeinde und viele junge Menschen streben nach Bildung. Daher bieten wir allen Interessierten Computerunterricht an. Vor allem Teenager nutzen dieses Angebot, um ihre Chancen auf einen Job zu erhöhen. Ein echter Job mit stabilem Einkommen.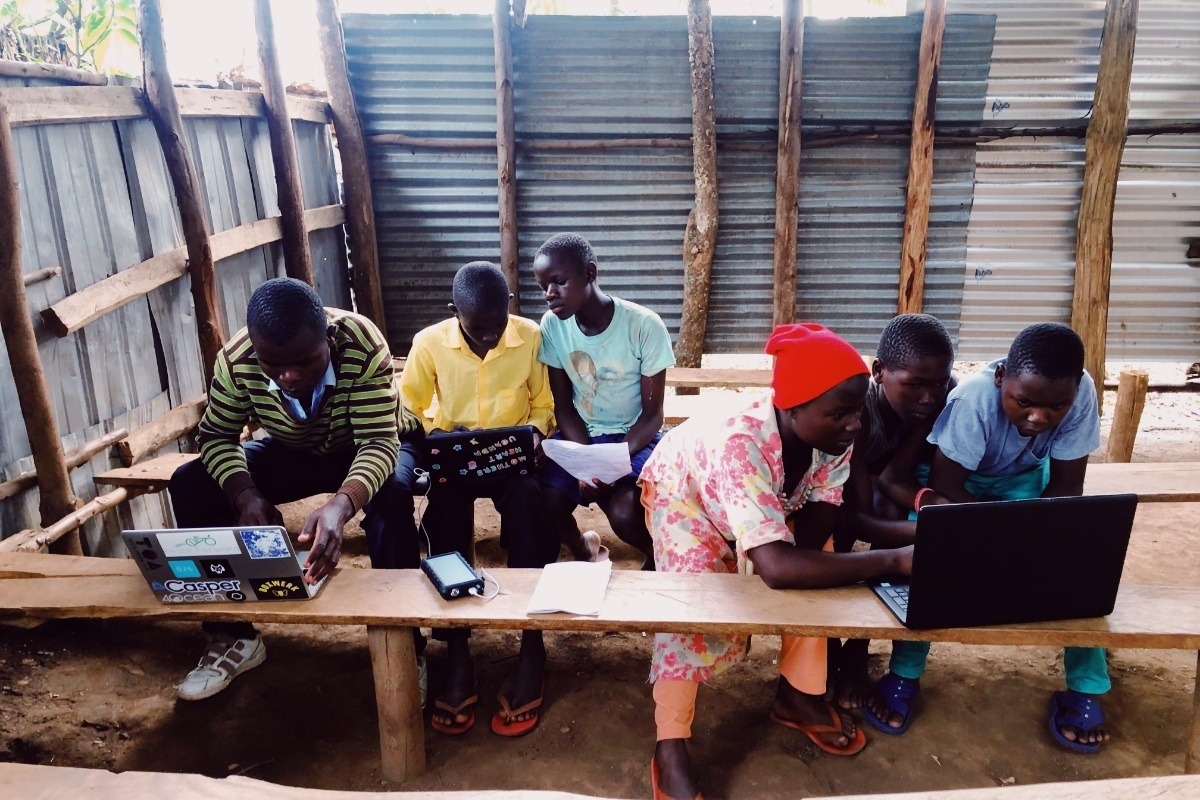 c) Stärkung von Frauen durch Schneider- und Friseurkurse
Frauen arbeiten hart daran, Kinder großzuziehen, den Haushalt zu führen und auf dem Feld zu arbeiten. Leider werden Frauen in Uganda in vielen Fällen von Männern oder der Gesellschaft benachteiligt. Durch unsere Schule versuchen wir, ihnen Fähigkeiten und Werkzeuge zu vermitteln, um unabhängiger zu werden. Derzeit bieten wir an der Schule kostenlose Schneider- und Friseurkurse an. Durch das Erlernen neuer Fähigkeiten sind sie in der Lage, anderen Dienstleistungen anzubieten und selbst etwas Geld zu verdienen.
d) Sauberes Wasser: Wasser als Krankheitsquelle in Uganda.
Viele Ugander beziehen ihr Trinkwasser aus Sümpfen. Da Sanitäranlagen selten sind, nisten sich einige krankheitserregende Bakterien in Sümpfe ein. Wir haben begonnen, dieses Problem zu lösen, indem wir einen Wassertank zum Sammeln von Regenwasser und ein Filtersystem installiert haben, das Wasser von Bakterien reinigt. Derzeit unterrichten wir Einheimische über die Bedeutung von sauberem Trinkwasser und den Umgang mit diesem Filter
In diesem zweiminütige Video spricht Kate — unsere lokale Partnerin, die die Schule leitet — über einige der Nebenprojekte der Golden Hill Academy:
Wie man sieht, beeinflusst die Schule nicht nur die 180 Schulkinder, sondern alle, die an der Schule beteiligt sind und von ihren Nebenprojekten profitieren.
WIE WIRD DAS GELD AUSGEGEBEN?Wir setzen auf lokale Mitarbeiter, um unsere Wirkung zu steigern.
Um die Gemeinde in Mutoto zu stärken, haben wir uns entschieden, nicht einen großen Konzern für den Bau zu engagieren, sondern erfahrene einheimische Arbeiter, die uns helfen werden, dieses Ziel zu erreichen.
Auf diese Weise können wir Familien innerhalb der Gemeinde ein Einkommen ermöglichen und die Verbindung zwischen Einheimischen und der Golden Hill Academy weiter stärken. Der einzige Weg, um langfristige Wirkung zu erzielen, ist, die Einheimischen in unser Projekt einzubeziehen. 
Ein lokaler Architekt hat unser Gebäude entworfen.
Wir konnten einen geeigneten Architekten überzeugen, seine Dienste für unser Projekt zu spenden. Er sah sich unser Land an, entwarf einen Projektplan und kalkulierte unsere Kosten.
UNSERE LOKALEN PARTNER, DIE DIE SCHULE LEITEN.
Kate (rechts) & Jeremiah (links) sind unsere Partner, die die Golden Hill Academy und alle angrenzenden Projekte leiten. Sie widmen ihre Zeit und ihr Leben der Gemeinschaft, um den Kindern und den Mitgliedern von Mutoto eine bessere Zukunft zu ermöglichen.
In diesem 10-minütigen Interview erzählen Jeremiah und Kate mehr über sich und was sie bewegt:
- ihrer Motivation, jeden Tag aufzuwachen
- warum die Gemeinde eine Schule braucht
- wie die Lebensbedingungen in Mutoto sind
- und wie sie die Schule finanzieren können
AKTUELLE BILDUNGSSITUATION IN UGANDA
+++ Von 100 Kindern, die mit sechs Jahren in die Schule gehen, absolvieren nur 20 Kinder die letzte Klasse. +++
Uganda liegt im Bereich der Bildung weit hinter dem internationalen Durchschnitt zurück. Zwei wichtige Dimensionen, die wir als 264 fokussieren, sind:
(1) Wie viele Kinder haben einen Abschluss (von der ersten bis zur letzten Klasse)?(2) Wie viele Kinder erreichen Mindestkenntnisse in Lesen und Mathematik?
Die UNESCO-Statistiken (siehe unten) zeigen, dass Uganda bei den Abschlussraten weit zurückliegt.  Der Anteil der Kinder, die die jeweils weiteführende Schule besuchen, sinkt von Schritt zu Schritt enorm: 44%, 26% und 18% der Absolventen.
Das bedeutet:
Von 100 Kindern, die im Alter von 6 Jahren in der Grundschule in die Schule gehen, durchlaufen nur zwanzig Kinder alle Klassen bis zur Sekundarschule, um ihren Abschluss zu machen.
Darüber hinaus ist die allgemeine Bildungsqualität in Uganda recht schlecht. So erreichen nur 53% der Kinder in der Grundschule ein Minimum an Lese- und Mathematikkenntnissen.
Über 264.education e.V.
264.education ist eine NGO, die Schulen in Entwicklungsländern baut und unterstützt.  Wir glauben an die Kraft der Bildung, um eine bessere Zukunft für alle zu schaffen.
Warren Buffet sagte einmal, alles Gute, was in seinem Leben geschah, kann auf die Tatsache zurückgeführt werden, dass er im richtigen Land geboren wurde. Wir glauben, dass jeder das Recht hat, eine faire Chance im Leben zu bekommen. Egal, wo er oder sie geboren wurde. Wir bieten den Kindern eine kostenlose und qualitativ hochwertige Bildung, um sie der Möglichkeit zur Erfüllung ihrer Kindheitsträume einen Schritt näher zu bringen.
+++ Ein bisschen mehr über 264 +++
Website: www.264.education
Instagram:
https://www.instagram.com/264.education/
Facebook:
https://www.facebook.com/264.education/