Jedidiah Brown for 5th ward Alderman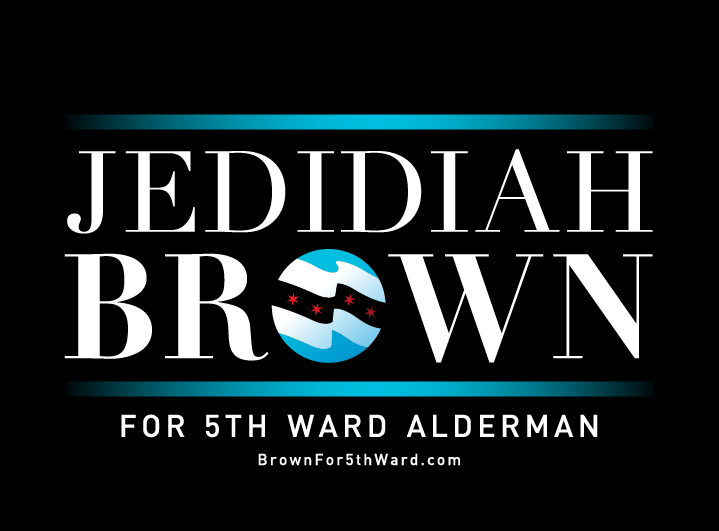 ____________________________________________________________
-Servant Leader                          -Bridge Builder                                                      -Accountable Representative 
As National President and Founder of Young Leaders Alliance (YLA), Jedidiah Brown has trained hundreds of Chicago residents to organize their communities around a shared vision. Together, they have made neighborhoods safer, resolved conflicts, engaged young people, identified community assets, and insured that resources were distributed to all residents. Jedidiah Brown's ability to get people working together, building consensus, and staying committed to collaboration is exactly what's needed in the 5th ward of Chicago and at City council.
​
"I am ready for the journey to reach the chambers of city council. My focus is to represent the 5th ward and fight for our entire city." -Jedidiah Brown 
To get involved
Call: [phone redacted]
email:
[email redacted]

Office: 1745 E. 71st, Chicago, IL 60649
Website:
www.brownfor5thward.com
 We are the solution we need for our city together... #powertothevillage #united
Contribution Rules
This contribution is made from my own funds, and funds are not being provided to me by another person or entity for the purpose of making this contribution.
I am making this contribution with my own personal credit card and not with a corporate or business credit card or a card issued to another person.
I am at least eighteen years old.
I am a U.S. citizen or lawfully admitted permanent resident (i.e., green card holder).
I understand that by ordinance of the City of Chicago, no lobbyist registered with the Board of Ethics, or person who has done business with the City within the preceding four reporting years, or person who is seeking to do business with the City, shall contribute over $1,500. This includes persons doing or seeking to do business with the: City of Chicago, Chicago Transit Authority, Board of Education, Chicago Park District, Chicago City Colleges, or Metropolitan Pier and Exposition Authority.

Contributions or gifts to Citizens for Jedidiah Brown are not tax deductible.

A copy of our report filed with the State Board of Elections is available on the Board's official website (www.elections.il.gov) or for purchase from the State Board of Elections, Springfield, Illinois.