Provide Holiday Gifts & Shoes For Children
This Campaign has been fully funded!
Thank you for your generosity and support!
www.borderkindness.org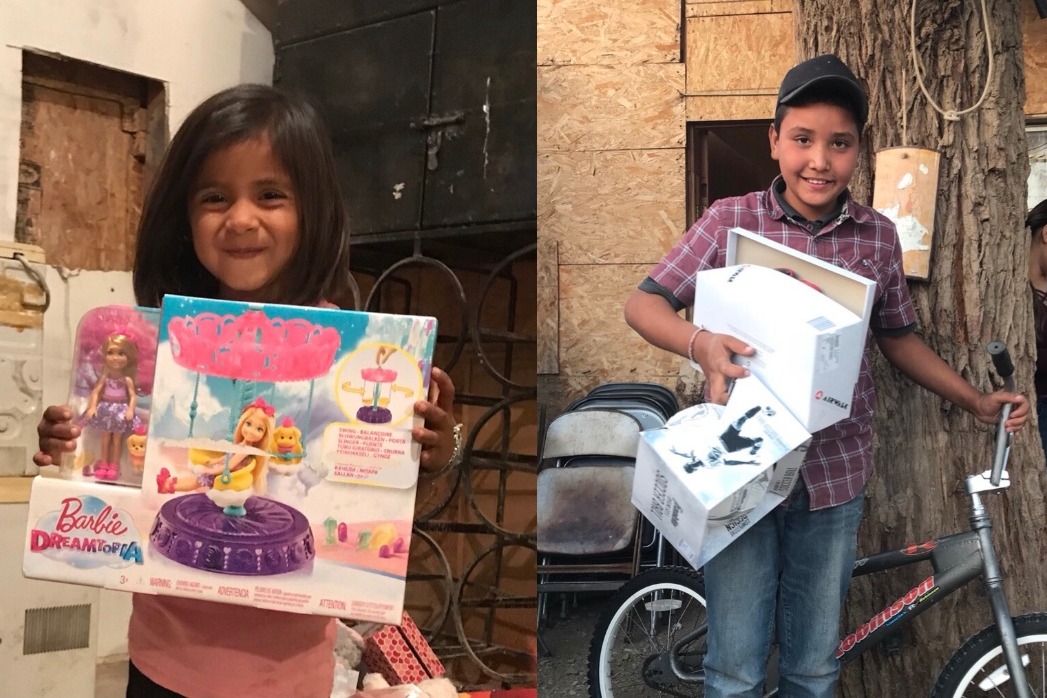 This junior high student received a new laptop - she hopes for a career in healthcare and a laptop is essential for her to complete homework.
Border Kindness
 needs your support to provide refugee children and families in Mexicali's Canal Reforma y Sindicaliotos Neighborhood Settlement with food, blankets, clothing and holiday gifts. 
The majority of families living in the Canal Reforma y Sindicaliotos settlement migrated north from southern Mexico - all came seeking opportunity and security.  
A home in Canal Reforma y Sindicaliotos Settlement
Unable to secure permanent housing many families constructed homes from discarded wood, boxes and other materials.  
There are approximately 34 children living in the small settlement. The children attend a public school located approximately one mile outside the neighborhood.  A few of the children have bicycles - the majority of the children walk to and from school daily.  The dirt road is not maintained by the city and is uneven, full of holes, and strewn with trash and rocks. Few of the children have sturdy footwear and most wear slip-on shoes that may not fit.
Six days a week up to 34 children arrive at Teresa's home for breakfast. Teresa lives adjacent to a canal that is central to the neighborhood.  For over five years Teresa has been providing children in the neighborhood with a nutritious breakfast – in a safe environment.  Without Teresa, the majority of these children would not have breakfast - or a full meal each day.
Teresa in her kitchen in the Canal Reforma y Sindicaliotos Neighborhood Settlement of Mexicali.
When observing the children it is obvious many arrive in the morning hungry and many appear anxious as they await to see what food is available that day.  The children change when they see -and then eat the food Teresa prepares for them.  The transformation is striking. Their posture improves, they smile, they talk, and they interact with each other. 
Two children awaiting breakfast. 
The same young girl after receiving food.
The second girl upon receiving a hot breakfast.
Public schools in Mexico do not offer lunches free to students from financially distressed homes. During lunch hour at school these children watch their classmates eat.  Many of the children's mothers told us they lack the ability to provide their children with an appropriate lunch or dinner - one mother stating, "I do everything I can to get him something, maybe rice or a small bag of chips, but there are no vitamins, it's not nutritious".   
To provide these children breakfast Teresa depends on food donated by local groceries or markets - and she does at times receive small financial donations.  It is clear that many of these children only eat because of Teresa's heroic effort to feed them.  Monday through Friday Teresa provides any child that arrives with breakfast - if she has food available she also offers breakfast on Saturdays. There have been occasions when Teresa has had to turn away donated food because the amount was too large to fit in her small refrigerator (A NEW REFRIGERATOR & MICROWAVE HAVE BEEN PURCHASED - UPDATE BELOW).
The past six weeks Border Kindness has provided Teresa with the food she needs to ensure each neighborhood child eats a hot and nutritious breakfast daily.  Border Kindness is committed to helping Teresa get the food needed to continue feeding these children - as well as providing the children with a packed lunch daily, much-needed blankets, shoes and clothing.
Border Kindness is seeking $4000 to be utilized as described below.  The $1500 food budget provides Border Kindness 10 weeks to secure sustainable revenue streams for the ongoing cost of food.  All donations are tax-deductible in the United States to the extent allowed by law (see About Border Kindness section below).
Canal Reforma y Sindicaliotos Children's Project Budget
Food (and transport)                          $150              weekly (x10)           $1500
Large Refrigerator                               $250              one time                      $250     Purchased 11/25/18 !
Microwave                                               $100               one time                     $100      Purchased 12/13/18 !
Clothing, Shoes, Holiday Gift       $63.25            one time                    $2150     Distributed 12/23/18!
(per child x 34)                                       
We hope to receive an additional $125 to cover the 3+% Go Fund Me processing fee(s) - not accounted for.
Three women (mothers of children) helped prepare and serve this breakfast - there was a single helping of beans left after the children were fed.  Each woman left the food for the other(s). 
A boy's winter shoes. 
A toddler's winter shoes.
The morning we took these photos the temperature was in the low 40s (f) - most of the children had slipper type shoes on - many without socks.  All of the children are in need of warm, sturdy shoes that fit them.  The drawing below are made by parents when they heard Border Kindness hoped to provide their children with shoes.
Yerenaye from Border Kindness providing Teresa with groceries.  
UPDATE _ Thanks to your support Border Kindness provided Teresa and the children with an upgraded refrigerator as well as a new microwave.  The larger refrigerator will allow Teresa to secure and store additional donations and Border Kindness to purchase food more efficiently - this is one step toward ensuring this children receive adequate food each day. 

ABOUT BORDER KINDNESS 
Border Kindness believes everyone should have the opportunity to live free of pain, hunger, intimidation, and fear.
We believe everyone is our neighbor
We counter fear with hope. 
We counter noise with action.
We counter greed with generosity. 
We counter hate with love.
We counter cruelty with kindness.
The "Migrant Caravan" isn't a one-time event. The ongoing Central & North American Refugee Crisis is rooted in economic, environmental, social, and cultural inequities. The issue was confusing and complex prior to becoming a tool of fear for political gain – now it is the most politicized and misunderstood issue of our time.
One thing that isn't confusing is that many people are caught in a horrific situation – and for the majority, there is no relief in sight.
Border Kindness identifies and assists individuals and organizations that efficiently and justly help the vulnerable in the Mexicali/Calexico Border Region.
Border Kindness provides a solution for refugees – and for the people and organizations that work tirelessly to help them. We provide existing refugee relief projects with critical resources and in the process increase their capacity to help today and tomorrow.  
We get vulnerable people what they need to survive.  Will you help?
Border Kindness was founded in October 2018 by
Kelly Overton
  . 
Donations to Border Kindness are tax-deductible through our fiscal sponsor,
Mojave Animal Protection
 . 
A fiscal sponsor
  is a nonprofit organization that provides financial oversight and management, as well as other administrative services to new charitable projects.
Mojave Animal Protection (MAP) is a Joshua Tree, California based 501c3 not-for-profit corporation. MAP's Federal EIN is 47-3963231.
Border Kindness
125 E. 3rd Street - Space #4
Calexico, CA 92231
www.borderkindness.org
[email redacted]
Donations

Organizer
#1 fundraising platform

People have raised more money on GoFundMe than anywhere else. Learn more

GoFundMe Guarantee

In the rare case that something isn't right, we will refund your donation. Learn more

Expert advice, 24/7

Contact us with your questions and we'll answer, day or night. Learn more