Menstrual hub -Safe Space to End Period Poverty
No more secrets is a mother and daughter team who have personally suffered from the humiliation of period poverty and  grappled with Menstrual insecurities after the incarceration of  their ex husband and father. They have  now dedicated their entire lives to fighting this epidemic head on by traveling through the perilous streets of Philadelphia  personally delivering thousands of menstrual products every week to desperate women and girls throughout the Phila and surrounding areas.  They deserve the opportunity to  save more lives by creating a safe  and welcoming place to continue their personalized, rapid response approach to addressing the overwhelming number of people suffering from the horrific effects of period poverty. 

We (Lynette and Nya) need your assistance more than ever during these times of uncertainty, economic frailty, racial and social unjust to keep No more secrets unparalleled services and dedication to ending period poverty in vulnerable populations sustained throughout the upcoming year and beyond. Due to the continuous discriminatory actions, racial biases  and stigmatized perceptions exhibited by many landlords, realtors , businesses and community development centers in the area we've been left no choice but to move forward independently in locating a space to meet the immediate menstrual and safety needs of our communities. 

Being a Poor, Black, Woman  in America with a Period drastically affects you and your families overall survival rate.

Women are Stealing, Selling our Bodies, Staying in Abusive relationships, Suffering from infections and diseases, Soliciting favors, Starving, Succumbing to sexual favors and criminal activities, Skipping School and work all because they don't have access to a pad or tampon.

Me and my mother boldly and tirelessly started fighting to end period poverty when we heard the authentic voices and experiences of young ladies telling us the high risk behaviors and unhealthy methods they practiced monthly to access pads and tampons for them and their families.

That day we immediately jumped into action and have been working non stop for the last five years to tackle this horrendous epidemic because not long ago THAT was our sad reality and we never want any other family suffering in silence over the lack of access to Menstrual products while simultaneously fighting against a plethora of other other social justice issues.

We as black, women and girls in America regardless of our socioeconomic status deserve the right to experience our Menstrual cycles in dignity by having access to safe feminine hygiene products, clean water and proper waste management.  Black women and girls should also be afforded the opportunity to reach their full potential.

As a child I saw first hand the desperation, sadness frustration and anger my mother expressed every month trying to afford feminine care products for me and herself as she struggled to pay for rent, utilities, food, clothing on a mere $212 she received monthly through public assistance benefits. I remember how ashamed and embarrassed we felt trying to scrape together money or borrow funds to purchase Menstrual products. It was even more difficult for me because I had an extremely heavy flow so I could see the despondence on my mothers face over and over again every time I asked for more pads. It made me hate my period and feel guilty about being another financial burden on my mother who was already doing so much for our family.

You see my mom is the ex wife and I am the daughter of an incarcerated parent who was subsequently sentenced to life without parole so my family suffered a living hell everyday after his incarceration; emotionally, physically and financially.  This was all done in loneliness and silence because my mom was now a single, black, woman in American and one seemed to care because by societal standards, statistics, myths and misconceptions this was a conscious decision and choice to be poor and dependent on systems.

Intersectionality women are often disadvantaged by multiple sources of oppression. Women/Girls have lower paying jobs, poorer health care,  access to higher rates of unemployment are heads of households, are the caretakers of multiple family members and can not use public assistance benefits like food stamps to buy tampons or pads putting them and their families at further risk for eviction, starvation and incarceration.

When you honestly think about access to Menstrual hygiene products it is an essential yet blatantly overlooked women's right issue specifically targeted at creating another barrier to us succeeding.

Help Me and my Mom continue saving other families lives by creating a safe nonjudgmental space to provide acceptance, understanding, education, period care, period resources and access to clean water and toilets to women and girls just like ourselves who are so much more than an overlooked societal statistic.

Everyday No More Secrets saves the lives of women/girls who are being released from prison, fleeing abusive situations, living in poverty, suffering from housing insecurities, escaping human trafficking rings and engaging in high risk behaviors trying to simply obtain a pad or tampon by providing a rapid response to their menstrual hygiene needs to decrease recidivism, health risks, criminal activities and relapses.  Due to our Social Justice system menstrual rights are deliberately overlooked and negated. Sadly, Racism and systemic oppression negatively impacts families impacted by incarceration, diseases, layoffs, unemployment furloughs and the loss of wages by intentionally preventing these populations from having access to affordable and safe feminine care products.  No more secrets will no longer sit idly by while our youth are using rags, newspapers, construction paper, gloves, socks and any other make shift items to address their monthly cycles exposing them to infections and diseases. 

Menstrual rights are Human rights and now is the time to take action. We are the change that's needed to make menstrual equity a reality for all and provide an opportunity for all people on our communities to live in dignity. 

Overview; 
No More Secrets has been on the ground for the last 5 years tirelessly fighting to end period poverty in vulnerable populations without any governmental funding or grants. These two powerhouses independently deliver a 3-5 month supply of menstrual products to over 200 people a week in addition to shipping nationwide and faithfully contributing to schools, religious and community organizations. No More Secrets singlehandedly distributes over 38,000 menstrual products a week, which exceeds any other organization in the nation.  This is a carefully orchestrated operation conducted from a 2nd floor office space where they ascend and descend 4 flights of stairs ardently over 25 times a day carrying bags and boxes easily weighing over 50 pounds. 
Doing this physical labor every day is not sustainable and No More Secrets needs a space that will be able to better help them conduct and amplify their incredible work. This GoFundMe will go to the creation of The Period Spot, the first Menstrual Health Empowerment Hub. We envision The Period Spot as a menstrual supply donation and distribution center. The Period Spot will also be a Gathering Place to gain: supplies, resources, mentorship, education, empowerment, advocacy, and socialization. No More Secrets will also offer access to  clean water, toilets, and resting stations for those in need in addition to love and acceptance. 
Your donation will directly support NMS efforts by funding:
-The Spot Period Hub
-Van for transportation 
-renovations
- computers 
-furnishing
-supplies
-workshops
-technology
-menstrual products
-utilities

Our hope is that this initial Period Spot Hub will serve as a prototype to eventually be replicated in other cities and states.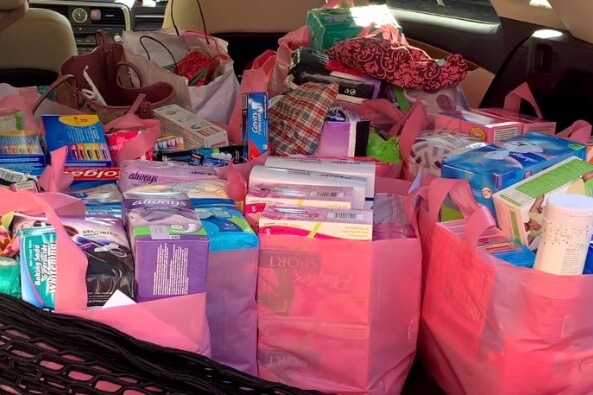 For more information about No More Secrets visit our web site at www.nomoresecretsmbs.org

No More Secrets Mind Body Spirit Inc. is BIPOC owned and led a nonprofit whose mission is to decrease stigmas, silence, and secrecy by increasing self-esteem, socialization and self-love. They provide consultation services, facilitate trauma informed comprehensive programming, and provide educational training and workshops. No More Secrets Mind Body Spirit has created the only menstrual hygiene bank and in-home delivery service in Philadelphia to end period poverty in their community. They serve PA, NJ, and DE, and they ship nationwide to people in need.


 
Organizer
Lynette Medley
Organizer
Philadelphia, PA