Beautify Our Community - Black & Brown Unity Mural
Black and Brown Unity Wall
The original idea came about us wanting to show love and unity with a collaboration mural including Tubs, Sentrock, Dred Ske, CUJO,  Milton Coronado, Statik and Nikko Washington.   The mural included a powerful message that signified unity and love among black and brown people. 
 We are sadden that the mural was buffed overnight and gone by the next day.  This was a direct reply to our message that we are not welcomed and our message means nothing.
Originally we were all hurt but the message still stands. We understand the power behind what we do and want to continue to push our message.
Our plan is to spread the message all over the city, with your help the donations will go towards us creating multiple murals for our communities throughout Chicago.
We appreciate everyone's support and are looking forward to making many more murals with message that black and brown people support, love and show up for each other. We will not allow people to divide us.
We will continue to create, collaborate and stay unified.
Donations will go to 


 1. Multiple Murals in Chicago - We currently have two big walls approved ( 1 located in Pilsen and 1 on the South Side) We now have numerous requests for additional murals throughout the city and a request from out of state.
 2. Materials - Spray paint, acrylic paint, scissor lifts,  brushes, rollers, spray paint guns, tarps, scaffolding, ladders etc
3.  Community Engagement Projects - We are looking to create murals in areas that will include the community.  We understand the importance of including community members, leaders and the youth.  Including them will create a sense of re-building the value and importance of taking care of our surrounds. We' like to include the youth an pay them to assist on projects.
4. Videography and Photography - We will hire someone to capture a time lapse, photos and recap of all mural projects. 
5.  Beatifying communities -  As a Pilsen resident I've always been proud of my neighborhood. The art, culture, my neighbors, workers and small business owners create the fabric of Pilsen  This has always made me want to nurture and take care of my surrounding. 
It is important that we make others feel the same way about where they live.
Included with the mural projects we would like to enter  the communities with a the objective to add more value and life.  This can include clean up, trash pick up an landscaping.  We are looking for any near by gardens that need uplifting or revamping. 
6. This project includes 7 artists of whom have families, bills etc. Although their work has been voluntary, due to the recent event of their mural being cover I'd like for them to feel comfortable about moving forward on MULTIPLE PROJECTS.  We were all discouraged and hurt. I want all 7 artists to feel comfortable, valued and I want them to understand it's important they continue and  what they are doing is a lot bigger then art and murals. Murals add priceless value and uplifting to communities and the people in them. Besides the message of unity I feel it's important the youth and community residence see themselves in these murals. I've worked on many murals and one of the my personal favorite parts is witnessing black and brown people eyes brightening by the images. During this time I've met many women of whom cried while watching murals stating their community normally doesn't get beauty like this and they normally do not see black and brown faces on walls. It's my mission to change that.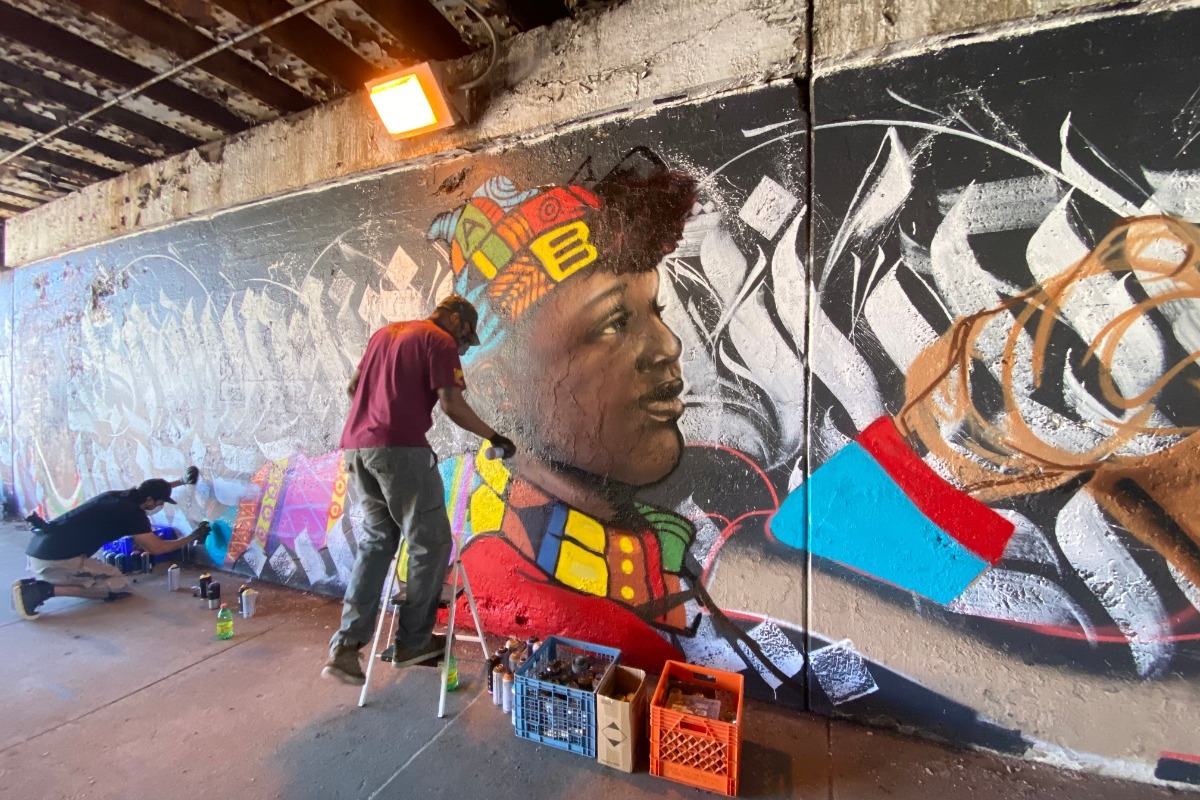 Fundraising team (3)
Delilah Martinez 
Organizer
Raised $3,333 from 77 donations
Chicago, IL
Tubs One 
Team member
Raised $7,295 from 32 donations
KiD Guerrero 
Team member
Raised $800 from 8 donations