Ezzard Charles Statue in Laurel Park
Ezzard Charles is a Cincinnati legend.
More than a Heavyweight Champion of the World, Ezzard Charles was a West End resident, entrepreneur,  renowned jazz enthusiast, and a brilliant Renaissance man.  A West End advocate during his life, he now represents honor, dignity, respect, and strength.  
This is why we  are erecting a statue to commemorate the legacy of Ezzard Charles, and leading a GoFundMe fundraiser for neighborhood donations.
Our "Knockout Goal" of $10,000 from small-dollar, individual donations will help us hit our overall fundraising goal of $287,500.
Laurel Park serves as an important greenspace and gathering place for the West End community. Who better to be represented within this Cincinnati park than Ezzard Charles? West End residents will see him standing tall on the street named for him, connecting and respecting the neighborhood's history, and inspiring today's young people.
Local artist John Hebenstreit is sculpting the 13-foot statue. Mr. Hebenstreit was previously selected to create the Black Brigade monument at the John G. & Phyllis W. Smale Riverfront Park. 
The total project cost of $287,500 goes toward materials, bronze casting, artist fees, construction of a new plaza, and installation, along with a maintenance endowment, on site signage, and park programming. Thanks to a Heavyweight Champion donation from the Carol Ann and Ralph V. Haile, Jr. Foundation,  we have met our overall fundraising goal! The statue and plaza will be installed and dedicated in October 2021.
While we have met our overall fundraising goal, we invite you to join our GoFundMe fundraiser for neighborhood donations in order to meet our "Knockout Goal" of $10,000 from individual donors. This is a small—but crucial—part of this project, as funds raised through the remainder of our GoFundMe campaign will help expand the scope and design of the plaza within which the statue will stand.
Join us, and #believeinezz.


Those who are wishing to make donations over $1,000 should contact [email redacted] to learn more about how to make large donations and the donation benefits.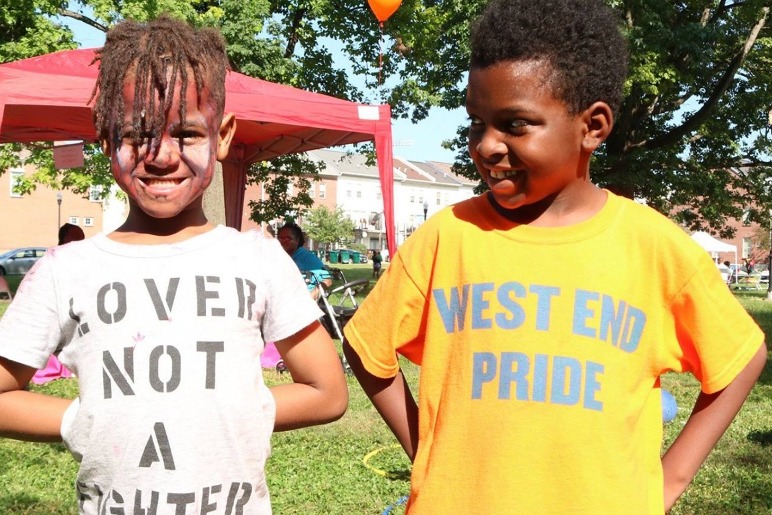 Pictured above: Two boys enjoying Ezz Fest in Laurel Park. Ezz Fest celebrates Ezzard Charles and his legacy with live music, food and art.
Pictured above: West End residents hold up #believeinezz posted in Laurel Park.
Pictured above: Ezzard Charles II sits with a bust of his father.
Learn more about us and this project at:
https://cincinnatiparksfoundation.org/
Organizer
Cincinnati Park Foundation
Registered nonprofit
Donations are typically 100% tax deductible in the US.