BALBOA SWING CLUB FUNDRAISER
BALBOA SWING CLUB FUNDRAISER
For Giedre & Camille to attend Bal-Love Masterclasses
We want to raise a fund to take the Balboa Swing Club to the next level !
(Deutsche Übersetzung unter)
(Français tous en bas :)
The goal is for us, Giedre and Camille, to be able to travel to the Czech Republic to study Balboa with the best international dance instructors and bring that experience back to our local community and classes in Berlin.
We want to focus on studying this dance extensively : its history, music, rhythms, physicality, steps and partnerships. Therefore, we are preparing to attend Bal-Love - an international festival that is known to be the best learning platform at this point in Europe. And we are happy to announce that Camille's registration has been confirmed for Bal-Love WEEK 2 this August, and Giedre is on the waiting list for WEEK 1 !
Balboa and Swing Dance is our biggest passion, and although we are making a living teaching dance, attending these masterclasses is financially challenging for us. We would love to go but can only do this with your help.
By donating to this fundraiser you will :
- Make our dream come true !
- Support our learning process and subsequently your learning process too!
- Help to bring more knowledge and authenticity to the Balboa scene in Berlin.
- support your Wednesday Balboa classes and parties !
For your generosity we are offering:
We will bring back pockets full of new teaching ideas, moves, rhythms, grooves and dance experiences. You will get higher level classes, more refined expertise in your dancing, more authentic dancing and even crazier parties !
An Orange Tote Bag with Balboa Swing Club print (hand printed by us)
One print on 2 T-shirts of your own ! (chosen by you, hand printed by us)
Option 3 : €40 to infinity (!)
2 prints of 2 images on 2 T-shirts of your own ! (chosen by you, hand printed by us)
(T-shirt exemples)
We will collect your T-shirts (or any fabrics you want to be printed) on Wednesdays May 3, 10, 17, 24, 31 and June 7 at Rotbart !
One the 27th May we want to open the door of our dance studio in Britz, where we create and practice !
The studio allows us to dance barefoot or with socks, wool-socks, which is great to learn and train our connection to the floor. Bare feet are much more sensitive and precise, which will give us a lot of new tools for our couple dancing, opening up finesse and new sensations.
We will have Eldar Tsalikov on Bass, Johannes Böhmer on trumpet and Paul Stantner on guitar playing live and improvising with us. This will give us the unique opportunity to experience sound, rhythm and to play with tempo, accents or emotions.
Program of the day:
13:00 - 13:45 extensive body awareness feet/ground connection
14:00 - 14:45 improvisation dancing
15:00 - 15:45 couple dancing
16:00 - Lunch and fun, food cooked by Giedre & Camille
16:45 - Social dancing
17:30 - End
What we will pay with your money :
"Mercredi Matin", the artist behind the T-shirt's designs, 300 euro.
T-shirts : Buying Screens 56,98 euro, prepping them 105 euro. + paint colors 92 euro
Costs of Ballove Week ( classes + accommodation + travel by train ) 920 euro pro person. 1840 euro total.
Costs Workshop (Location rent for the 27 th May 50 euro / Pay musicians 300 euro + food 100 euro )
Private classes for Camille & Giedre with our favorite dance instructors (so we can tell you all their secrets :P) 200 euro.
Check our
Website
for parties and classes info !
_________________________________________________________________________
Deutsch :
BALBOA SWING CLUB SPENDENAKTION
Für Giedre & Camille, um an den Bal-Love Masterclasses teilzunehmen.
Wir möchten Geld sammeln, um den Balboa Swing Club auf das nächste Level zu bringen!
Das Ziel ist es, dass wir, Giedre und Camille, nach Tschechien reisen können, um Balboa mit den besten internationalen Tanzlehrern zu studieren und diese Erfahrung in unsere lokale Gemeinschaft und den Unterricht in Berlin zurückzubringen.
Wir wollen uns intensiv mit diesem Tanz beschäftigen: seine Geschichte, Musik, Rhythmen, Körperlichkeit, Schritte und Partnerverbindung. Deshalb bereiten wir uns auf die Teilnahme an Bal-Love vor - ein internationales Festival, das als die beste Lernplattform in Europa gilt. Und wir freuen uns, mitteilen zu können, dass Camilles Anmeldung für Bal-Love WEEK 2 im August bestätigt wurde und Giedre auf der Warteliste für WEEK 1 steht!
Balboa- und Swing-Tanz ist unsere größte Leidenschaft, und obwohl wir unseren Lebensunterhalt mit dem Unterrichten von Tanz verdienen, ist die Teilnahme an diesen Meisterkursen für uns eine finanzielle Herausforderung. Wir würden gerne hingehen, können dies aber nur mit eurer Hilfe tun.
Durch deine Spende zu dieser Aktion wirst du:
Unseren Traum wahr machen!
Unseren Lernprozess unterstützen und somit auch deinen Lernprozess unterstützen!
Mehr Wissen und Authentizität in die Balboa-Szene in Berlin bringen.
Deine Mittwochs-Balboa-Kurse und -Partys unterstützen!
Für deine Großzügigkeit bieten wir:
Wir werden Taschen voller neuer Unterrichtsideen, Moves, Rhythmen, Grooves und Tanzerfahrungen mitbringen. Ihr werdet ein höheres Niveau der Klassen, eine verfeinerte Expertise in eurem Tanzen, authentischeres Tanzen und noch verrücktere Partys bekommen!
Eine orangefarbene Tragetasche mit Balboa Swing Club-Aufdruck (von uns handbedruckt)
Option 2 : 20 bis 39 Euro
Ein Druck auf 2 eigene T-Shirts ! (von Ihnen gewählt, von uns handbedruckt)
Option 3 : 40 bis unendlich (!)
2 Drucke von 2 Bildern auf 2 T-Shirts von Ihnen selbst ! (von Ihnen ausgewählt, von uns handbedruckt)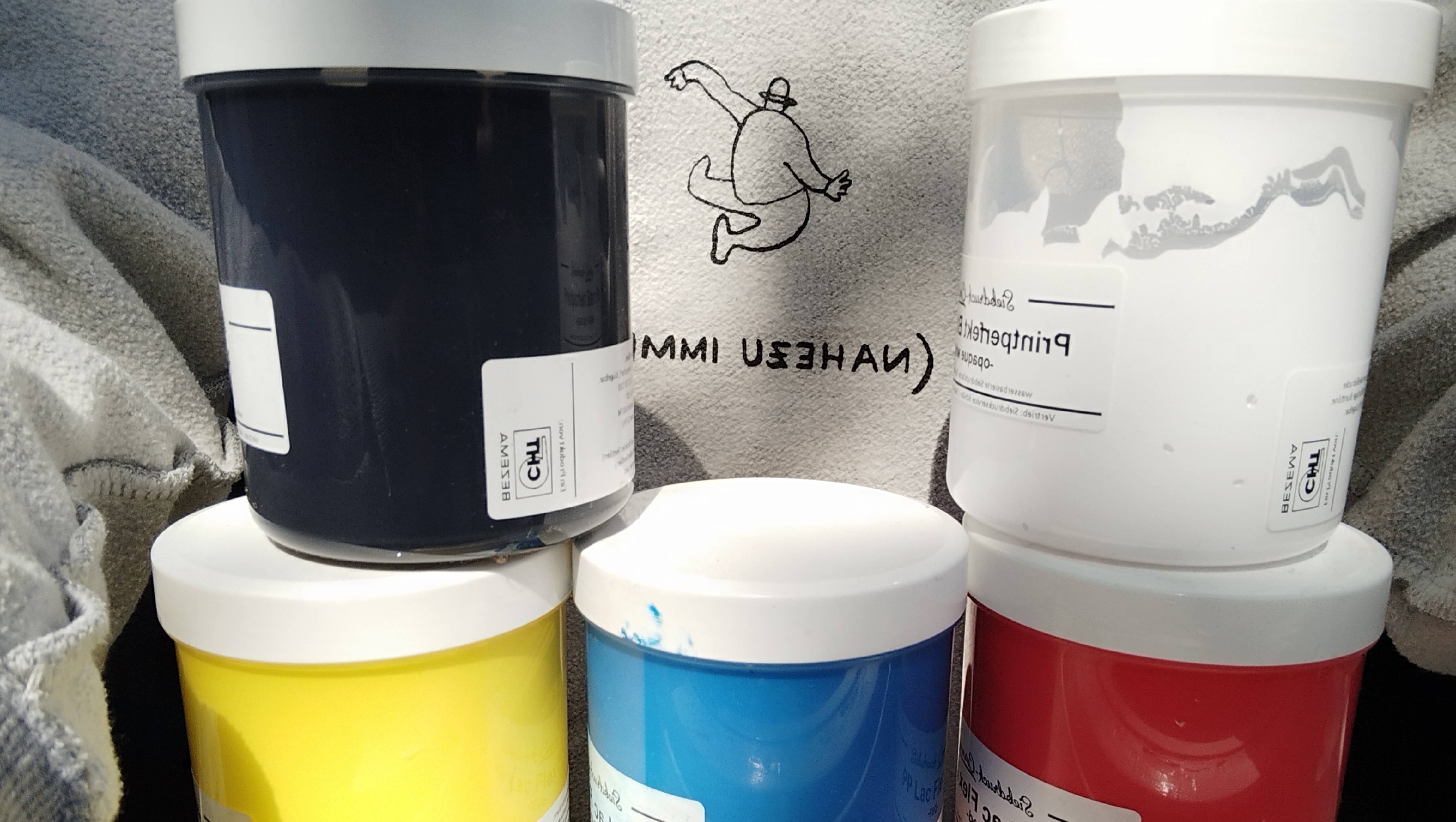 Wir holen eure T-Shirts (oder andere Stoffe, die ihr bedrucken lassen wollt) mittwochs am 3., 10., 17., 24., 31. Mai und am 7. Juni ab!
Am 27. Mai öffnen wir für euch die Tür zu unserem Tanzstudio, in dem wir in Britz kreieren und üben!
Das Studio erlaubt es uns, barfuß oder mit Socken oder Wollsocken zu tanzen, was grossartig ist, um unsere Verbindung zum Boden zu verbessern und zu trainieren. Ohne Schuhe tanzen ist viel sensibler und präziser, was uns viele neue Werkzeuge für unser Paartanzen gibt und Feinheit und neue Empfindungen eröffnet.
Wir werden Eldar Tsalikov am Bass, Johannes Böhmer an der Trompete und Paul Stantner an der Gitarre haben, die live spielen und mit uns improvisieren. Das gibt uns die einmalige Gelegenheit, Klang und Rhythmus zu erleben und mit Tempo, Akzenten und Emotionen zu spielen.
Programm des Tages:
13:00 - 13:45 ausgiebige Körperwahrnehmung Füße/Boden-Verbindung
14:00 - 14:45 Improvisationstanz
15:00 - 15:45 Paartanz
16:00 - Mittagessen und Spaß, gekocht von Giedre & Camille
16:45 - Gesellschaftstanz
17:30 - Ende
Was wir mit eurem Geld bezahlen werden:
"Mercredi Matin", der Künstler hinter den Entwürfen der T-Shirts, 300 Euro.
T-Shirts : Kauf der Leinwände 56,98 Euro, Vorbereitung 105 Euro. + Farben 92 Euro
Kosten der Ballove-Woche (Unterricht + Unterkunft + Zugfahrt) 920 Euro pro Person. 1840 Euro insgesamt.
Kosten Workshop (Locationmiete für den 27. Mai 50 Euro / Bezahlung Musiker 27. Mai 300 Euro + Essen 100 Euro )
Privatunterricht für Camille & Giedre mit unseren Lieblingstanzlehrern (damit wir euch all ihre Geheimnisse verraten können :P) 200 Euro.
Auf unserer
Website
finden Sie Informationen zu Partys und Kursen!
________________________________________________________________________
Français :
BALBOA SWING CLUB FUNDRAISER
Pour que Giedre et Camille puissent accéder aux Masterclasses de Bal-Love
Nous voulons collecter des fonds pour amener le Balboa Swing Club à un niveau supérieur !
Le but est pour nous, Giedré et Camille, de pouvoir voyager en République Tchèque pour étudier le Balboa avec les meilleurs instructeurs de danse internationaux et de ramener cette expérience dans notre communauté locale et nos cours à Berlin.
Nous voulons nous concentrer sur l'étude approfondie de cette danse : son histoire, sa musique, ses rythmes, sa physicalité, ses pas et ses partenariats. C'est pourquoi nous nous préparons à participer à Bal-Love, un festival international connu pour être la meilleure plateforme d'apprentissage à ce jour en Europe. Et nous sommes heureux d'annoncer que l'inscription de Camille a été confirmée pour la Semaine 2 de Bal-Love en août, et que Giedré est sur la liste d'attente pour la Semaine 1 !
La danse Balboa et Swing est notre plus grande passion, et bien que nous gagnons notre vie en enseignant la danse, participer à cet événement est un défi financier que nous ne pouvons surpasser seulement avec votre aide.
En faisant un don à cette collecte de fonds, vous allez :
- Faire de notre rêve une réalité !
- Soutenir notre processus d'apprentissage et par la suite votre processus d'apprentissage aussi !
- Aider à apporter plus de connaissances et d'authenticité à la scène Balboa de Berlin !
- Soutenir vos cours et soirées Balboa du mercredi !
Pour votre générosité, nous vous offrons :
Nous ramènerons des poches pleines de nouvelles idées d'enseignement, de mouvements, de rythmes, de grooves et d'expériences de danse. Vous obtiendrez des cours de plus haut niveau, une expertise plus raffinée dans votre danse, une danse plus authentique et des fêtes encore plus folles !
Un Tote Bag orange avec l'impression Balboa Swing Club (imprimée à la main par nos soins)
Une impression sur 2 T-shirts de votre possession ! (choisi par vous, imprimé à la main par nous)
2 impressions de 2 images sur 2 T-shirts de votre possession ! (choisis par vous, imprimés à la main par nos soins)
Nous récupérerons vos T-shirts (ou tout autre tissu que vous souhaitez faire imprimer) les mercredis 3, 10, 17, 24, 31 mai et 7 juin à Rotbart !
Le 27 mai, nous voulons vous ouvrir la porte de notre studio de danse à Britz, où nous créons et pratiquons !
Le studio nous permet de danser pieds nus ou avec des chaussettes, ce qui est idéal pour apprendre et entraîner notre connexion au sol. Les pieds nus sont beaucoup plus sensibles et précis, ce qui nous donnera beaucoup de nouveaux outils pour notre danse de couple, ouvrant la voie à la finesse et à de nouvelles sensations.
Nous aurons Eldar Tsalikov à la basse, Johannes Böhmer à la trompette et Paul Stantner à la guitare qui joueront et improviseront avec nous. Cela nous donnera l'occasion unique d'expérimenter le son, le rythme et de jouer avec le tempo, les accents et les émotions.
Programme de la journée :
13:00 - 13:45 conscience corporelle, connexion pieds/sol
14:00 - 14:45 danse improvisation
15:00 - 15:45 danse en couple
16:00 - Déjeuner, cuisine préparée par Giedre & Camille
16:45 - Danse sociale
17:30 - Fin
Ce que nous paierons avec votre argent :
"Mercredi Matin, l'artiste derrière les dessins des T-shirts, 300 euros.
T-shirts : Achat des écrans 56,98 euro, préparation des écrans 105 euro. + couleurs de peinture 92 euro
Coûts de la semaine Ballove (cours + hébergement + voyage en train) 920 euros par personne. 1840 euros au total.
Coûts de l'atelier (location du lieu pour le 27 mai 50 euro / rémunération des musiciens 300 euro + nourriture 100 euro).
Cours privés pour Camille & Giedré avec nos professeurs de danse préférés (pour que nous puissions vous raconter tous leurs secrets :P) 200 euro.
Consultez notre
site Internet
pour les informations sur les fêtes et les cours !
Become the first supporter
Your donation matters
Organizer
Balboa Swing Club
Organizer
Berlin