A MEAL IN A BOX FOR TODAY A SERVING OF LOVE 4EVER



APPEAL: THE CORONA VIRUS PANDEMIC IS HAVING A DEVASTATING IMPACT ON
BALI'S TOURISM, ECONOMY AND THE BALINESE PEOPLE'S LIVELIHOODS

Your help will give the Team in Bali a chance to:

Source, cook, pack and distribute 'a Meal in a Box'  to the ones in need.
1£ of your donation will feed one person.
One person will not stay hungry in Bali.

Our initial budget & target:

We are committed to raise £6600.00, which gives 80 people 'Meal in a Box' a day, a serving of love forever, for 60 days, 4800 'Meal in a Box'.

THE STORY:


Bali bounced back after bombings and natural disaster, but there is grave concern about recovering from the effect of COVID-19.

With 80% of GDP based on tourism, the border closure and travel bans could prove catastrophic for the population of 4.2 million people. Most households in Western countries have some financial cushioning, but in Bali, where the average salary is around £115 a month, poeple live from day-to-day, or month-to month.
If they lose their job, they have nothing to fall back on. No tourism, no money, SO…. what about food!
The people of Bali have shown, over the years, tremendous resilience in overcoming adversity.
but TODAY HELP IS NEEDED!
Aslan's story:

Aslan is a 22-year-old, very skillful, intuitive and reliable massage therapist, originally from Sulawesi, an Indonesian Island east of Borneo. Alsan worked at Marissa Spa in Seminyak, learning and practicing since the age of 19. He progressed to become a supervisor, one of the first male supervisors in Bali spa's industry. I remember a conversation I had with him about massage therapy.
His face lit up, and he said: when I massage, I feel.
To feel, to be aware through touching, to feel, to be aware, it gives you an opportunity to make a change, an impact. What a wonderful gift and rare skill set to have as a massage therapist. Aslan has not worked for 7 weeks.

Some facts about massage & bodywork in Bali's Spas:

An average one-hour treatment price is 80 000 IDRp or around £4.50. The average commission for a therapist is 10%, around 50 pence. The main source of revenue comes from tips, which vary from person-to person. The aim is not to point a finger at the system but to raise awareness.

My story:

I have been a massage therapist since 2004 and I have an insatiable passion for South East Asia. After 7 consecutive years of travelling to Thailand, where I studied, learned and experienced new techniques through getting some fantastic treatments, Christmas/ New Year 2016/17 was time for a change for me. What better place then Bali, one of the 17, 000 + island of Indonesia, in the Indian Ocean, also known as "The Island of Gods", to widen my experience and discover new horizons and cultures. I was overwhelmed by what Bali and the surrounding islands had to offer in terms of the variety of body treatment, yoga, meditation, spirituality and reflection on life. And of course, the delicious, vibrant, colorful and healthy cuisine. I was profoundly moved by the beauty of this volcanic, luxurious and lush landscape, the warmth, generosity and endless huge smiles of its people. It is an ideal place to recharge the body and the soul after a year of work in massage treatment, nutrition and training.
Paradise really. But this paradise is now compromised on so many levels

Our story:

Aslan and I first met in 2017 in one of Bali spas, next to where I was staying, the first spa and massage therapist I tried. He remains my main therapist and I have witnessed him evolve as a young man and experienced his progress and journey as a therapist. It has been a great privilege to know him. We became friends on Facebook in 2017 and kept regularly in touch throughout the years. I came back from Bali, mid-January 2020 from my third visit to the island, whilst the Coronavirus was still supposedly contained in China. Little did we know what 2020 had in store. I became increasingly concerned about the situation in Bali and communicated regularly with Aslan. But last week I found out that Aslan's situation was critical. Aslan had not worked for 7 weeks, was struggling to eat a meal a day and keep a roof over his head.

He explained how difficult the situation was for everyone, with people on street, hungry, looking lost and tired with no work. Although, I am financially hit by the ripple effect of COVID-19 myself, I felt I to do something to help. I transferred via Western Union £150, just under 3 million IDrp, to give him a chance to address his most urgent needs.

The following day, on Thursday, April 30th, I received a picture with a rice and chicken dish he was able to afford to cook and eat to say thank you. I was moved and sad at the same time. I was surprise to read his text, that with the remain of the money, he got 3 friends and colleagues to cook food and distribute around to the hungry people.

We spoke again, and I told him how wonderful and generous his idea was. I asked if he could take some pictures and videos on his phone to document all this and I told him I would be willing to find a way to help more. In the market, Aslan bought 10 kg of rice, 5 kg of chicken, I kg of seafood, vegetables and spices, some take away boxes. They managed to cook and distribute, on 2 scooters, 50 meal boxes.
We spoke again that evening, he said: I can do more, people need more. Now we speak every day to see how we can carry on this project. On Sunday, I transferred a further £110.

On Monday, May 4th, after buying and renting some necessary cooking utensils, Aslan and two friends managed to prepare and distribute 78 meal boxes, what an amazing achievement!. When I spoke to him, I could tell he was exhausted, but happy.
So, we are asking you to help us, help others.

Aslan's mission:
To carry on doing what he and his friends & colleagues are doing, to help others. because as he said to me: this is for the common good of humanity

My mission:
To give him all the support I can from here.
To manage the fund and daily transfer for his safety and security.
To keep writing and documenting our story on Facebook, the progress and impact made on the ground.

Our Mission:
To care, to be efficient, to make a difference and to be transparent.



As the western world starts to ease the lock-down and re-start the economy,  let us also not forget the people of Bali  

THANK YOU, SUKSMA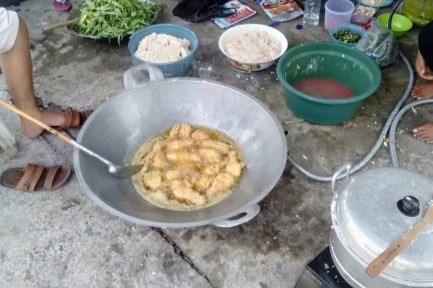 Become the first supporter
Your donation matters
Organizer
Jacques Humpich Poullard
Organizer