Hi all! My name is Brandon Stephens. I'm 37 years old and have been married to my wife, Andrea, for twelve years. We live in New Jersey, USA with our thirteen year old son and eight year old daughter.
This is our first GoFundMe campaign, although giving has been a regular part of our lives for quite some time. In the past, we've donated to church groups and larger organizations, however, we find the joy of giving, as well as its impact, to be greatly increased by helping individual people with specific needs as they cross our path.
A need has recently presented itself that is above and beyond what we, as a single family, are able to provide. It's my hope that others, like yourself, who know the joy of giving and the impact it can have on those in need, will join us in making lasting change in the lives of not only one family, but an entire village in Gambia.
Backstory is required, as even I may not have believed the authenticity of the situation, if it didn't happen to me directly.
It all started as an an effort to get more followers on my Instagram business account. I took the advice of a social media influencer and began following 500, "random," people a day (accounts similar to mine) in hopes that a small percentage would follow back.
This was in stark contrast to my previous strategy which was to never have the amount of people I follow exceed the amount of people that followed me. "Who wants to listen to some unpopular guy who no one follows?" I thought. 
The plan worked swimmingly; in three days, my account had well over 300 followers. Mind you, these were random people that I didn't previously know.
A direct message soon appeared in my inbox written in broken English. Spelling and grammar have been corrected throughout the remainder of this writing for ease of reading.
 "How are you doing today? My name is Abdoulie and I am from Gambia. Nice to meet you! Where are you from?"
Previously, I wouldn't have even responded to a stranger's message at all unless it served me in some way. However, in attempts to deepen and not be so shallow and self-centered, I decided to answer:
"Hi! Nice to meet you! My name is Brandon and I live in the USA."
My new friend was quick to respond, "Hello Brandon! I am much pleased and honored to meet you! Indeed, God blesses the United States of America. So how is life going there?"
The date was November 25th, 2020. Innocently assuming everyone would be having a Thanksgiving feast the following day, I replied, "Life is good! Tomorrow is Thanksgiving, an American holiday. I will celebrate with my family and eat good food!"
My new friend from Gambia replied, "Wow, that's a great news how life is treating you so amazingly! Happy Thanksgiving day to you and your entire family! Sending love and prayers from heaven. Enjoy Thanksgiving day with the family and eat good food with a lot of fun!"
What followed next almost broke me.
"Ah, for me, so sad. My family and I won't celebrate. Survival is not easy for us and we go to bed with an empty stomach. I feel deep sadness as I'm the elder son of my family. I find it very hard to bring food home and to put joy in my siblings hearts. They are unhappy when there is no food and I am having sleepless nights here with tears as my only witness."
For a moment, I thought, "Oh my goodness. How privileged of me?! I'm assuming everyone eats food every day and always has enough to eat. Never mind the gluttonous, food debacle we call, "Turkey Day," in the USA. "Did I just brag about having enough to eat?"
Lasting only a moment, the logical part of my brain took over for my heart and screamed, "CUE THE SCAM!"
Continuing to play along in order to see exactly how the griff would unfold, I responded, "I'm sorry to hear that you and your family sometimes struggle to eat. It must be very stressful being the eldest son. How big is your family?"
Abdoulie responded, "It's really sad and horrible. We're going through very hard times in a country in crisis with lack of opportunities. I would be very grateful if you could find good cheer in your heart to help me buy food and vegetables for my family. Both of my parents are dead and I live with my four siblings and my grandma."
Multiple messages came through, one after another. Pictures of a tall, thin, African man of about 25 years of age surrounded by four younger children. The same African man chopping wood with a crude axe. Another picture of the man and his family in different clothes…evidence of the pictures being taken on different days, at least.
"How hard could it be to download some images of people from Africa though?" I thought. Not hard at all, I determined. Still, not yet being confronted by any of the usual scam narratives, I kept an open mind.
"These are pictures of me and my family," Abdoulie wrote. My only source of income is to go into the forest, fetch firewood, and resell it at the market. I haven't been able to make enough to feed my family." 
A picture of an elderly, African woman sitting on a bed in brightly-colored colors followed next.
"Please, if you can find a place in your good, clean, heart…if you are able, can you help us get a bag of rice and some vegetables?"
"Here comes the sales pitch," I chuckled to myself. And yet, something in my heart told me to dig deeper and connect on a personal level. I reread his messages and gazed for a moment at the pictures he sent.
"You have a beautiful family, Abdoule! I hope your grandmom feels better soon! Can you tell me about your home and your neighbors in Gambia? What are your needs?" I inquired, expecting the answer to be a large sum of money or the numbers to my bank account.
What followed threw me for a loop.
"Thank you so much for your wonderful compliments which make me so happy! My grandma is sick and I can't afford her medical. Our roof is in need of repair. We are renting our home from a landlord but have fallen behind on payment. My father left me a small plot of land before he passed away. I want to develop the land, fence it in, and make a garden. Then I can feed my family and sell produce at the market to make money. Our needs are: food, vegetables, and rent or we will be evicted."I realized that Abdoulie and I wanted the same things; basic human necessities like, food, shelter, and a reliable source of income.
Funnily enough, on opposite sides of the planet, we were both using Instagram to meet those needs. 
Abdoulie was asking for help the best way he knew how and I was trying to increase my followers in order to sell my product online and provide for my family.  
I continued to gather information about Abdoulie, who was either the world's greatest scammer, or, a hungry soul crying out for assistance to anyone who will listen.
"You're very welcome. I'm sorry to hear about your father's passing. It must be difficult being the man of the house. Do you have a wife?" I asked. 
"No. I have no kids," he replied.
I followed up with a question that had been bugging me from the start. "How are you able to be on Instagram? Do you have electricity and wifi?"
Abdoulie said, "Yes, there is electricity here but it is not stable."
He explained, "Well, I don't have wifi or a phone. I have a friend who has a phone and wifi at their home. I go there and can access social media.. How can I have a phone and wifi and be crying for food?! God forbid!"
Again, I was caught off-guard. "How can you have a phone and wifi and be crying for food," was supposed to my line. 
"I understand," I replied. "What is the cost for your roof and garden? And for food? How much do rice and vegetables cost in your town?"
"What's the harm in learning a bit about Gambian culture?" I asked myself.
Abdoulie said, "Rent is $65 per month and a large bag of rice is $60. I am unable to start the garden as it first needs to be fenced."
An entire months' rent for a family of six for $65? I was shocked.
He continued, "To fence the land, I will need help. I need to have contractors dig the foundation and will require 100 bags of cement plus sand to make the blocks for my fence. It will be very costly, I'm afraid.
At this point, as long as he didn't ask for my bank account number, I planned on sending Abdoulie some money on principal alone (even if this was a scam); he stayed in character the entire time, had photo evidence, and an elaborate backstory to boot.
"But that's how scams work," I reminded myself. "If he asks for my bank info, I'll end the conversation right now," I reasoned and asked, "Do people ever send you donations?"
Abdoulie answered, "No. I have asked many organizations. They take my details and ask for donations on our behalf but I believed they share it amongst themselves and don't give it to those in need. There was one woman from Germany who used to help us with rent and a bag of rice every month by sending money through an app. Her health wasn't good and I haven't heard from her in awhile."
"Someone else sent him money through an app!" I exclaimed. "He's not asking for my bank account information!"
"Brother, please," Abdoulie wrote. "If you can find it in your heart to help us, I will send you proof of everything your money has paid for."
The user reviews on the money-sharing app the German woman had used to send Abdoulie funds were lackluster.
Not wanting to waste my time with an app that, according to the reviews, would likely cancel the transaction and be a giant hassle, I said, "Can you do PayPal or Venmo? All the reviews are bad for the app you mentioned."
"No we don't have those here," Abdoulie stated emphatically.
"No Venmo?! This is definitely a scam!" I thought, having no world view aside from traveling twice to the Bahamas on extravagant cruises.
"No," said Adboulie. "We don't have those here. Try MoneyGram, if you are willing. Brother, I will be honest with you. I know that one day, we all die and must account to God for everything we have done here."
He was basically telling me, "If I'm lying then God will deal with me and I'm prepared for whatever comes." I felt that.
Impressed, and not yet fully-convinced, I thought, "What's the harm? My family donates to people that need help in our own community all the time. Abdoulie is my neighbor. Just a little further down the street. What's the risk? I'm not sending my account info and this is a third party app." 
"I will send money because I want to help you and your family," I declared.
Abdoulie exclaimed, "May the lord keep rewarding you and your family! May all doors of success be opened for you! Bro, your helping hands will be very useful for us! You are one in billion. If people like you are many in this world, it will be a brighter place for us and we will all live in peace and harmony."
Sending the reference receipt number to Abdoulie, I typed, "Here is enough for this month's rent, one bag of rice, and $25 extra to put toward your garden or medicine for your grandmom or whatever you need."
Even if it was a scam…the thought that maybe it wasn't was enough for me at this point.
Maybe that's just how scams work though. What followed next was surprising.
Not long after receiving an email from Money Gram that my funds had been picked up in Gambia, I received this message from Abdouie:
"You are so kind and caring brother! Thank you so much for being so kind to me and my family. May Lord keep blessing you forever! May all your dreams and wishes come true!My family is happy. My grandma is very happy and asking you your name name."
"My name is Brandon. Tell your family, hello from me!" I replied. 
"You are one in a billion. Thanks Brother Brandon." Abdoulie said. "I can't wait to do a video chat with you and my family."
"A video chat?!" I thought. That didn't sound scammer-y at all.
An email receipt entered my inbox confirming that my sent money had been picked up in Gambia with photo ID matching Abdoulie's name.
"I will write you soon. I have got the money and I'm rushing to the market to buy a bag of rice," Abdoulie said.
Twenty minutes later, several pictures of the same, tall, slender, African man entered my inbox. This time, he was in what looked like a shed, filled with 60 lb bags of rice and other packaged goods. Abdoulie was holding one of the bags on his shoulder, smiling from ear to ear.
"Probably part of the scam," my cynical side said.
"I am more than happy and excited at this moment!" Adboulie wrote. "Anyway, I bought a bag of rice, oil, with vegetables and was able to settle half of back rent with the landlord."
Next, Abdoulie sent me a video of the plot of land that his father left to him after he died.
This, "garden," he mentioned was actually enormous and the, "fence," it required was in reality, a six foot wall made of concrete blocks. One of the sides of the land was already fenced as it edged his neighbor's property (who was able to build his wall thanks to the help he received through a connection with a woman in California…also through Instagram).
The following day, my first I had my first video call with Abdoulie through, "WhatsApp." I met his family. He met mine. Tears of gratitude streamed down Abdoulie's face as we spoke. 
For $150 US dollars, we helped a family of six with medicine, food, and shelter.
Remembering the famous quote, "If you give a man a fish, he eats for a day. Teach a man to fish and he eats for a lifetime," I realized Abdoulie's key to survival was to work his land, fence it in, and grow produce.
After several days of correspondence and video chatting, we sent Adboulie $300 towards the $500 required to have contractors dig the foundation for the wall.
The next morning, I awoke to video of the, "contractors," (two men with crude pick axes toiling in the African summer sun) hard at work on the foundation. 
Two weeks later, we sent the other $300 to complete the foundation, for more food, and for Abdoulie to purchase a wheelbarrow for his upcoming tasks.
He's now in need of 100 bags of concrete, as well as sand. He will be doing the majority of the work himself, with the help of his childhood best-friend and neighbor, Alpha (Alpha is the one who found an American sponsor from California who helped him fence his garden).
I spoke with Alpha via video chat. Tears of joy streamed down his face because his best friend Abdoullie had, "finally found his miracle as well."
Once the wall is complete down the line, Abdoulie will need to develop irrigation for it which will require additional tools and resources.
Once complete, he will be able to grow food, feed his family, and sell produce at market to make a living.  
My family has pledged to partner with Abdoulie to help him fence and build his garden. His story has touched our hearts.
We'd also like to regularly send his family resource packages with clothes, pens, paper, snacks, games, learning materials, etc., which will require shipping costs.
Abdoulie is 24 yrs old and has completed the 10th grade. His four siblings are adolescents and teenagers and are currently not currently receiving any schooling as there is no free education and they are unable to pay tuition.
This Gambian family has touched our hearts in ways I never could've imagined. The joy and gratitude they express, even in abject poverty, is humbling and inspiring.
If Abdoulie's story has touched your heart as well, my family would greatly appreciate any donations, as his burden is larger than we are able to bear with our current financial situation.
He has sent me photo evidence of his siblings' Gambian birth certificates, and an official stamped document from his village leader stating that the land has been successfully transferred from Abdoulie's deceased father's name, to Abdoulie's name.
If you would like to connect with Abdoulie, he is available for texting or video calls via, "WhatsApp." He is pleased to share receipt of where our resources are going as well as progress of the project at hand.
Thank you for reading this lengthy backstory and for considering to partner with my family to help Abdoulie, his siblings, and his village.
Sincerely,
Brandon Stephens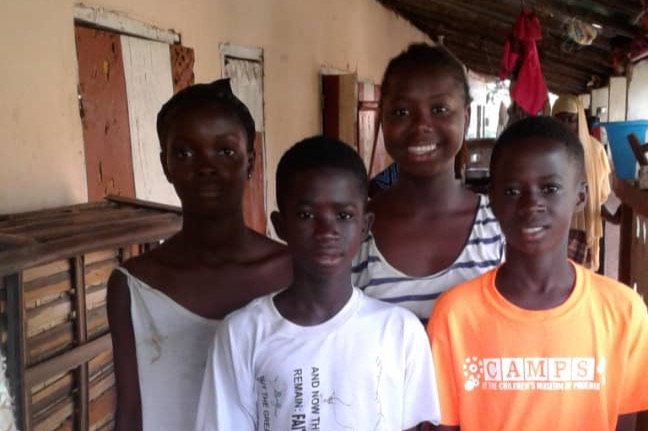 Organizer
#1 fundraising platform

More people start fundraisers on GoFundMe than on any other platform. Learn more

GoFundMe Guarantee

In the rare case something isn't right, we will work with you to determine if misuse occurred. Learn more

Expert advice, 24/7

Contact us with your questions and we'll answer, day or night. Learn more