Timbuktu in the Valley is a learning space in Johannesburg's East, devoted to equipping local youth with skills and knowledge that allow them to become independent citizens and shapers of their own, self-determined lives.  
We are based inside the city's new creative hub Victoria Yards, and are founded on the guiding principle of using the wide arrange of skills we find around us and passing it on to the next generation in order to respond to the prevailing exclusivity of opportunity in South Africa.
It all started last year, when two boys found their way into the co-working space Lungile Hlatshwayo and Victoria Schneider were working from, and asked to learn. A few months later, as they kept coming back and bringing more and more of their friends, the need to create a safe space for the youth became imminent.
Victoria Yards, being an alien body in a very rough neighbourhood, has the potential to offer great opportunities for the people living in the community surrounding it, who live in dire conditions: there are high rates of unemployment, drug and alcohol abuse, and no safe spaces for the many children of the area to spend their afternoons.
We use the knowledge and provide workshops for the youth, covering all sorts of subjects which convey purposeful skills such as fixing bicycles to gardening, arts, up-cycling, cooking, baking, pottery.
All subjects we cover,  as well as the life skills we convey, are aligned with the founding principle of being responsible citizens who look after each other and the planet. Whether it is cycling as a sustainable mode of transport which gives independence, or food & nutrition and gardening, which allows the children to gain an understanding that they can produce their own healthy foods - everything is interconnected. We promote the importance of nutrition and wellness for the children, as well as the access to food for them and their families.
In order to reach maximum impact, we believe in a holistic teaching and learning approach which works in two directions, and address the broader community through a diversified intervention model. We work with mothers as well as with older and younger siblings and use our networks to channel opportunities for them. 
With all this, Timbuktu in the Valley aims to build self-confidence among the kids and defy the widespread dependency syndrome that locks so many poor people into a hand-to-mouth-lifestyle. Instead of opening the hand and receiving because of being poor, we encourage the idea that everything the children make has a value. Teaching entrepreneurship goes hand in hand with the subjects we offer, and once a month, we sell artworks and crafts at the  first Sunday market at Victoria Yards. The money generated goes back into the school.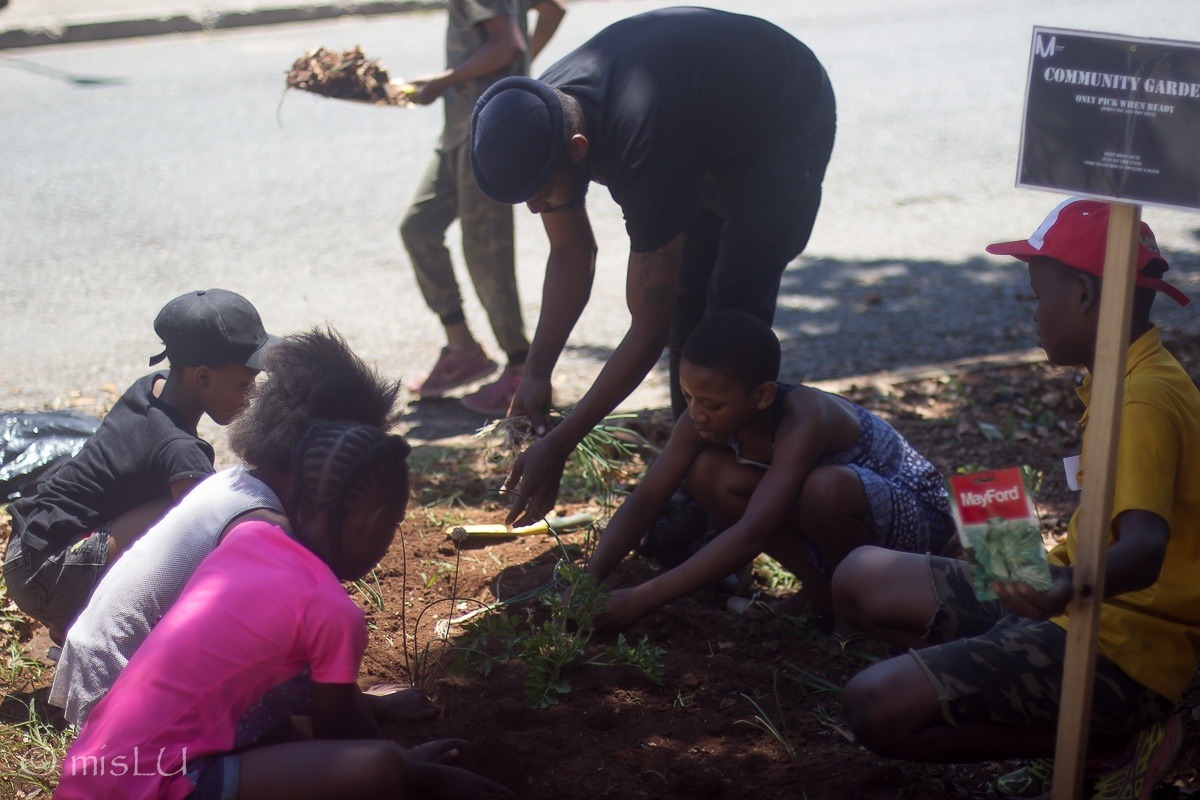 Even though we are young, we have achieved a lot since we were founded in February 2019. Companies and organisations like Nando's, STAEDTLER, PUMA Charity Cat, Ravensburger, Yamaha, BMW Foundation and Gearhouse have donated equipment and products.
Our bicycle and up-cycling programs have recently been approved for equipment-funding from the German Embassy.
We were honoured to welcome international guests in our space, most recently and most prominently, the Duchess of Sussex Meghan Markle.
Without all this support from different stakeholders, we wouldn't have been able to keep the space open for the kids and offer them amazing equipment to work with. However, there are costs we have to cover which are of pure financial nature. This includes monthly rent, transport to galleries, theatres and events, admin costs like printing or banking, hiring facilitators, and providing food for the kids. 
We launched this crowd funding campaign in order to cover these expenses and are grateful for anyone making a contribution.
Funds raised are going to go to: 
- Securing and renting a safe space inside Victoria Yards (400€ / 6000 ZAR a month)
- Transport (two UBER vans to get 20 kids to the theatre and back costs around 50€ / 800 ZAR)
- Food (providing one healthy meal for 20-25 kids costs around 30€ / € 500 ZAR)
- Equipment for workshops such as baking, cooking & swimming (One workshop including facilitator and equipment costs around 50 € / 800 ZAR)
- Banking (monthly running costs: 13€ / 199 ZAR)
If you would like to donate products or material things please feel free to contact us to get a detailed list of equipment and products we are in need of.
Please email us if you would like to get more details on prices for specific equipment or other information relating to our expenses and / or activities. We are happy to share the relevant details and / or our proposal with you! We also welcome volunteers who will be supervised as our children's safety is paramount. In addition, we welcome creative ideas that we can use to complement our initiative.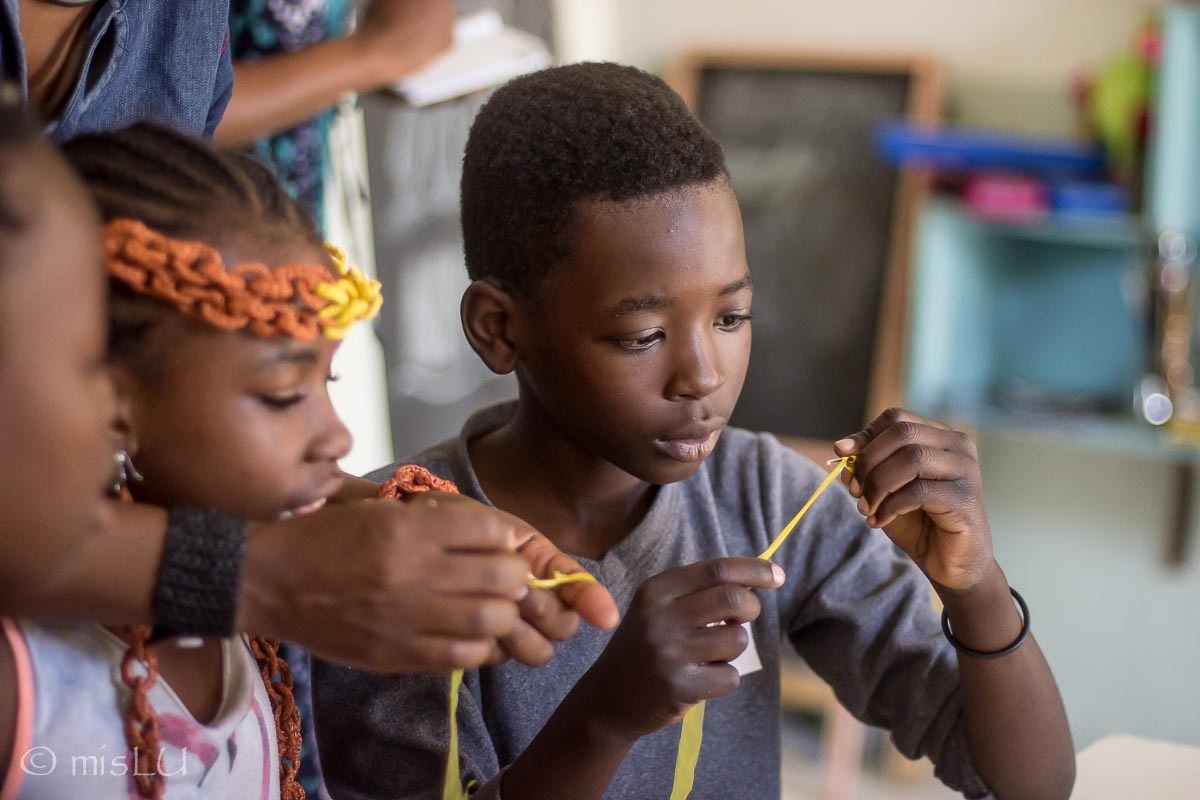 The Founders


Timbuktu in the Valley was founded by Lungile Hlathswayo and Victoria Schneider,  a photographer and social worker and a freelance writer, who used to share a desk in a Co-Working Space at Victoria Yards.
Lungile Hlatshwayo obtained a degree in Social Work from the University of Durban-Westville. Years of experience in challenging social ecosystems have equipped her with a deep knowledge and understanding of social challenges in our unequal society. Lungile has run vegetable and soup kitchen projects in schools, an entrepreneurship program for abused woman and rape survivors in Durban. Over the last 3 years, Lungile has been working on projects with homeless youth recyclers in inner city Johannesburg and Bez Valley.
Victoria Schneider is a freelance writer and filmmaker from Germany. She has been based in Johannesburg since 2013 and worked on investigative projects around land disputes and human rights violations in Sub-saharan Africa and the Middle East. Victoria obtained a degree in Sports Sciences at the German Sports University in Cologne and is passionate about physical education. Besides her journalistic work, she is dedicated to the transfer of skills with children living in her area through running children's bicycle and swimming workshops.

Activities


Timbuktu in the Valley is not the usual aftercare institution, but a learning center which conveys life skills as well as profession oriented skills. Our core intervention is the provision of a safe space in an unsafe neighbourhood and run daily skills oriented programs in subjects covering the following areas:

Arts, Heritage & Up-Cycling:
Fine Arts, Collaging, Making toys, jewellery and other useful items out of recycled materials, printmaking, drawing, spray-painting, ....


Gardening, Food & Nutrition: 
How to grow your own healthy food and combining modern and indigenous ways of doing so


Performance, Drama & Storytelling:
Spoken word & poetry, drama, dance, stilt-walking


Meditation and Physical Well-being:
Yoga, Mindfulness, physical activity

Bicycle D.I.T clinic and bicycle rides
to release energy, explore our valley and have FUN.


Tech and IT