Grace Sustains Africa (GSA) is a charity setup by Emmanuel Ayoola and we're raising £10k to provide clean water, sports equipment and classroom resources for 3 schools and over 500 kids in a village in Sierra Leone!
Through GSA, Emmanuel has already funded 2 water fountains with pipework stretching half a mile, new football and netball kits, balls and equipment and has: funded the building of 30+ desks, benches and chairs for Mandu Secondary School in Mobai. This has impacted 355+ kids so far.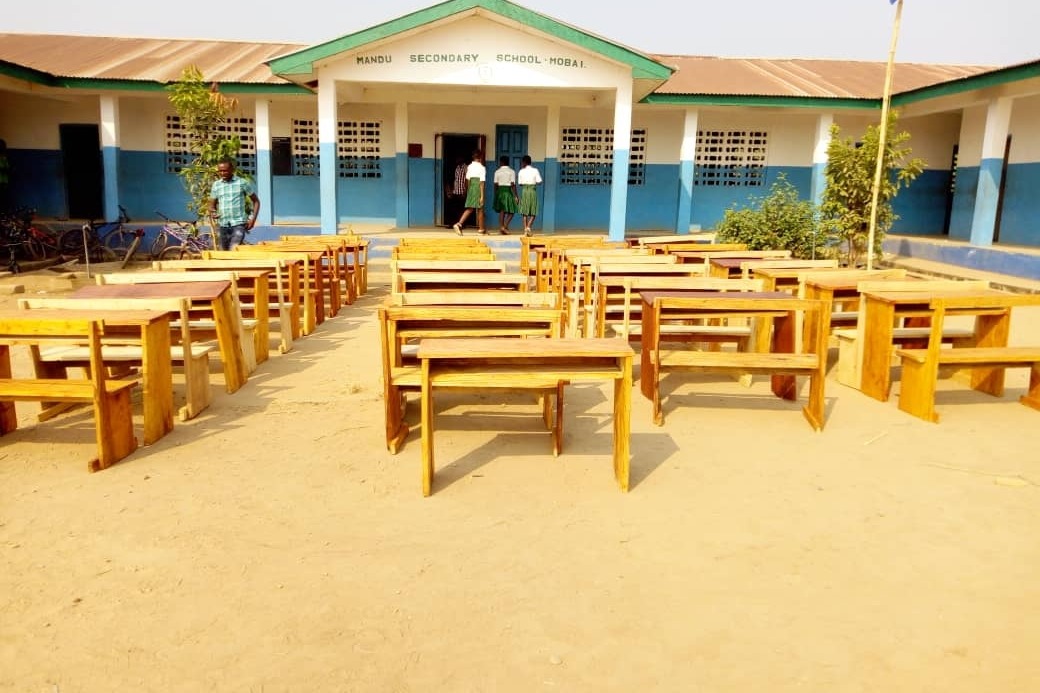 We are raising money to transform Mobai, a village in eastern Sierra Leone. Your donation will help us:
- Build 2 water fountains, provide sports equipment and classroom resources in 2 more schools in Mobai
- Provide first aid and medical equipment in 3 school
- Build additional classrooms for 3 schools in Mobai
In June we will go to Sierra Leone again to meet the schools and start the next phase of work!
In January 2017, I visited Mobai for the burial of my Late Grandmother, Haja Raki Tejan. It was during this trip that my life was changed forever and the vision for Grace Sustains Africa (GSA) was born.
I got to meet so many kids in the village and even though we couldn't communicate because of the language barrier,  we were family and I felt at home. Kids were circling me as we played games together, Scores of kids were smiling and posing as I took pictures of them with my camera and we managed to have many laughs.
As we were heading back to London, I noticed that even though I'm a Sierra Leonean like them, the opportunities I've had are so different from theirs. I got to play with a proper football, I got to have a primary school education without needing to work to survive. I saw kids farming for rice for their families to eat instead of going to school. They were using ripped footballs to show off their skills. The schools are understaffed and the classroom facilities are rundown. If a community can't create a thriving environment for its own kids, how can it progress?
After seeing this I vowed to invest in the young people of Mobai, because they are the future of their community. The greatest change comes from within so I want to support the kids within the community. If we can help maximise their school experience, we can support them in raising the next generation of doctors, teachers, engineers and athletes. The vision is a self-sustaining Mobai that reinvests into itself. By the time my grandchildren visit Sierra Leone, I want them to see a village with thriving schools, happy kids and people who have grown up to see their wildest dreams come true!
Truth be told, this story could have been the same if I mentioned Ghana or Nigeria (where I'm also from) or any other part of Africa. The vision is to grow GSA to invest in supporting young people to be tomorrow's leaders across the whole of Africa. 
Long term, I also want to promote the love and grace of Jesus Christ for everyone in the community through Bible teaching. As much as we can give clean water to the students now, the hope of the gospel is that Jesus gives us a kind of living water that wells up to eternal life (John 4:14-16).
But for now, let's start with 3 schools in a tiny village called Mobai.
Please support us in our mission to create a sustainable Mobai and a sustainable Africa! 
God bless you.
https://www.gsafrica.online
www.twitter.com/gsafrica_
www.instagram.com/gsafrica
www.facebook.com/gracesustainsafrica
Fundraising team: GSA (22)
Grace Sustains Africa
Organizer
Raised £2,164 from 114 donations
Enfield, Greater London, United Kingdom
Kelechi Ananaba
Team member
Raised £1,703 from 66 donations
Christiana Sarsah
Team member
Raised £361 from 21 donations
Thomas Kingsley
Team member
Raised £262 from 16 donations
Bolu Odufote
Team member
Raised £255 from 13 donations
See all