Help fund MAKESHOP in Appalachia
MAKESHOP is a public design space in Appalachia where people are designing their own creative, entrepreneurial futures. 
MAKESHOP is open to the public and free to use to host workshops, meet-ups, pop-ups, panel discussions, and whatever else you can dream up. It's a space for communities to organize, gather, talk, present, inspire, collaborate, and try out the first step in that risky idea. 2018 was our first summer and we were so happy that what started small became so big— MAKESHOP was completely booked!
Check out some of this summer's events.
MAKESHOP is growing and, though it's funded by MESH Design now, we hope it will
one day be completely community-led and community-funded
. Recently, over 60 folks came to MAKESHOP's first fundraiser and invested the first $600 of our $5,000 goal to keep the space going through the end of 2018.
We believe that West Virginia, Appalachia, and all of rural America should have the creative resources to redesign our collective futures.
If you believe in a new future for Appalachia
, invest $1, $10, or $100, $1000 in the project.
MESH started MAKESHOP with just an empty space, one awesome intern, and a hunch that there's a lot of creative potential in West Virginia.
Three years ago, before it even had a name, MAKESHOP was a twinkle in our eyes when we began the renovation of our 4,000 sq. ft. dilapidated property in the Elk City neighborhood of Charleston, WV. We worked in collaboration with over 30 makers and tradecraft folks, including artists, union workers, and West Virginia Women Work. 
The renovation process, focused around new skill development, was as crucial and creative as the end product. That process was the inspiration for opening MAKESHOP as a space for makers and organizers to share their skills and ideas.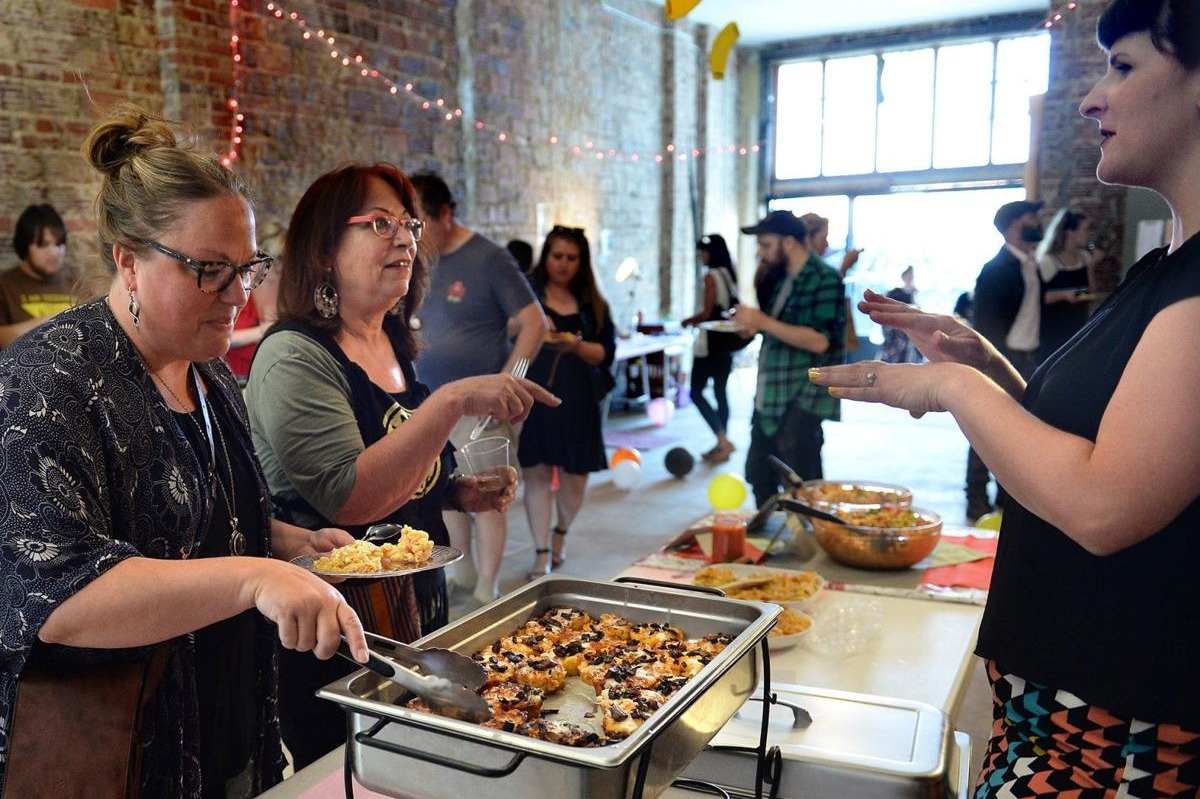 "MAKESHOP is a place for collaboration, celebration, prototyping, incubating ideas, and action. Too many bold ideas never come to life because we spend too much time in the thinking stage. Makeshop is a place to try things out, share them with people, and then grow them. We are design thinkers, starters, and makers. Our space is a place for starting small, thinking big. And we need more people in Appalachia ready to try new things and support each other.
Everyone is welcome at MAKESHOP. I believe everyone has a maker inside of them ready to explore the unknown, and to find new parts of themselves. Everyone is encouraged to ask themselves, what is the next thing for West Virginia's future, and for my own future? How can I build off of what I have to learn new skills, new ways of thinking, and contribute to West Virginia's creative economic and cultural future?"
-
Megan Bullock
, Founder + Creative Director of MESH Design
Hope to see you at MAKESHOP soon!
Read the Charleston Gazette article on MAKESHOP and what it means to West Virginia
  >
~*~
Apply to be the next MAKESHOP Creative Community Organizer
  >
~*~
Host a thang — your dream idea , a talk, a skillshare, a workshop
  >
Onward + Upward,
MESH & MAKESHOP

Organizer