Liberty Goes to Washington DC
Will you help Service Dog Liberty and her partnering veteran go to Washington DC to educate Congress on the benefits of service dogs in treating PTSD?  

My name is Michelle Dunlap and I'm the Executive Director of Pets and Patriots Foundation in Gainesville, FL.  I am one of Liberty's service dog trainers.  

Service Dog Liberty's story begins with her partnering veteran's service in the Army as an infantryman and Blackhawk Crew Chief in warzones like Bosnia, Somalia, and Iraq over a 16-year military career.  His repeated tours of duty left invisible scars in his heart and mind, resulting in a diagnosis of Post-Traumatic Stress Disorder.  This military hero came home to a life that was made unlivable by the things he'd seen.  Sights and sounds triggered panic attacks, crowds of people became threats to avoid, and venturing out in public meant enduring extreme anxiety and fatigue. Medications from his doctors didn't help, and soon he lost his home and his family while battling this fight on his own.  



A friend of his told him about a dog at a rescue group where she volunteered, thinking she might be a good buddy for him.  This dog has been saved from an animal shelter, and rumor at the shelter was that she had been a veteran's dog.  She was looking for someone who needed her, and the rescue volunteers felt she had potential to be his service dog.  At their first introduction, he was excited to see how calm she was and had the first glimmer of hope that maybe she could help him.  He adopted her and quickly noticed how much she helped quiet his mind when they were together.  He chose her new name, Liberty, because she was starting to give him his freedom.  Within weeks of going home with him, Liberty started her service dog training.  

Service Dog Liberty
Two years later, Liberty has been helping her partnering veteran recover from PTSD.  She makes it possible for him to venture out with his family to enjoy activities so many of us take for granted.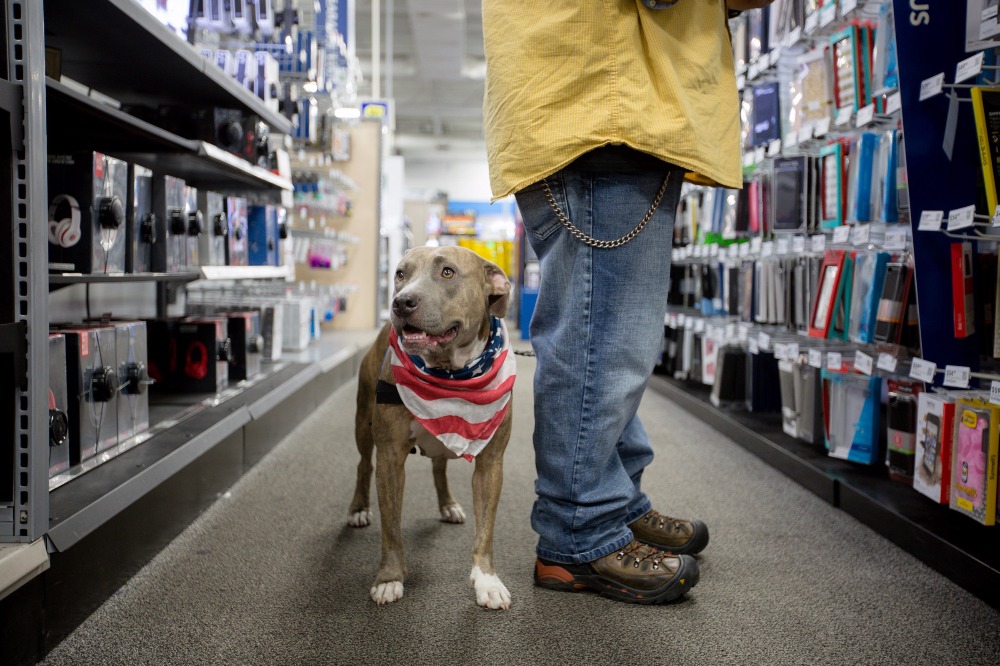 In crowded stores, Liberty controls entry into her partnering veteran's personal space, allowing him to evaluate information in his environment more effectively.  



Liberty accompanies her parterning veteran to VA appointments, where she makes contact with his leg to physically and mentally ground him to prevent panic attacks.  



Liberty's work allows her partnering veteran to enjoy life again.  And every veteran deserves to enjoy life again after serving our country.  So Liberty, her partnering veteran, and their trainer is heading to Washington DC to speak with congressional leadership about the role of service dogs in PTSD recovery.  

You can send Service Dog Liberty to Capital Hill!
Liberty, her partnering veteran, and their trainer want to join the 2017 Service Dog Conference hosted by the Association of Service Dog Providers for Military Veterans.  The conference is held July 17-19 in Washington DC and is an incredible opportunity for the team to educate Congressional Members on the importance of service dogs.  The total cost for their attendance is $1500 and they NEED YOUR HELP to get to DC!  

Will you donate to help Liberty go to DC to help educate our nation's leaders about the benefits of service dogs?  



*Your donations will be utlized to pay conference registration, flights, and hotel costs for Liberty's partnering veteran and trainer.  If the fundraising goal is not met, all donations will be used for service dog training with the nonprofit organization that trained Liberty:  Pets and Patriots Foundation.