#FrunksUp4Fires - NSW Bushfire fundraiser
Hello,
My name is Toby and I run the Australian Tesla Owners (@AusTeslaOwners) Twitter account, Facebook page and Facebook group.
It was brought up on twitter that we could use our Tesla's unique design of having a car boot/trunk in the front of the car (a 'frunk', due to Tesla's having no engine as they are electric vehicles), as a unique way to assist in raising funds and donated items to give to charity for the victims of the 2019/2020 NSW Bush fires.
I have begun making plans with other Tesla owners within Victoria, South Australia, New South Wales and QLD to do just that.
Image: A picture of a Tesla's Frunk.
Since the 6th of September 2019 (and still going) there have been raging bush fires across Australia that have:
- Incinerated over 15,000,000 (15 million) acres (this is more than the total of all bush fires in the past 3 years in Australia).
- Destroyed over 2,500 buildings.
- Levelled 186 peoples homes and all their belongings.
- Killed at least 22 people.
- Eradicated over 30% of the Koala population (to put this into perspective, before the fires had begun the Koala was already given an extremely high chance of extinction to their breeding to survival ratio, and being displaced from their natural habitat due to deforestation).
- Killed over 500,000,000 (500 million) animals.
- Reduced the air quality in Sydney South-West to a rating of 1,247 - toxic to humans (to put this in perspective, the same location 1 year ago, had a rating of just 64).
- Released over 250,000,000 (250 million) tonnes of CO2 into Earth's atmosphere (by comparison the total carbon emissions of Australia as a whole in 2018 was the equivalent to 535,000,000 (535 million) tonnes or 47.61%).
This bushfire season has been the worst  Australia has ever seen, so bad in fact that the smoke has even been covering many parts of New Zealand in a thick haze as seen in the image below and even reports that the smoke has turned the snow near the Franz Josef Glacier a caramel brown colour.
Image: Fires billowing smoke across the South Pacific Ocean and covering New Zealand.
Below is an image of Dunedin, New Zealand on New Years Day posted at 7.51am by @BeneHoltmann on Twitter.com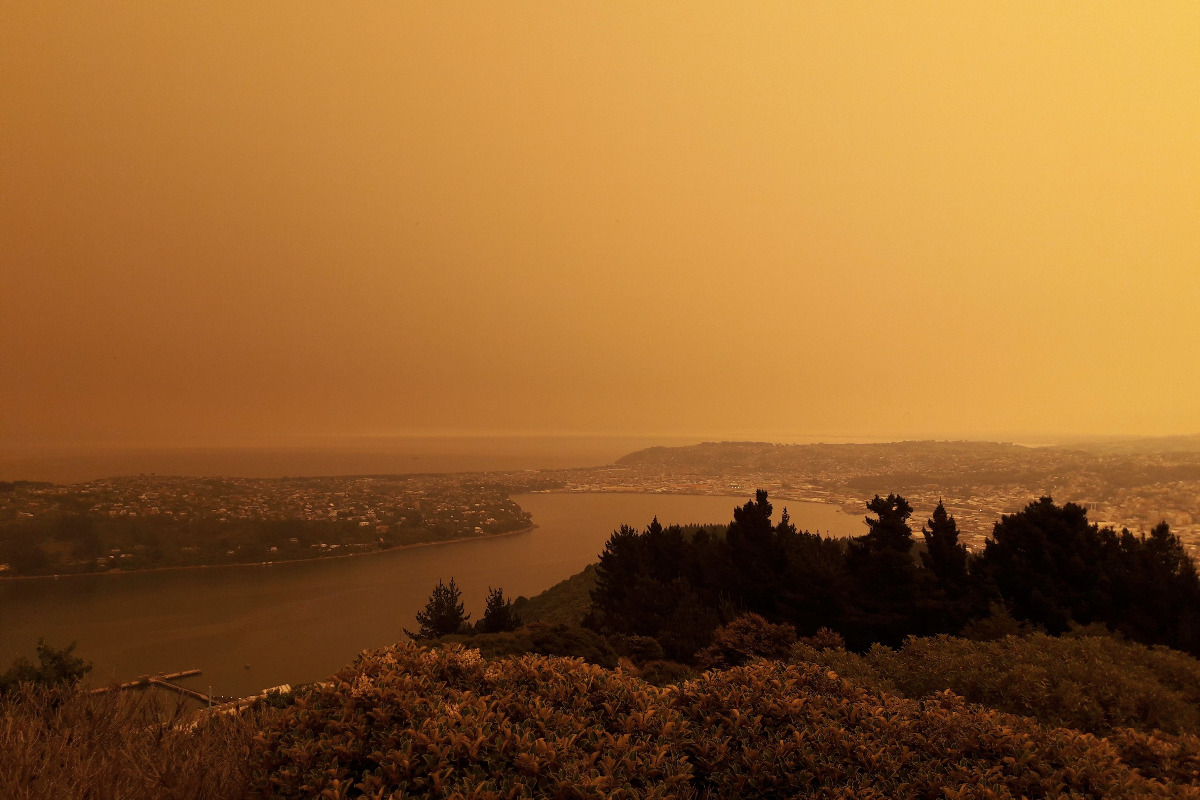 Image: Dunedin, New Zealand with thick smoke from the NSW Bushfires covering the town leaving a sunburnt haze in the sky.
It has been estimated that over 500,000,000 (500 million) animals, pets and live stock have been killed or injured so badly that they have had to be euthanised; for those who are unaware, the koala is an Australian species that was already on the brink of extinction before the fires, with fears that the species may not be able to continue repopulating due to their inability to reproduce quick enough and the sheer speed of deforestation for land, road and house developments, now with the fires still blazing, it has been estimated that over 33% of Koalas that were still alive have now perished due to the fires, further increasing the likelihood that the Koala as a species may soon cease to exist.


Image: A Koala who was dubbed 'Ellenborough Lewis' being saved from the bushfires by a lady. Unfortunately Ellenborough Lewis was later euthanised due to his burns being too severe and not healing.

When a fire this size breaks out (or in many cases are lit on purpose by Arsonists), we can only rely on the highly trained fire fighters to do their job and extinguish it, however this training comes at a cost, and the equipment isn't cheap, the specialised trucks the fire fighters use can cost well into the hundreds of thousands of dollars before the equipment is loaded into them and then well into the millions afterwards; the clothes a rural fire fighter wears starts at around $1,000. It's not cheap to put trained fire fighters on the ground, even if they are volunteering.


The Australian Tesla Owners community is coming together to help raise funds for the NSW Rural Fire Service, we are aiming to raise as much as possible so if you or someone you know are able to provide a donation of any amount at all, it means that the NSW Rural Fire Service will be better able to attack the fires and provide better support to all residents, remember these bush fires are still ongoing, they haven't been extinguished yet.
Image: 2 NSW Volunteer Rural Fire Fighters risk their lives trying to regain control of a bushfire.
If just 5,000 people like yourself provided a donation of just $2 (less than a cup of coffee), we would see our first $10,000 raised, if you donated $4 (still less than a cup of coffee), we would see $20,000, it's amazing what people can do with such a little donation.
The Australian Tesla Owners community aren't just stopping at a GoFundMe page however, we are also coming together from all over Australia to hold a #FrunksUp4Fires Tesla meet-up event to receive any donations of toys, clothes, non-perishable food items, hampers, toiletries and other products that families can use in a time of need. You will be able to bring the items to the meet-up point and place them into one of the Tesla's Frunk. We will then be donating these items to charity organisations that will be able to provide them to the victims of the bushfires who are most vulnerable and in need.
The date for this collection will be the 25th of January 2020, and the location is yet to be arranged, but will be provided through this GoFundMe page, and via the www.twitter.com/AusTeslaOwners twitter page, as well as shared by many other Tesla owners twitter accounts who will also be participating.
Please, if you are able to provide support in any way, we ask that you speak up, every little bit counts; as Australians, we band together and we help each other out when we need it most, it's just what we do.
We thank you for your assistance in raising these funds, and your generosity towards all other Australians who are in a time of great need.
Image: Firefighters save and provide water to a Koala trying to escape the NSW bushfires.
These people are true heroes and now they need your help.
Please donate anything you can, it's for an amazing cause and a dollar you donate, is a dollar they didn't have before.
All donations over $2 are 100% tax deductible and you will receive a tax receipt via email immediately after your donation is received.
Image: Rural Fire Service Fire Fighters from Cherrybrook, NSW.
All proceeds will be given directly to the 'The Trustee for NSW Rural Fire Service & Brigades Donations Fund' by 'PayPal Giving Fund Australia', on behalf of GoFundMe.
More information about The NSW Rural Fire Service: The NSW Rural Fire Service responds to fires all over NSW, and needs the input and support of the people of NSW and Australia, to assist with funds that are utilised to purchase and provide upkeep for vital fire fighting equipment, infrastructure and training. Without these precious funds, the NSW Rural Fire Service would be unable to support the people who are most vulnerable.
Organizer
Toby Patton
Organizer
Haymarket NSW

The Trustee for NSW Rural Fire Service & Brigades Donations Fund
Registered nonprofit
Donations are typically tax deductible in Australia.