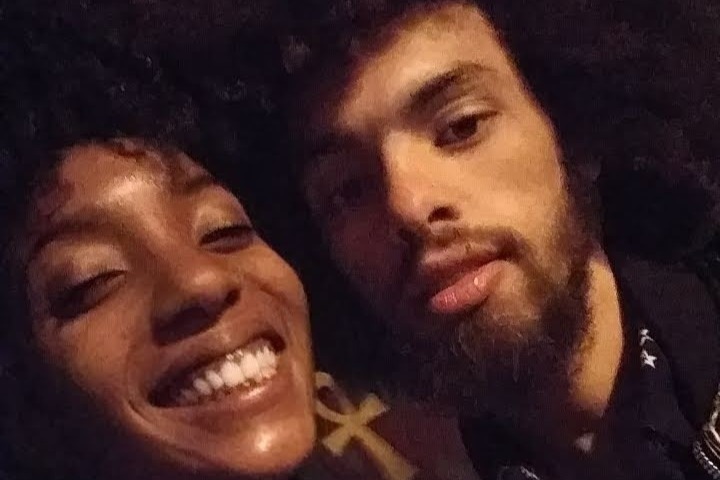 My name is Parrish, I'm an aspiring teacher, mother to a 9yr old and I'm also 4 months pregnant. My partner is being held for ransom by the city, and we need to get him out.
Denzel Draughn was one of the 9 people arrested for the August 28th protest for Justice for Jacob Blake. During the protest the SDPD met its citizens with violence. As we've continuously seen in every state with protests, the police attack the people they've sworn to protect, unprovoked, in an effort to silence them. To silence them for daring to speak out against the corrupt system in which they rule and we live. The SDPD attacked protesors with physical violence and police-grade pepper spray. During their attack, Denzel, without hesitation, tried to protect his fellow protestors.
Denzel has been in jail since the early morning hours of September 29th and is being held on 9 counts of obstruction/resisting, 9 counts of use of teargas against a peace officer, and 1 count of possession of projectile teargas.
His bail is $750,001. Yes, you read that right, they added $1 when they brought it back up to $750k after the bondsman reducing it to $200k walked the lowered amount through the jail doors. Despite what the police and D.A want you to believe, Denzel is not a flight risk or a danger, nor is his "record" of a felony for violence (marijuana is not legal in other states, and posession of any amount is an automatic felony).
Denzel has been moved to level 7/D of the jail, maximum security, and due to covid restrictions, it is no longer required to bring him before a judge in 72 hours - his court date is September 25th. He doesn't even have a case number.
Not only is this targeted aggression being used as a scare tactic to make an example of what happens when you defend yourself and others agaisnt the police, not only is this yet again the state and police abusing their power to harm a black man, but this excessive bail is unheard of for any protestor. Arsonists and murderers are held on less bail.
We are demanding his immediate release, and all charges to be dropped.
This is an act of continued violence, not only against Denzel and our family, but the entire black community as we attempt to end police brutality. This is cruel and unusual punishment. Black people have the right to resist the murder of our brothers and sisters without getting attacked and thrown in jail.
My family and I are asking for your support - I know times are hard on all of us right now, but anything you can spare will help. I had to cancel an interview last week for a teachers aid position, because of all this going on I couldn't make it. The goal amount on this is high because were planning for the worst.
• If we can get them to lower the bail back to $200,000 thats $20,000 working with a bondsman. An orginization for bail-for-protestors put up the $20k initially, but depending how long this takes and what the bail is, we don't yet know how much they can help later
• Lawyer fees at the moment are $7,800
• Ankle monitor is $300/month
Please share this anywhere and with anyone that you can. 
*Thank you to the SD Bail Fund for paying to get my car out of the impound
*Thank you to everyone who's donated their time and money
*Thank you to all those who have demonstrated with us this past week
               All power to the people

Organizer
#1 fundraising platform

People have raised more money on GoFundMe than anywhere else. Learn more

GoFundMe Guarantee

In the rare case that something isn't right, we will refund your donation. Learn more

Expert advice, 24/7

Contact us with your questions and we'll answer, day or night. Learn more