On April 29, 2020, Bothell, Washington, resident George Ahearn alerted his community, with a Facebook post that began
"Wasted Food...!,
"  that farmers in Eastern Washington were plowing under or giving away their crops because they had lost their markets, due to COVID-19.  His plan:  Rent a trailer and "bring a ton (literally) of spuds and onions to food banks in our region." Could anyone help? 
Hundreds of community members quickly answered the call
and on May 1, a small volunteer convoy of three trucks followed
Bellevue Honda's
Ridgeline at 5:30 a.m., drove to Othello (Adams County), picked up 12,280 pounds of potatoes donated by
TerraGold Farms
and 6,450 pounds of onions (purchased at
https://onionbusiness.com/tag/target-ag/
) and drove right back to Western WA.  
That rescued produce was accepted for delivery by
Farmer Frog farms
  in Woodinville, repackaged for distribution by about a dozen volunteers gathered by
Woodinville Rotary Club
, and then shared with multiple local food banks and hundreds of individual families. 
                    Thus was EastWest Food Rescue, an entirely grassroots effort, born.  
Loading onions into 
Keith Wells
' rig, at Target Ag in Othello.
Volunteer Julie Campbell and Nancy Balin, President and Operations Manager, unloading onions at VOA/Everett Food Bank.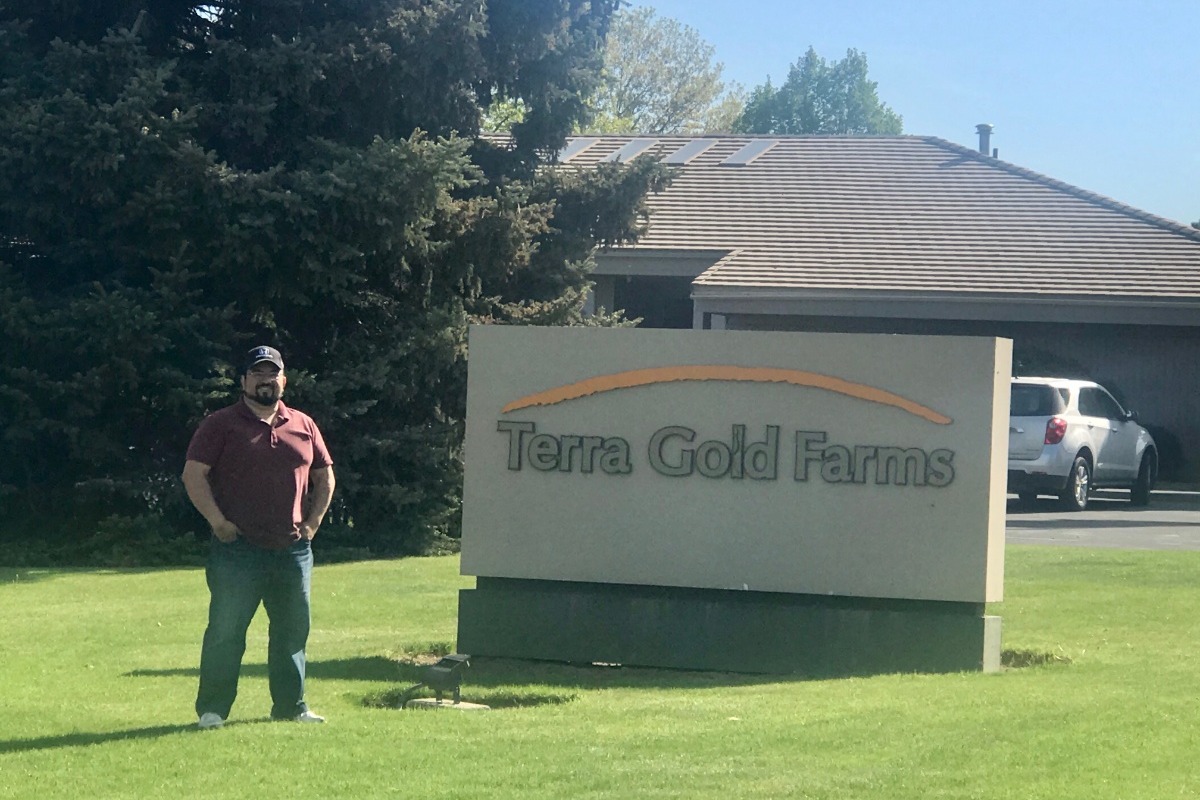 George Ahearn, Treasurer, Acquisitions and Farmer Relations, original Idea Man, and Othello native.
TerraGold Farms loading up a volunteer's truck from their massive storage facility
5:00 a.m. convoy meet-up at
Bellevue Honda
at our very first convoy on May 1, 2020.
Unloading onions at
VOA Everett Food Bank
We still are ramping up, but we are growing exponentially every week -- and we know what our mission is:   
Take food and supplies to people in hardship in farming communities in Eastern Washington, bring back much-needed food for hungry people in Western Washington, and support farmers all over Washington.  We need your help! 


: 
Trucks (and trailers, ideally) for our convoys
.  Got one yourself?  Know a shipping company?  Contact us here:
I want to help the convoy
 . So many thanks to
Bellevue Honda
, Mayor Elaine Cook and the
City of Woodinville
, Eric Branthwaite at 
PCC Redmond
, Betty at
Dels Truck Rentals
,
Lee Johnson Family Auto Group
,
Total Rental Center Everett
, and the list is growing every day!
: 
Volunteers to repack loose potatoes into bags
, at
Farmer Frog
 in Woodinville. 
[Masks and social distancing are required. 
We will supply masks if you don't have any.]  Contact us here: 
I want to help bag
: 
Othello has food needs!
  We are looking for bulk pinto beans, canned meat or fish, formula, diapers and any other non-perishable, packaged food.  Email us at
[email redacted]
if you can help!
: 
Financial donations
, to purchase supplies to bring to our friends in Eastern Washington; to purchase food from farmers; to provide support to the farmers who are donating their crops to us or selling them for less than their costs and hence at a loss; and otherwise to support our mission.  You're in the right place now to do that!
Are you a food bank that needs food?  Please reach out directly to
Farmer Frog
.
Are you in hardship and needing food for yourself or your family?  Please start by reaching out to your local food bank.  If your food bank needs food, please direct them to
Food Bank signup
JOIN US!
  And thank you for helping us to help our Washington neighbors, both East and West.
With Warmest Gratitude,
EastWest Food Rescue


Nancy Balin, President, Operations Manager
George Ahearn, Treasurer, Acquisitions and Farmer Relations Manager
Zsofia Pazstor, Secretary, Distribution Manager,
Farmer Frog Farms
Erika Botello, Volunteer Coordinator
Nancy Clifton, Web Designer
Marion Clifton, Web Designer
WE HAVE RECEIVED OUR 501(c)(3) ruling from the IRS!!  Our EIN is 85-1100467.  As a result, your donations may be tax-deductible.  Please consult your tax advisor.
Organizer and beneficiary
Nancy Balin
Organizer
Woodinville, WA