Help Veteran Douglas Dean Hall!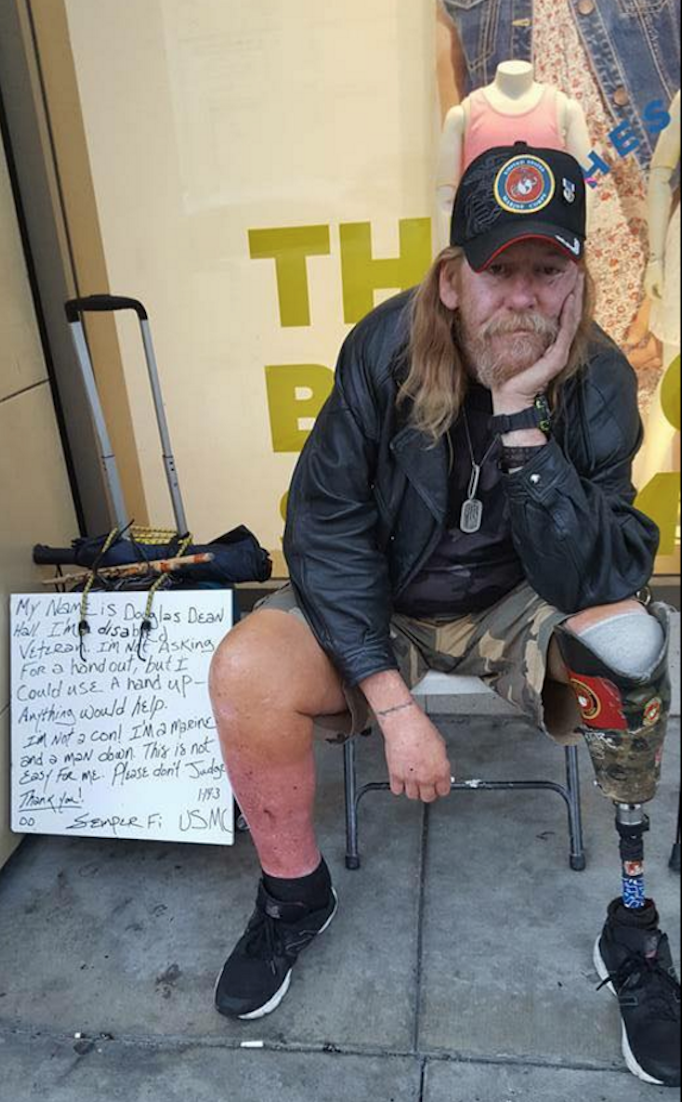 Hi Friends! 
This is Douglas Dean Hall. On April 30th, 2016 I watched him collapse in the middle of the street in Hollywood, CA. Myself, my cousin Jackie, and 2 strangers all waited anxiously for the ambulance to come. The paramedics would not take his belongings, so I did. I launched a social media campaign to find him, and today WE FOUND HIM! Here is the original Facebook post: 
HELP ME FIND VETERAN DOUGLAS DEAN HALL!!! Social Media friends I need your help! Last night I watched a man collapse in the middle of the street on Highland & Yucca around 8pm in Hollywood, CA. My cousin Jackie Lezette and I called 911 and waited for the ambulance to arrive. (Seemed like forever) a young man and woman were also there, they carried him out of the street and we all waited for the paramedics together. When they did I asked if they would be taking his cart of belongings. The response sent chills down my spine. "No, are you? A million more dominoes fall a day around here". Shocked and upset I decided to give my number to the paramedics for the man "Douglas Dean Hall" to contact me. Not sure if he ever got the number or has any means of contacting me. I need him to know that I have his cart! He is an ex marine, a Veteran who lost his leg! He fought for this country and we repay him by leaving him on the streets. Please Help me find DOUGLAS DEAN HALL!



He would like more than anyting to get to New York, and he wants to take the train.  Please help me make that happen!  Let's show him some appreciation by getting him where he needs to go! 
The train ranges in price from $300-$450 for a value ticket via Amtrax from Union Station to Penn Station.
( This varies based on the date and time, if it costs less the remainder will go to the transistion fund)
I would like to add a little extra for food and anything else he may need while making the transistion to New York City.  (prepaid visa card)

(also take into consideration the percentage that Go Fund Me takes)
Please share this and contribute in any way possible! This small act of kindness means so much to me, and I know it will mean the world to him! He is not just another domino, he is a person. 
Thank you to everyone who has been sharing the FB post, and to Mayram for FINDING HIM! Go Team!
LETS DO THIS! 
Dana  :)
Organizer