HELP US FIGHT HUMAN TRAFFICKING IN GHANA
Art Therapy. Education. Empowerment.
This is how we help survivors of human trafficking. We support recovery through creativity and skills training. We nurture our youth by removing the stigma of self-expression, legitimizing their ideas, hopes and dreams. 
Our program equips communities with the building blocks to manage trauma and helps survivors rebuild their lives.  
Through both corporate sponsorships and your individual support, Beauty For Freedom (BFF) needs to raise a total of $48,600 by August 10th. This will not only fund 3 weeks of workshop programming led by 10 professional volunteers, but also an entire school years' worth of arts & crafts supplies for 500 students.   
2019 marks our third year in Ghana, conducting a robust series of courses that includes creative arts, photojournalism, dance and a big mural design workshop. 
2017 BFF Mural Project with BFF Artist Not.Travis in Collaboration with Challenging Height Youth.
USING ART TO FIGHT FOR FREEDOM 
6 years ago, we launched our Expressive Arts Therapy initiative, a program that addresses trauma through, art, music, movement and mindfulness. Today, we've expanded this across the US, India, Cambodia, Haiti, Dominican Republic and Ghana, empowering over 2,000 survivors worldwide.
2017 and 2018 BFF Workshops in collaboration with Challenging Heights Youth.


WHY GHANA?
Ghana's growing problem with child slavery originates from the construction of a hydroelectric dam in 1965 and Lake Volta, today the world's largest man-made lake.  
Lake Volta's construction led to a lucrative fishing industry. According to the Global Slavery Index, it currently enslaves over 21,000 children. 57% of them are under the age of 10 and 20% under the age of 6.  
Almost all are likely to have been trafficked from the region and have no families. Their days and nights are spent performing dangerous tasks inherent in the fishing industry. 
2017 Team Beauty for Freedom seeing child labor trafficking firsthand on trip to Lake Volta with Challending Heights.
GRASSROOTS IMPACT
For the past 3 years, we've provided our program through a partnership with Challenging Heights, a local non-profit that focuses on rescue, recovery and rehabilitation for victims of trafficking in Ghana. 
ABOUT BEAUTY FOR FREEDOM
Beauty for Freedom (BFF), a 501(c)(3) nonprofit, is an organization dedicated to empowering survivors of human trafficking and at-risk youth through expressive arts therapy, educational and mentoring programs, events and advocacy.  
Together with you, our team provides survivors with access to educational programs, opportunities and choices. 
www.beautyforfreedom.org
MORE ABOUT OUR WORKTESTIMONIES OF OUR IMPACT
"My favorite part of the photography workshop was modeling! I also was in the photojournalism workshop and it felt even better to interview. My hopes and dreams are if I grow up and become great in my future. I will help those in need."
- Bright 11 years old, BFF Photography Workshop Participant

" This (Beauty for Freedom) art program has been a very nice program for my kids. Especially for those who don't know to design and the freedom art (you are teaching). We are so fortunate to have you here."
- Joseph Amakye Jr.
, 
Odobirba Methodist Academy | Teacher Class 5
OUR BUDGET BREAKDOWN


2019 PROGRAM SCHEDULE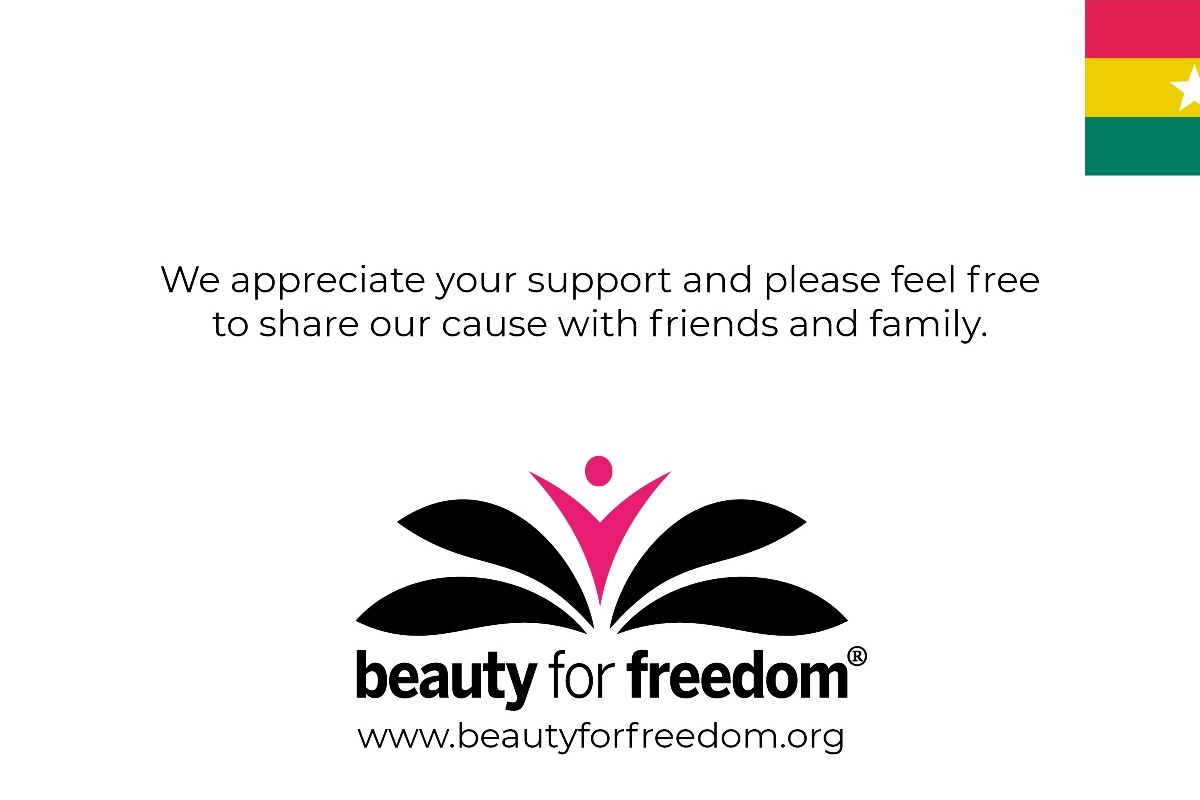 Fundraising team: Team Beauty for Freedom (10)
Monica Watkins
Organizer
Raised $560 from 8 donations
New York, NY

Registered nonprofit
Donations are typically 100% tax deductible in the US.
Monica Watkins
Team member
Raised $3,610 from 18 donations
Daniel Rahmann
Team member
Raised $3,490 from 21 donations
Jennyfer Rosenblum
Team member
Raised $2,670 from 26 donations
Brian Mackin
Team member
Raised $1,915 from 24 donations
See all