Community Education Center (CEC) - Dahria
Dr. Raed Eshnaiwer; Founder.

This Community Education Center (CEC) will fill some serious educational gaps in Dahria town, south of Palestine. The center will be the first of its kind in the area to combine in-class and community-based learning to promote both learning and community development using a variety of formal and informal approaches. The CEC aims at strengthening the educational capabilities and skills of students of different age categories through a variety of specialized training courses in fields like languages, social media, planning, and arts. It also aims to enhance youth engagement in their communities through organizing voluntary initiatives and interventions in different localities.
Professional trainers with strong theoretical and practical backgrounds will lead the educational process in the center. Moreover, the center will benefit from the local expertise of people and community-based organizations (CBOs) in the region, particularly in the fields of agriculture and handcraft. This expertise will be a cornerstone on which the CEC will establish some trainings and interventions. In partnership with local actors and organizations, CEC will constitute a safe space for Palestinian youth and children, that will provide them with social and psychological support. It takes Palestinian primary, secondary, and even tertiary education into new directions based on combining non-curriculum education with practical community initiatives on the ground. This opens up new opportunities for young people, particularly women, and enables them to develop their skills and potentials and enhances their community participation.
Moreover, CEC will set the stage for establishing a community library in collaboration with the different universities and cultural CBOs and civil society organizations (CSOs) in Palestine. This library, created from donations and contributed literature, will serve a wide range of students, particularly children who have no cultural centers or libraries in the region.
I, Raed Eshnaiwer, am a researcher at Birzeit University (BZU)- Palestine, and a community activist. I obtained my PhD in political Science from Universite Libre De Bruxelles in 2018, and since then I teach at BZU, and lead some research activities. I participated in many youth initiatives at the university and in my hometown. I strongly believe that the community work is a main pillar to develop the Palestinian society and to empower the people.


The Place

This 120 sq.m building lies in Dahria, a town in the south of Hebron governorate- Palestine. The building is more than 70 years old and is a part of the historical heritage of the town, which needs to be renovated, revived and protected. In addition to using the place for educational purposes, the CEC will reconnect this place and local communities. People, particularly youth, will be attracted to this historical building again, students, professionals, professors, and visitors, which will encourage different initiatives there and raise people's awareness about the significance of these historical places to their own history. We are currently in the renovation process, which added more financial burdens to us; 10.000 USD had been paid for the renovation so far, and we need a similar amount to finish the process. The following pictures shows the work progress in the building (before and during the renovation). 
Goals of the Center
* Enhancing the educational level for school and university students in the south of Hebron area.
* Building the capacities of students and graduates of the Palestinian universities through providing non-curriculum trainings in different fields that qualify them for the labour market.
* Enhancing youth engagement in their communities through volunteer programs.
* Connecting students with specialized trainers and professors in the different academic and vocational fields.
* Connecting students with training programs provided by Palestinian universities and training centers.
* Connecting students with the labour market and creating job opportunities for them through the training they receive and the initiatives they implement.
* Establishing a community library for all students in the targeted area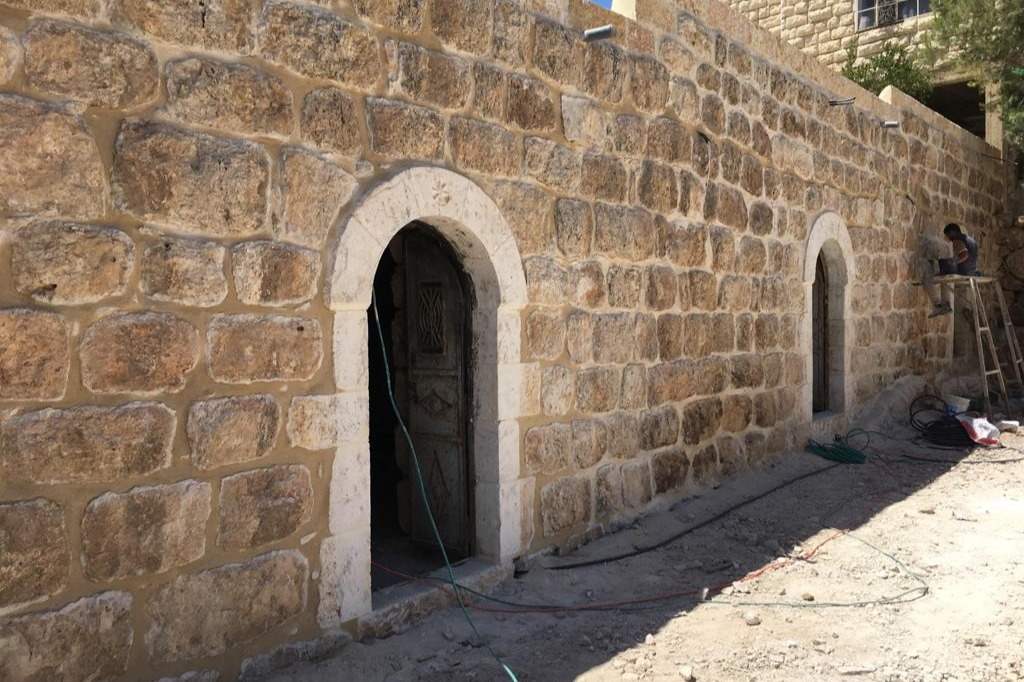 Financial Needs


Renovation expenses : 20.000
Furniture and stationary: 3000
Electricals (5 computers, LCD, Scanner and Printer): 5000
Teaching expenses: 2000
Sum: 30000

Collectief Urgence Palestine