The ask: $7

Childbirth Survival International (CSI) believes Every Birth Counts and every pregnant woman deserves respectful, timely, and quality care during pregnancy, childbirth, and 24-48 hours after childbirth. Where pregnancy and childbirth experiences are glamorized and celebrated, in many developing countries it is a tragedy and a silent killer! Everyday an estimated 830 women die and thousands of babies lose their lives for reasons that are preventable and  that makes us all accountable. Thank you for your donation to #SaveMothersofAfrica .

Did you know $7 can increase a woman's chance to survive pregnancy and childbirth?

CSI works at the grassroots, engaging communities including men, in order to reduce the high numbers of women and babies dying due to preventable causes. CSI works with partners and communities to advocate, educate, inform, empower, and apply low-cost low-tech interventions to save lives. Message from Prossy Bulega, Nursing Officer in Uganda gives remarks about impact of CSI's saving lives at birth program. 

Since 2013, through generous contributions, CSI has reached more than 400 pregnant women in Tanzania and Uganda, making a difference for them and their families. 

On November 26, 2017, US-based CSI founder, Tausi Suedi , visited Tanzania and Uganda where she met with program beneficiaries including pregnant women. She personally hand-delivered childbirth kits and the moms were extremely grateful. CSI thanks everyone for their generosity to make this possible. 


Video, Uganda, 2017

CSI is reaching the unreached with health services and information. Picture below: Wakiso District, Uganda 2014.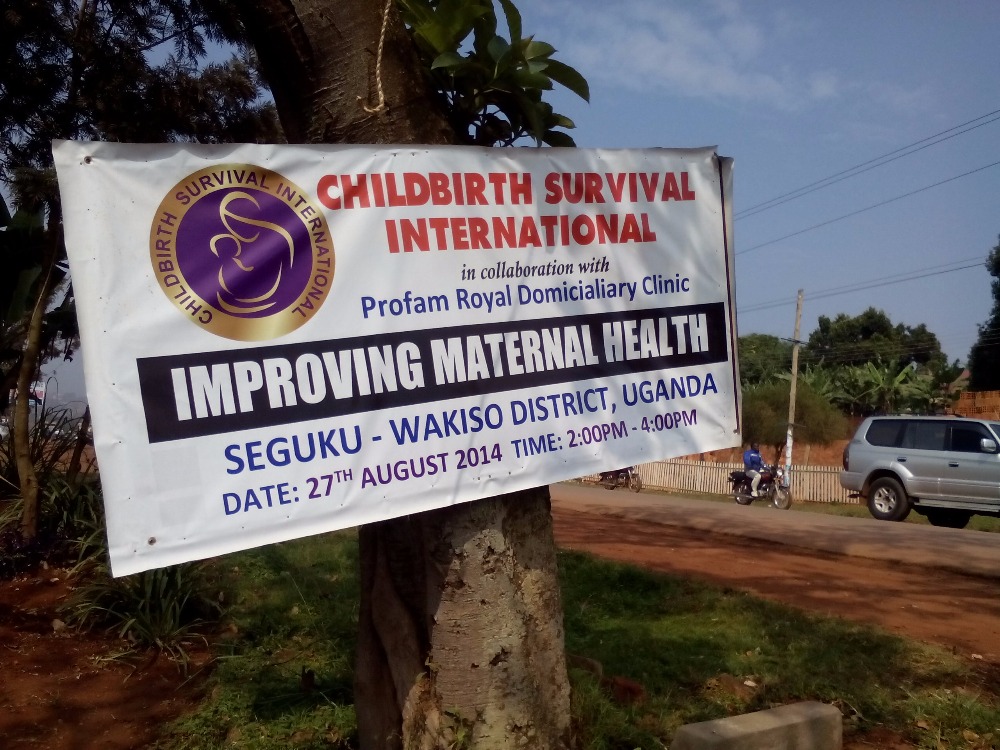 You're probably still thinking about the $7 and how it can save a life or buy you coffee and a light snack.....

Women die due to causes such as excessive bleeding after birth, infections, pre-eclampsia/eclampsia, obstructed labor, unsafe abortions, while newborns die due to asphyxia, infections, and complications arising from being born premature. Some other compounding causes include long distances to the health facility, complications from HIV/AIDS and malaria, no ambulatory services i.e 911 and lack of medicines and supplies. All these challenges seem like no-brainers in developed countries, but in developing countries these are serious and chronic issues. Many governments continue to struggle to improve the health system, infrastructure, and services in their countries and rely on international organizations such as Childbirth Survival International for added support. The work CSI does is seen and appreciated. Read reviews .

But why the $7 ask?

Childbirth Survival International team is made up of nurses, midwives, doctors and public health professionals, who have years of experience and understanding of the complex challenges in-country. CSI works with frontline health workers to re-train them on important midwifery and nursing skills to improve their competencies. While that is feasible, there was a problem of no life-saving medicines and medical supplies - major stock-outs and unknown delivery dates. In many places, women are supposed to buy gloves, cotton, and other medical supplies in order to go deliver in a health facility adding to their financial hardships and health care access barriers. Picture below, mothers read CSI brochures (translated in Luganda) with helpful information on maternal newborn survival and health, plus CSI's efforts to make a difference in underserved communities.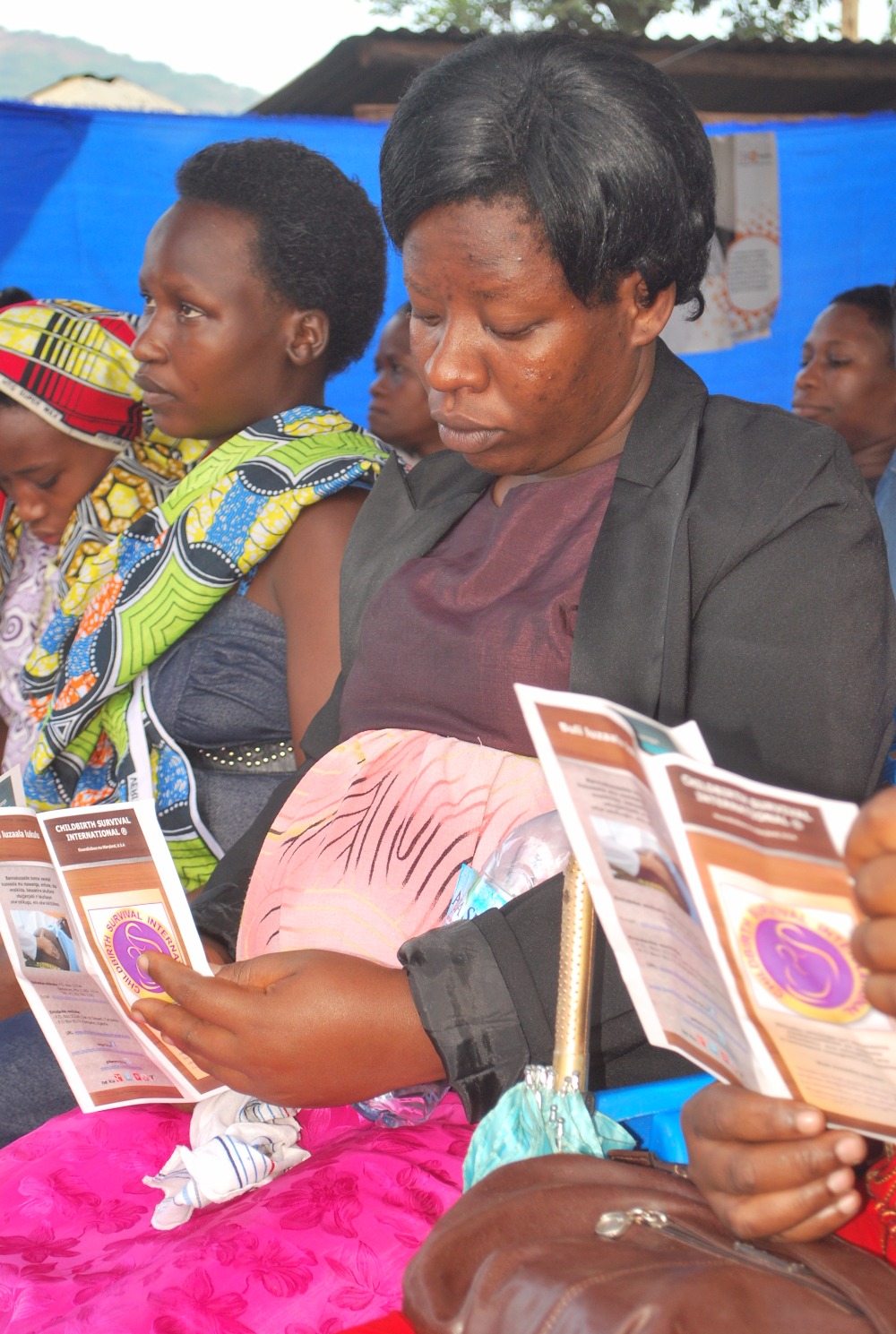 In 2014, CSI launched its first campaign for medical supplies and medicines (oxytocin and IV fluids) to help low-income women especially in rural areas, women living on less than $1-$2 a day. CSI does not have a big pool of funding but we decided to answer the call and provide sterile childbirth kits for free. We thank you for your generosity in making this possible for the 350+ women in Tanzania and Uganda who have already benefited from this program. View pictures here December 2015.  Picture below, CSI Cofounder, Tausi Suedi  (middle) in Wakiso, Uganda with pregnant women who received kits for free.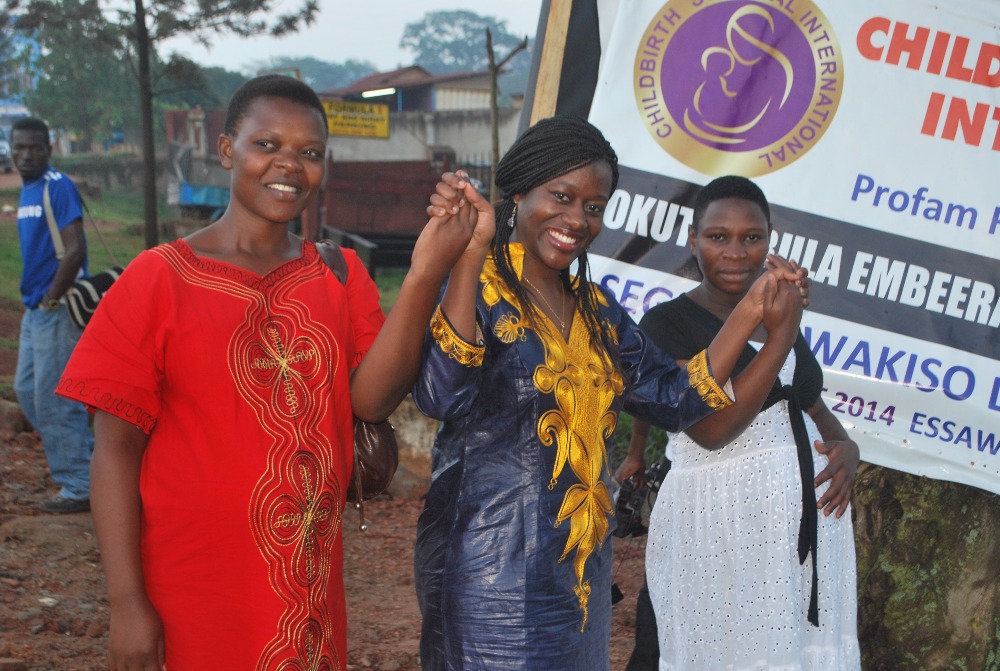 CSI's goal is to reach 1,000 pregnant women in marginalized urban and rural areas CSI works with necessary medical supplies for free. Will you help with a small donation of $7?

Why $7? Because one sterile childbirth kit costs $7...

Each kit  contains all basic supplies, gloves, scalpels, umbilical clamps, placenta bag, maternity pad, receiving blanket, gauze sponges, drape sheet, penguin bulb, & more. If you convert $7 to local currency, it buys only 1 of the required items and of below standard quality.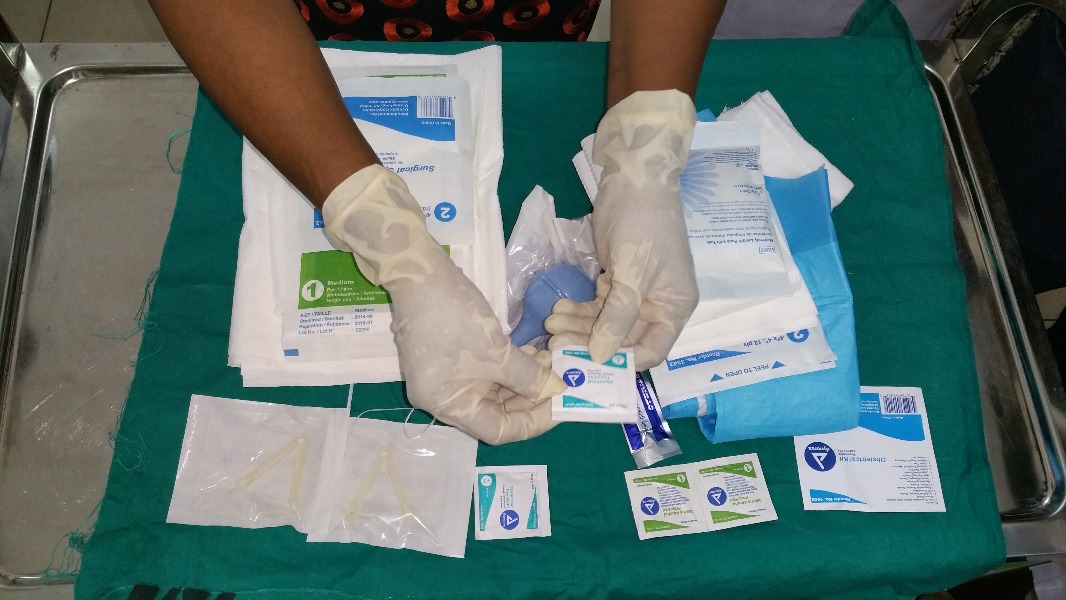 Video, Tanzania, 2014

For only $7, a woman is empowered and able to deliver with a skilled birth attendant, who are equally thankful to have supplies to work with. Picture below, CSI Tanzania Country Director,  certified nurse midwife, Midwifery Master Trainer, Stella Mpanda , hands out childbirth kits to pregnant women at Amana Hospital, Tanzania. November 2015.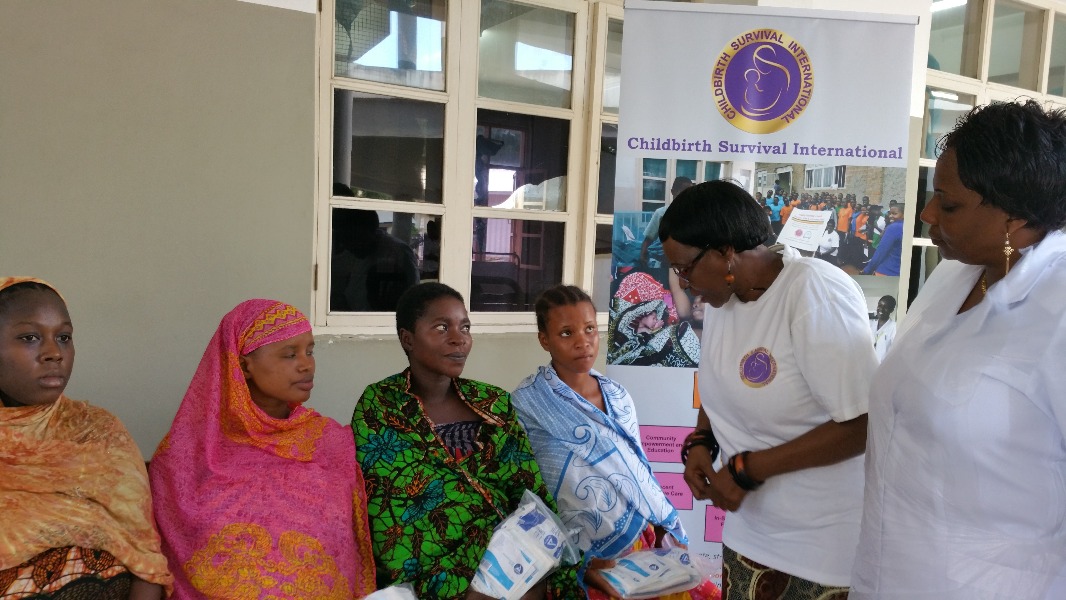 And CSI trains nurses and midwives on the contents of the kits.  Stella Mpanda, prepares a delivery tray.

Please donate $7 today and you will have helped one woman and her unborn baby.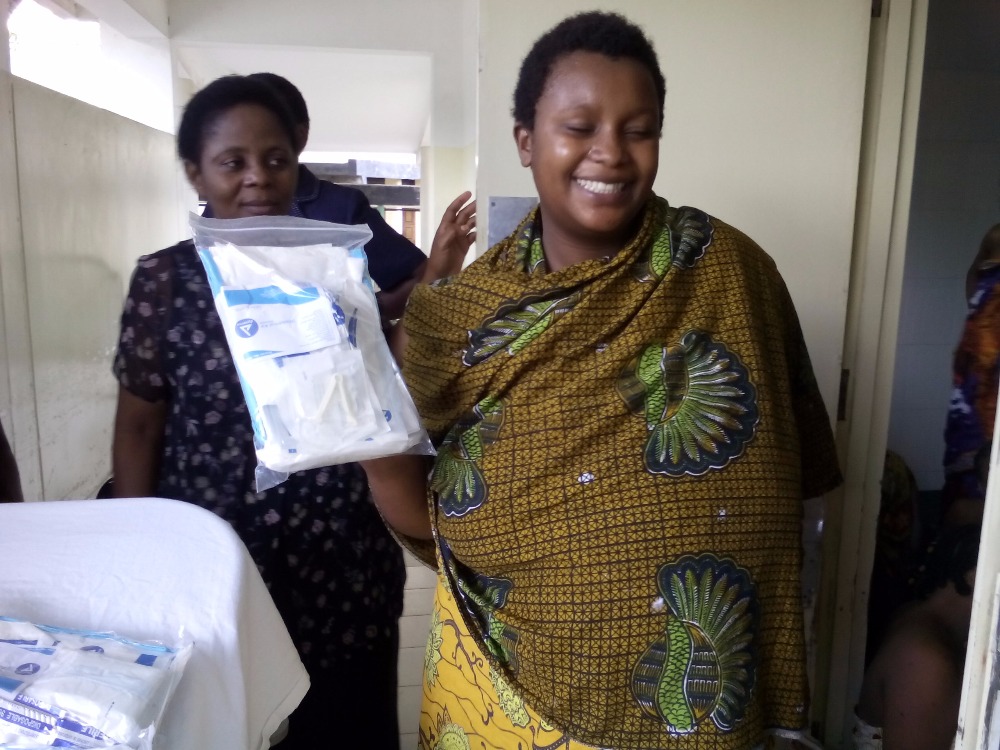 Mom and Baby.....precious, beautiful, and special!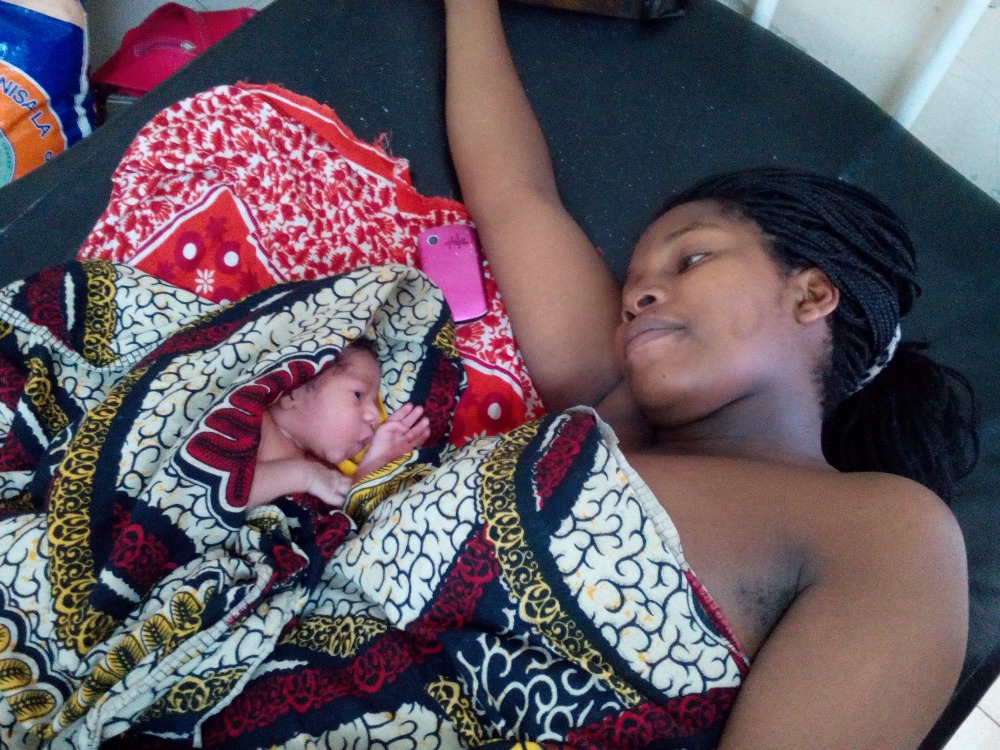 Thank you for helping to save Mom and Baby! 
More about CSI https://childbirthsurvivalinternational.org.

CSI is a registered 501(c)(3) nonprofit incorporated in Maryland. US Federal Tax ID: 46-3326114. All donations are tax deductible.
CSI Headquarters are located: 400 East Pratt Street, Suite 800, Baltimore, MD 21202. Tel: (410) 929 -4527. 

Contact CSI: [email redacted] 
Organizer
Childbirth Survival International (CSI)
Organizer
Baltimore, MD