Fund Our New BookProject&Other Work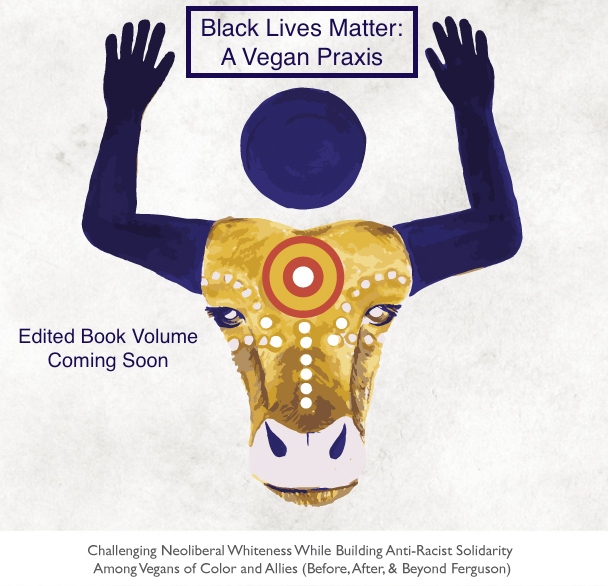 (Poster design: Alise Eastgate of Eastrand Studios)
My name is Dr. Amie Breeze Harper and I am the founder of the Sistah Vegan Project and creator and editor of Sistah Vegan: Black Female Vegans Speak on Food, Identity, Health and Society. 
http://www.sistahvegan.com
I have 2 new books project that I think you will love. I hope you can support it.
----
BOOK ONE
Title: Black Lives Matter: A Vegan Praxis 
On April 24-25 2015, The Vegan Praxis of Black Lives Matter: Challenging Neoliberal Whiteness While Building Solidarity Among Vegans of Colors and Allies (Before, After, and Beyond Ferguson) interactive web conference took place (see here:
www.sistahveganconference.com
) Now, the Sistah Vegan Project would like to turn those proceedings into an edited volume with workshop questions and activities. We need your help to make this possible! Did you miss the live event? No problem. You can purchase the recordings with slides here: 
http://breezeharper.wix.com/blacklivemattervegan
PEOPLE WHO DONATE $25 OR MORE WILL GET THE RECORDINGS FOR FREE.
----------------
BOOK TWO
Book Title: "G's Up Hoes Down:" Black Masculinity, Veganism, and Ethical Consumption (The Remix)."
Book Description: Vegan mainstream rhetoric often falls into a post-racial mindset; that is, the assumption that since the Civil Rights Acts, racism and legacies of colonialism are no longer significant impediments to achieving equality in the USA. Furthermore, rarely does the vegan mainstream reflect on how structural racism shapes one's logic, goals, and communication strategies around ethical consumption.
In this book, Dr. Harper will explore how key Black male vegans are employing hip-hop methods to create race-conscious and decolonial approaches to vegan activism. Such icons will include vegan chef Bryant Terry, Kevin Tillman of the Vegan Hip Hop Movement, hip hop and eco conscious musician DJ Cavem, and Stic.Man of Dead Prez.
These men are examples of alternative black masculinities, cooking up complex and complicated models of ethical consumption, environmental justice, and nutritional activism that you won't find in the popular PETA campaigns or the bestselling books Skinny Bitch and Skinny Bastard.
What also makes this book unique is that I will use social science based methodologies such as black feminism, decoloial theory, and critical pedagogies of consumption to analyze the work of these men. Simultaneously, the writing style will be fun, easily accessible, inspirational and critical; one need not have a graduate degree in critical theory to understand it.
Goal: Ultimately, the goal of the book is to show how intersectionality of race-conscious, decolonial thought, and hip hop activism do not DISTRACT from the tenets of veganism, but in fact strengthen it. This is Sistah Vegan Anthology's sibling and long overdue. If you enjoyed Sistah Vegan, you will enjoy this new book project.
You can view an amazing talk I gave that introduces the idea of this book, here:
http://sistahvegan.com/2014/05/05/real-gs-got-hoes-veganism-black-masculinity-and-ethical-consumptionthe-remix/
Delivery date to press: Fall 2016.
Funds will be used to pay for plane travel to areas such as Denver, CO to interview DJ Cavem, copy editing, proof reading, cover design, a new computer (mine died), and promoting the book.
I already have a press for the book. Once I sign the contract, I will let my fans know who it is with.
If you also want to know more about my writing and success in this field, you can go to
http://www.abreezeharper.com
.
Organizer