Undies for Children of Laos
As all of you know by now, I have a serious problem. My problem is that I like to travel. I like it so much that I will find any way I can to drop what I'm doing and explore the unknown. I have been hit hard by the travel bug and the end is nowhere in sight.
My next travel destination has a little bit more meaning than my normal jet-setting destinations. In June, right after my 30th birthday (yikes!), I will be flying across the world with my cousin Sasha to Thailand, Laos and Vietnam. While these have always been places I wanted to go, I felt even more compelled after my cousin Jeremy passed away last year. Jeremy was closely involved with orphanages in Laos and was on the board for a foundation that provides funding to these orphanages.
Instead of celebrating my birthday with traditional presents, I am hoping to raise $3,000 (3,000 for 30, get it?) for this momentous year. Simultaneously, Sasha is graduating from Santa Clara University and is sharing my link so that she can accept donations instead of graduation presents.
At the request of the orphanage we will be purchasing children's underwearwe either in the US or overseas. We probably can't bring $3,000-worth of undergarments with us so we will be donating the rest to the Windhorse Foundation so they can find suitable ways to provide support for the orphanages in ways they see fit.
If you would like to read more about what Windhorse does,
click here
.
Thank you so much for your support!! Sasha and I will be blogging/email our updates on our trips, so look for more as the trip gets closer: June 18 we depart!!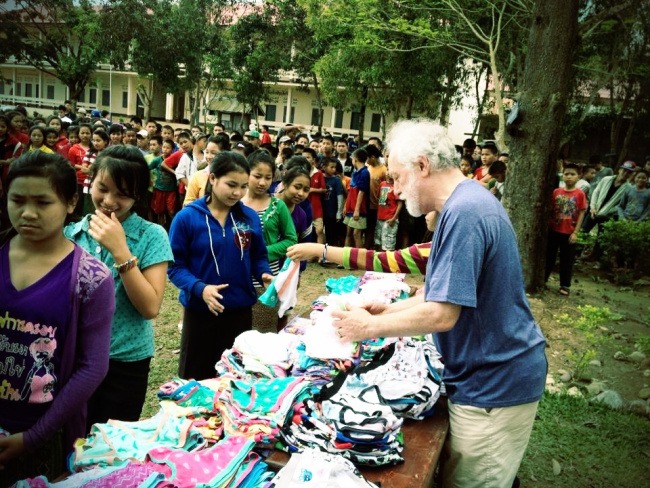 Sasha's dad, Paul, giving at underwear at one of the Laos orphanages. 
Organizer
Shonna Beth Sommer 
Organizer
San Francisco, CA