Lake Diversion Homeless Families
To see the video news cast on NBC TV 3 reporting this issue, please click on their web link below: 
http://www.texomashomepage.com/news/local-news/lake-diversion-residents-are-being-forced-to-leave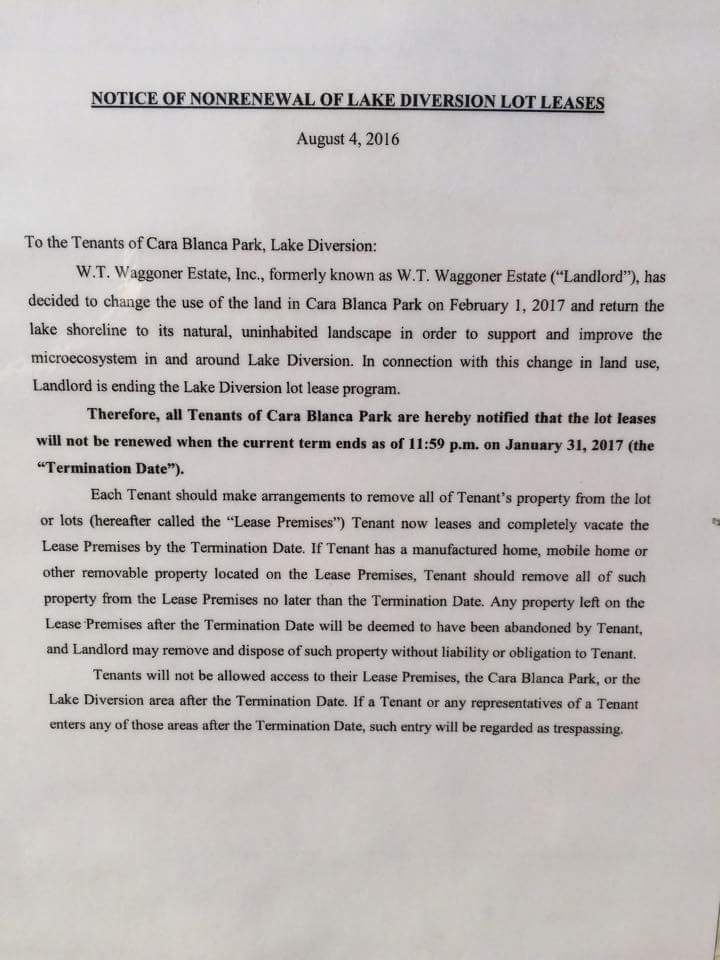 Above is the posted notice that all the homeowners received in the mail today.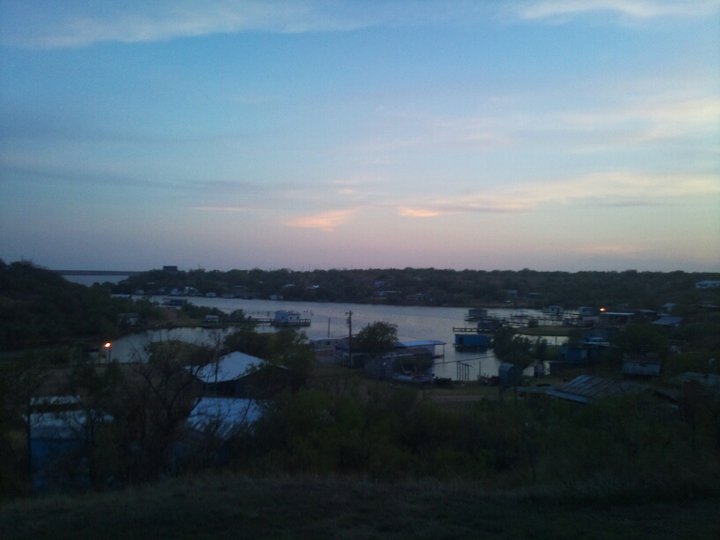 Above is one of the lake views from my newphew's home lot.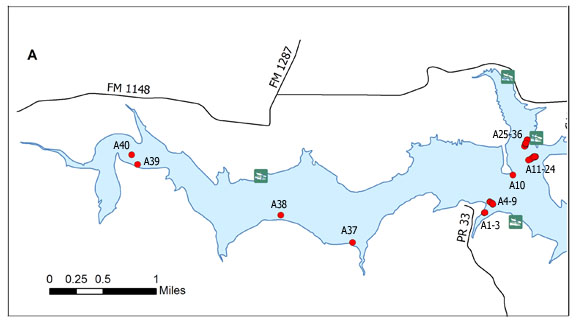 Above is the the map of Lake Diversion. 
25 + families that live at Lake Diversion, just outside of Wichita Falls, at Cara Blanca Park, have recently received an eviction notice to vacate their paid for homes by the move out date of 1-31-2017 by 11:59AM. Once they move out, they will lose their homes and will no longer be allowed to go back for any reason. 
This land was previously owned by W.T. Waggner  Estate Ranch where for the past 40 years have leased their land lots to many families that have put in hard earned money and time to build their homes. This land was recently bought out by the
LA Rams Football Team
owner and billionaire, Stan Kroenke, forcing all the homeowners to vacate their homes without offering any compensation for their paid for homes. 
During the years, W.T. Waggner Estate Ranch has talked about the possibly of a sale of their land, but assured all the lease holders in their self-bought homes, that if and when this sale happened, that their land leases would remain intact. The homeowners trusted their word. 
In this type of situation, the land is not paid for by the homeowners as in a typical home sale where the owner buys the land and the house simultaneously. Instead, the land lease holder leases the lake lot for a specified yearly amount while they build or buy the house that is on the land. The home owners own their homes, but only lease the land. 
This land property is inhabited by mostly retired and semi-retired people who have lived there for many years. For example, my elderly parents ages 79 and 80, have lived there for the past 36 years. My dad is in poor health with Congestive Heart Failure and blood pressure issues. My parents are in still good physical condition to live at their lake home for many years to come. There is another elderly family in their late 70's and early 80's that live there that owns two homes, and there are other families that only have one. One family recently built their home on a leased lot brand new just last summer. 
This place has been called home for many families over the years and has made many wonderful family memories dating all the way to from children, grandchildren and great-grandchildren. 
My nephew,  who has served in Air Force and given his sacrifice in both Kuwait and Iraq has his home there as well with his three school aged children. 
This billionaire, LA Rams Football team pwner, Stan Kroenke, who owns millions of acres of land all over the world,  is known to buy out properties like this forcing the homeowners to leave with no recourse or moral value to at least give these families some type of compensation to help them find a new home outside of Lake Diversion to start over. 
Fortunately, my parents have a small rent house in Burkburnett, TX which has been a main source of income for them. Now they are going to have to give notice to the tenants to move out, so this move in will cause them to lose their income source. 
When the local TV stations in Wichita Falls contacted the LA Rams Football team owner and billionaire Stan Kroenke, to ask why is he doing this, he refused to give a reply or call back. Instead, he had his attorneys give the TV stations the printed notice that all the current homeowners received today in the mail. Attached to this page is that notice. 
This is deeply morally wrong and completely unjust. One of my semi-retired friends whose supplemental income is grooming dogs, that live there said, "It is like my home is being stolen from us and there is nothing we can do about it."
Homeowners at Lake Diversion are heart broken and devastated with some having nowhere to go. This has been their lively hood living their retirement years with little money. 
I am trying to raise at least $250,000 to split with the 25 families living there and the others who own homes there but don't live there. 
For more information, please contact your local TV Stations in Wichita Falls. 
You may see the Lake Diversion Homeowners Facebook page: 
https://www.facebook.com/LakeDiversion/?fref=ts
Thank you very much and God Bless you for your donations to help these families who are about to become homeless. 


Organizer