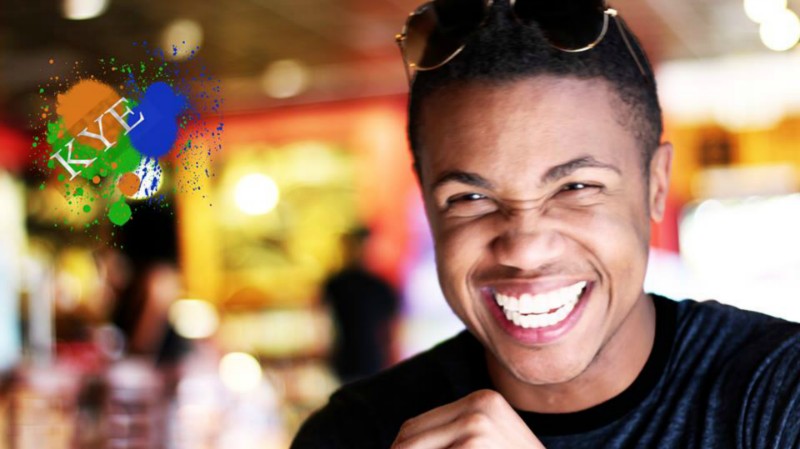 Created By: Kye Allums (1st Division I openly trans* athlete in sports history)
Storytelling has the ability to change people's perspectives, actions, and futures. The experiences we go through in life make up the lives they live. Getting voices out into the world is important. I say this because many people often feel like they are alone. Listening to someone speak from experience about something you've gone through eliminates the thought of "I'm the only one". At least that's how it felt for me.
As a shy, quiet, and closeted teenage girl growing up in Minnesota, I truly believed that I was the only gay person on the face of this earth. I would spend countless nights crying trying to figure out how I could be "normal". I wanted to be like everyone else. It wasn't until later that I realized that being like everyone else wasn't an option, I could only be me. Going to George Washington University for basketball gave me an opportunity to be around people that helped validate my identity. I was misinformed. There ARE other gay people in this world! Although that made me happy beyond belief I still felt like something was off, and I didn't know why. I had no words to express how I was feeling.
All of that changed when I walked into my Human Sexuality class. Right in front of me was a panel of LGBT people sharing their stories. For the first time in my life I was able to hear from a transgender man as he talked about things that he had experienced throughout his life. I now had the vocabulary to explain how I was feeling. I'm a transgender man!
As I became more comfortable with my own identity I began to realize that close friends were hiding theirs out of fear. I wanted to do something about it! So I shared my story with the world in hopes of inspiring my friends to be themselves. I would have never guessed that a year later I'd be traveling around the country encouraging folks to live their truth.
As I traveled from place to place sharing my story I would always make time to hear the stories of others. Towards the end of my speaking tour I began to notice that the majority of these stories had the same underlining themes - loneliness and validity. As soon as I finished the tour I couldn't just sit around allowing other people to go through life thinking that they are the only one, and feeling like they are not enough. So I did something about. I created Project I Am Enough!
Project I Am Enough is a storytelling platform dedicated to promoting self-love, acceptance, and respect for everyone on the gender spectrum. Stories have the ability to change the world and change the world we shall. @TeamIAmEnough
What is the 2013 Summer Project?
Every summer @TeamIAmEnough will spend a day in the life with 10 LGBT individuals. Their stories will be turned into a short documentary to create visibility and awareness. Each summer will have a different theme to focus on. The theme for our 2013 Summer Project is transgender transitions.
How did it start?
A fellow trans* advocate and friend of mine was in need of transitioning assistance. I thought it would be a great idea for him to share his story to create visibility and in turn try and raise funds to help him become the man he has always wanted to be! After a while I wanted to offer the opportunity to more trans* people in need so I created a YouTube video offering transitioning assistance. Within two minutes I had ten responses. Out of the ten, eight plus my friend agreed to share their story to help create trans* visibility and potentially reach their financial transitioning goal.
Where we are now?
My crew and I have compiled all of the footage from the 9 trips and we turned it into a short documentary. It will be released during "Coming Out" week!
Where we want to go?
We want to get their stories out to as many people as possible to create more trans* visibility, and reach our funding goal of $45,000 to help with their transition costs. Anything extra will go to Project I Am Enough for operational costs to continue creating LGBT visibility and giving people a platform to share their stories with the wor
Organizer
Kye Allums
Organizer
New York, NY