388
6
United Expats Fight Fund
€12,255
of €10,000 goal
Raised by
388
people in 3 months
Help us fund the effort to fight and reverse the decison by the Dutch Governement to make changes to the %30 ruling effective for current expats resideing in the Netherlands. Afspraak is Afspraak. A Deal is a Deal. 
Expat life is not simple.  It means moving your entire life to a new country and starting over again. It often means uprooting families, leaving the comfort of 'home', leaving friends behind.   
But, we do it. Considered highly-skilled migrants, we have opted to start over again in the Netherlands. We have brought our skills and talents to a country we now call home. And, during our time here, we have made significant financial and emotional commitments to contribute to our home away from home.  
The decision to become an expat is not always easy, nor is it affordable. As expats, we incur a dramatic number of expenses that others do not. To help offset these costs, our salary packages include a tax rule known as the 30% tax rule. When the necessary conditions are met, the policy allows the employer to grant a tax free allowance equivalent to 30% of the gross salary that is subject to Dutch payroll tax. This ruling is guaranteed for a maximum of 8 years. Until now.  
The Dutch government has recently proposed to change the term-length of this policy from 8 years to 5 years. Unexpectedly, the change is set to apply to CURRENT EXPATS as well – thus negatively impacting thousands of expats in the Netherlands who have built their financial lives around the expectation that the Dutch government would honour their commitment.  Simply put: the government is breaking its deal with us.  
This is not what we signed up for.  
So now what?
Thus far, we have built a community of highly skilled expats with a common goal of asking the Dutch government to stand by its deal. We have filed complaints with the Ministry of Finance and Rijksoverheid and we have spoken with our employers to ensure they understand the severity of the situation. But this is not enough. We need to ensure our voice and actions are impossible to ignore.  
This will cost money. We need to develop a website so that our voice is accessible and transparent. We need to seek out legal support to ensure that all of our activities are fully compliant with Dutch law. We need to hire experts to help us formulate and maximize the success of our strategy. We need to plan events. We need to amplify our voices and combine our talents.  Your contribution will help us in this fight. 
Our stance is clear: We support the authority of the Dutch Government to change their policy towards the %30 ruling for future expats as they see fit. However, these changes should not impact CURRENT expats already residing here in the Netherlands. As was done in the past when amendments to the law were made, transitional regulation should be included in the legislation so that current recipients of the 30% ruling are not affected. As they say in Dutch, 'afspraak is afspraak' (a deal is a deal).  
To comply with GoFundme rules, please note the below:
- The United Expats of The Netherlands is run by a group of 6 expats living in the Netherlands: Mike, Jessica, Ashley, Pavithra, Engelbert, and Massimiliano. 
- The funds are being raised to cover our costs to persuade the Finance Committee to honor the %30 ruling granted to expats currenlty living in the Netherlands. Those costs include but are not limited to Legal Advice, Lobbying, Marketing Materials, Video Production, Social Media advertising, and costs associated with organizing a rally in May and September/October. 
-To withdraw the funds we plan to set up a "Stichting" in the Netherlands, a Dutch limited liability organization that is typically associated with a specific purpose. We will set up an bank account under this Stichting to withdraw these funds to, and then pay our service providers and various invoices from that account. 
- Any unused funds will be donated to a Dutch-based charity helping expats, immigrants, or refugees by Feb 2019.
- Financial transparency will be practiced. All purchases will be shared with those who donated via a monthly statement starting in June. If no statement is received, no purchases were made.
Interested to learn more or to join the movement? Please visit
www.adealisadeal.nl
, the
United Expats of Netherlands Facebook page
, and sign our
Petition at Change.org
.  
#aDEALisaDEAL #afspraakISafspraak
+ Read More
Hi Everyone, We are preparing to withdraw the funds that many members of the UENL community kindly contributed to our GoFundMe campaign. In preparation for this, it is important (and required by GoFundMe) that we provide specific details related to the flow and use of the funds. Should you have any questions after reviewing this update, you can find our contact info on our webpage.

First, to ensure transparency, we have opened up a separate checking account under Mike's name. This account will be used solely for activities associated with UENL.

After withdrawal of the donated funds, the first thing that we will do is reimburse the out-of-pocket expenses that council members (i.e., Mike, Engelbert, Jessica, Ashley, Pavithra, and Massi) have incurred thus far. Then, we will pay the lobbyist and political advisors that have contributed to our strategy formation and execution as well as pay GoFundMe their associated fees (5% platform fee + 2.5% transition fee & 0.25 per transaction). After these payments, we will plan for additional expenses that we are anticipating in the next few months. These are estimates which are subject to change. As you can see in the table that follows, we roughly anticipate a balance of 6745 EUR on 18 Sept 2018.

If on 18 Sept 2018 we learn that no transitional law is being included to protect current recipients of the 30% tax rule, we will then move forward with additional planned activities. These plans will be clearly presented to members of the UENL community. These plans are expected to exceed the remaining balance of GoFundMe contributions, and therefore, should these plans be necessary – we will need to raise additional funds.

Those of you who have been members of the UENL group since the beginning may recall we that we stopped our fundraising efforts after 10.000 EUR (even though we exceeded this goal). We did this because we felt it was most appropriate to present a clear strategy with the best estimated costs before requesting additional contributions. We are now well on our way towards developing and budgeting for this "Plan B" strategy, but we will wait until after the September 18th budget announcement before we make any final decisions on how to proceed. Rest assured, we will hope for the best, but plan for the worst.

Also important to note: If the released budget on 18 September DOES include a transitional measure to protect current recipients of the 30% tax rule and instead proscribe changes for future expats only (as we hope), any leftover contributions will be donated to charity. We have reviewed several potential charities and feel that the The Refugee Company would be a great organization to support. You can read their mission here:

"Our mission is to empower refugees. We believe work is the best tool to integration; through work, refugees can blend with their society and build up a new meaningful life in the Netherlands. We speed up integration by providing opportunities for newcomers upon arrival to utilize their talents again. We create spaces where refugees feel at home, can network with non-refugees and where they can show what they are good at. We help build a strong network, develop a portfolio, gain work experience, as to be ready to set up a business or find a paid job. We do this through a tailor-made and holistic approach, checking the work-related personal needs of each individual."

We hope that this sufficiently informs you as to the fiscal situation of our group. If anything changes from the strategy mentioned above, we will absolutely inform you. We will also continue to keep you updated our on our progress in the months ahead via our Facebook page and the Updates section of our website. And, as always, welcome your feedback and questions. Thanks again and again for supporting our effort.

The UENL Council
Mike, Engelbert, Jessica, Ashley, Massi, Pavi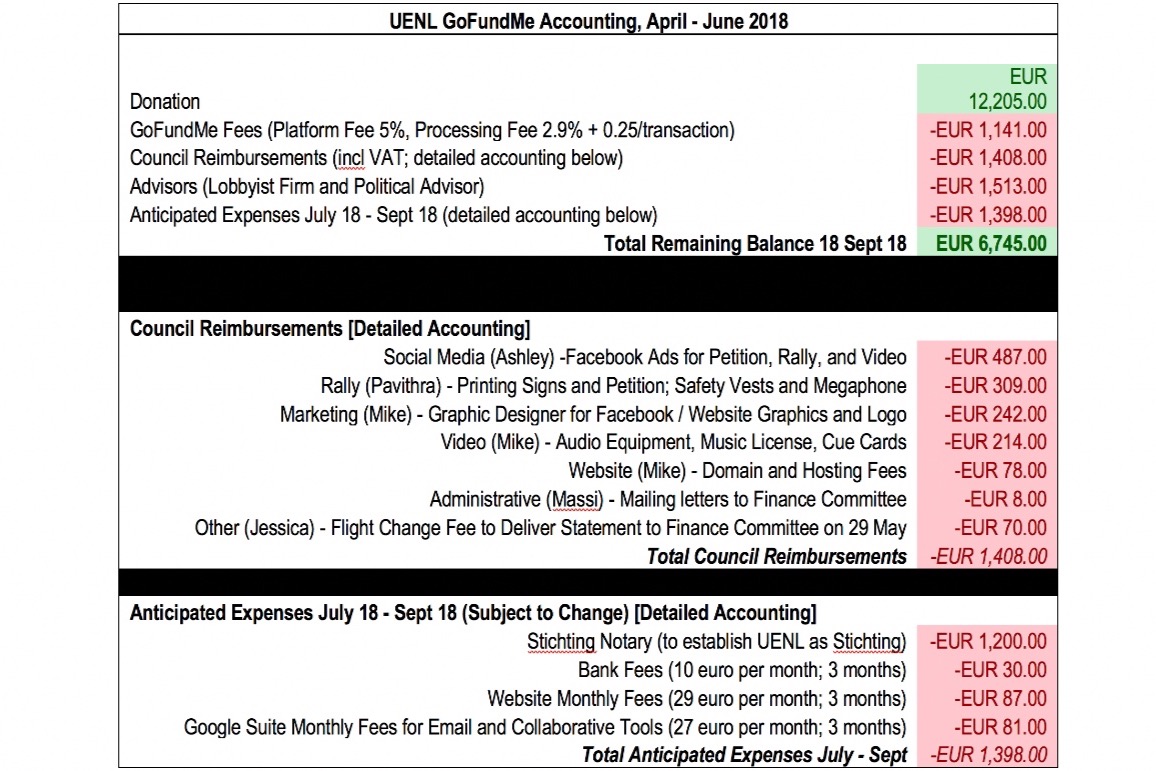 + Read More
Rally May 29th @ Parliament / Video for Premier Rutte
Thank you for contributing to our efforts to convince the Finance Committee to honor their commitments to expats in The Netherlands.
Next week is an exciting week for the United Expats, on May 29th our Change.org petition (with its 28,000 signatures and counting) will be hand delivered directly to the Finance Committee at Parliament. We'd love to have 100 fellow expats like yourself join our "A Deal is a Deal" Rally at the Plein across from Parliament during the petition handover. If you can take a long lunch on Tuesday, join us from 13:00 to 13:45. Your boss will understand:). For details and to let us know you're coming, go to:
www.adealisadeal.nl/rally
Also, a few days ago we released our video entitled "A Question For Premier Rutte". The more this video is shared, the better chance Prime Minister Rutte will be inclined to answer our simple question: "How Much is Trust Worth?" Watch below, and share!
Finally, we will be closing down this campaign at the end of the month. In order to comply with all gofundme rules and regulations, we will be sending everyone another update with as much info as we have currently for how we plan to use these funds donated by all 377 of you. Stay tuned, and thank you again for your support!
#aDEALisaDEAL #AFSPRAAKisAFSPRAAK
The UENL Council
+ Read More
Read a Previous Update