Ayuda al Escombro Diy
€1,293
of €3,000 goal
Raised by
55
people in 2 months
Necesitamos ayuda para mantener y reconstruir el Escombro DIY.
Somos un grupo de Skaters sin ánimo de lucro que hemos construido con nuestras manos y medios un lugar publico para patinar que ha atraído a skaters de todo el mundo y sobre todo a familias con niños con ganas de aprender y realizar ejercicio. Llevamos 4 años con el "Escombro Diy" o parque para hacer Skateboarding exclusivamente.
El ayuntamiento de Madrid esta construyendo una nueva carretera que pasa pegado al DIY y nos han demolido 1/3 del suelo incluyendo dos de los spots mas grandes del DIY, el quarter de dos alturas y el bank con bordillo perdiendo mas de 1000€ invertidos solo en los dos spots.
Queremos hacer una reparación general del Escombro, y construir módulos que nos han demolido y añadir nuevos, tambien queremos añadir una zona de descanso con bancos y basura y comprar algunas herramientas de construcción y limpieza.
Todo el dinero será utilizado exclusivamente para comprar los materiales, pagar transportes y recursos para mantener y construir en el Escombro Diy, nosotros somos voluntarios en la mano de obra.
"ENGLISH"
We need your help to rebuild and manteinance Escombro Diy.
We are a group of skaters with nonprofit idea that started the Diy 4 years ago by passion  and a lot of effort,  the goverment are building a road across the diy in that moment,  and we lost 1/3 of the place and the bigger spots like big  quarter and a big bank with a ledge, another bank, 2 flatbars and a wallie spot.
We have 2/3 of the place in safe to keep building and skating
We need money to rebuild and manteinance the spot clean and ready to skate again, we want to include a rest area with bench to sit and a trash to keep the area clean, also to buy some tools to build and clean.
all the money will use just to buy materials to build and transportation, we put the volunteer Workforce
anyway, thank you!!!
a little support is a big help for us!
thanks for reading our proyect, you are always welcome.
You can follow our instagram to see what's happening!
Puedes seguirnos en Instagram donde publicamos videos de los usuarios y de los proyectos que vamos llevando a cabo.
@escombrodiy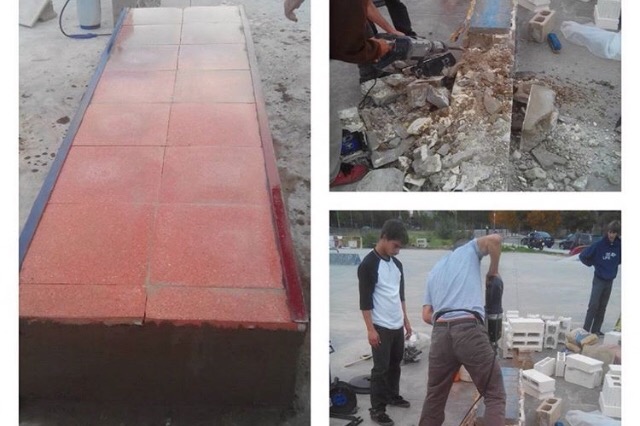 Gracias por leer nuestro proyecto, toda pequeña donación es de gran ayuda. Te esperamos en el Escombro Diy para patinar y disfrutar juntos.
+ Read More