Help Chase and his family.
$135,334
of $200,000 goal
Raised by
938
people in 33 months
Dearest family and friends.

Our baby boy Chase died Sunday April 30th, 2017. He was 10 years old. Our hearts are completely shattered and now we must stand strong to begin a very different life, one that we could never have imagined. This gofundme account will remain open for donations. All additional and remaining funds will be committed to helping find a cure and to help bring Chase's dreams to life.

Below is the story we first shared.

What is Happening to our son Chase:
At this time you are aware that our beautiful 9 year old boy Chase is facing the very scary possibility that he has gliomatosis cerebri.  This form of brain cancer has no known cure. 

This all began when we discovered that Chase's right eye suddenly wasn't working quite right so we took him to an ophthalmologist on 2/4/16, the day after his 9th birthday. After the exam a first set of MRI scans were immediately taken and reviewed. Currently Chase has undergone a second brain MRI, spinal MRI, blood tests and a lumbar puncture to retrieve spinal fluid. All tests for any other condition (Lyme, MS, etc) have come back negative and the scans further support gliomatosis cerebri (GC). He's been a complete angel through ALL of it and we are getting strength from him. This Friday (March 4th) he is scheduled for a brain biopsy at Sloan Kettering in NYC. This procedure will provide the final diagnosis and determine a course of action.

GC is very rare and only 100 cases appear annually so there is not a lot of research on how to treat it effectively. It is largely inoperable, not very respondent to chemo and radiation, and at this time "universally" fatal.  The average patient lives 1-2 years from diagnosis. We are terrified, stunned, heartbroken, and struggling to handle this crushing prognosis for Chase, who is a ray of sunshine and makes people around him happy on a daily basis. 

We are blessed with a strong and supportive family, a group of friends we would never trade, and a small town that rallies to support families in need. In less than a month we have been more than overwhelmed by the thoughts, prayers, , food, visits, hugs, and open ended giving from those who love Chase. We are truly in awe and grateful.

Our Family Request:
We ask only that you be very careful not to discuss this with your children. Please let us explain. His understanding of what is happening to him is that the best doctors are trying to find the bad part of his brain that is affecting his eye. As his parents our burden is to shield him from unnecessary fear and worry. Children are innocent and share information with one another. It would be EXTREMELY upsetting to find out that a class mate confronted Chase with details unknown to him or his brother Ryder.

How you can Help:
Through this fight our family needs to be together with Chase as much as possible, not far away behind a desk pushing paper. There undoubtedly will also be unforeseen medical expenses. Your contributions can and will help.

You can:                                   
·   Give directly to Chase's Fund and
·    You can buy a really COOL shirt, or mug, Design by Chase!  Bring part of Chase into your life and give his creativity as a gift to those you love.  More cool designs will come. (All 100% Chase Balay Design Originals!).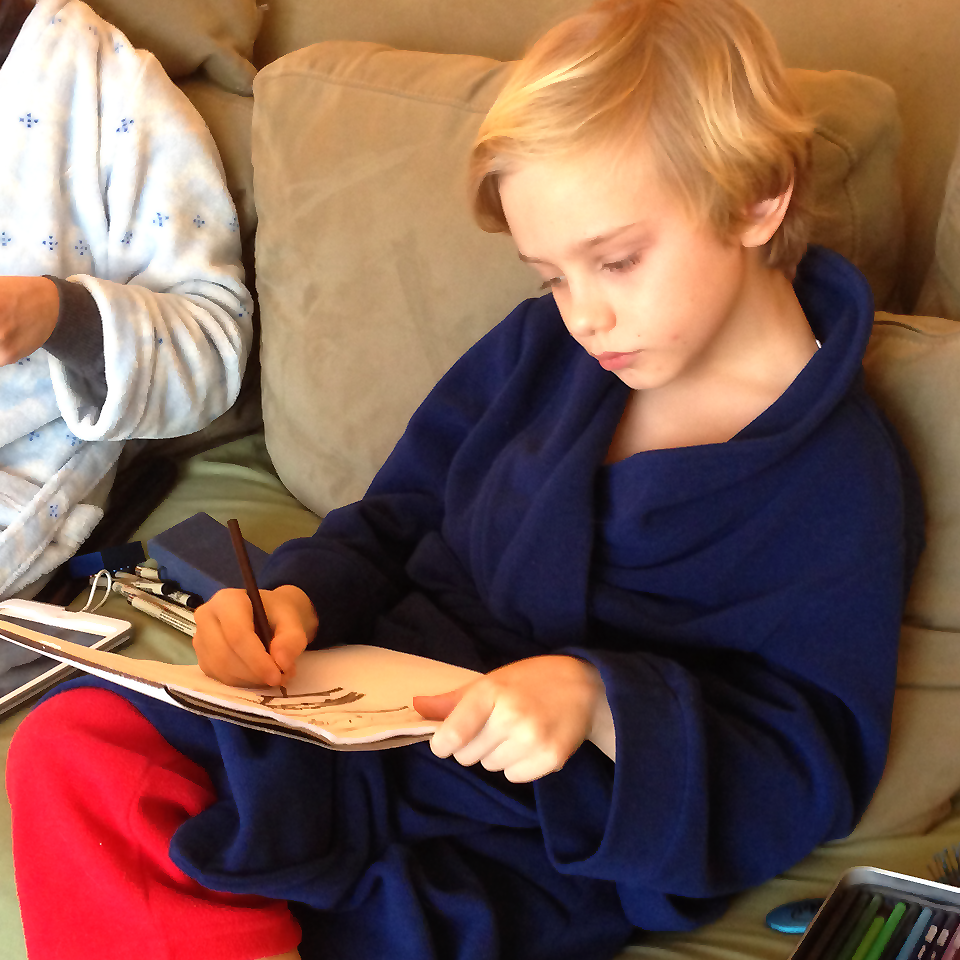 Our son Chase has always had an indescribable need to create. Weird, strange, funny and loving images fill our home. His creations are absolutely never boring or dull. Every day is filled with unexpected and wonderful surprises. The beautiful and imaginative world of Chase Balay makes living better.

Pray for our baby. From our hearts - Thank you.
Chase's Mommy & Papa. (Julie & Erik)
+ Read More

A
CaringBridge
campaign