Charter Challenge Against Bill C-51
$34,230
of $25k goal
Raised by
370
people in 19 months
Thank you for your support! Donations for this campaign are closed for the time being.
All it took was 3 days to surpass our initial fundraising goal!
With our
application
 now filed with the Ontario Superior Court and, thanks to you, the initial resources ready to meet the demands of what will likely be a long and challenging court battle, now we await the government's response before proceedings continue.
We at the Canadian Civil Liberties Association (CCLA) and Canadian Journalists for Free Expression (CJFE) have been overwhelmed by the tremendous outpouring of public support for our Charter challenge to Bill C-51. It demonstrates remarkable determination by Canadians across the country to stand up in defence of free speech, privacy, due process, and fundamental rights — and we stand with them.
Stay with us every step of the way.
Both CCLA and CJFE will provide ongoing updates on the case here, as well as via social media and email, and will be sure to inform you if and when we issue renewed calls for crowdfunding to sustain the challenge. We also invite you to continue spreading the word about the campaign on social media using the hashtag
#C51onTrial
.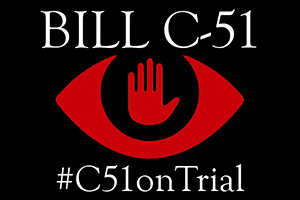 CCLA
 and 
CJFE
have launched a Charter challenge to Bill C-51. Canada's newly passed anti-terror legislation presents disturbing implications for free speech; privacy; the mandates and accountability of national security agencies, including CSIS; and the protection of civil liberties in Canada.
On July 21, 2015, we filed an 
application
with the Ontario Superior Court, arguing that specific sections of Bill C-51 violate the Canadian Charter of Rights and Freedoms. As such, these sections must be struck down as unconstitutional.
Hundreds of Canadians have lent support.
All funds collected are going towards the costs of mounting the challenge against this dangerous legislation.
---
Learn more about Bill C-51
 and the ways it could threaten the rights and freedoms valued by Canadians and which are critical to a democratic society.
Additional resources on Bill C-51 can be found at 
cjfe.org/billc51


Canadian Journalists for Free Expression (CJFE)
monitors, defends and reports on free expression and access to information in Canada and abroad. Rooted in the field of journalism, we promote a free media as essential to a fair and open society. CJFE boldly champions the free expression rights of all people, and encourages and supports individuals and groups in the protection of their own and others' free expression rights.
The Canadian Civil Liberties Association
is an independent, non-partisan, national organization, which promotes and defends fundamental human rights and civil liberties in Canada. Started in 1964, the Association conducts research, public education, and advocacy aimed at ensuring the protection and full exercise of those rights and liberties. The Corporation of the Canadian Civil Liberties Association (CCLA) was constituted in 1985 and shares the objectives of the Association.
+ Read More
Help spread the word!
 2.8K total shares
Be the first to leave a comment on this campaign.